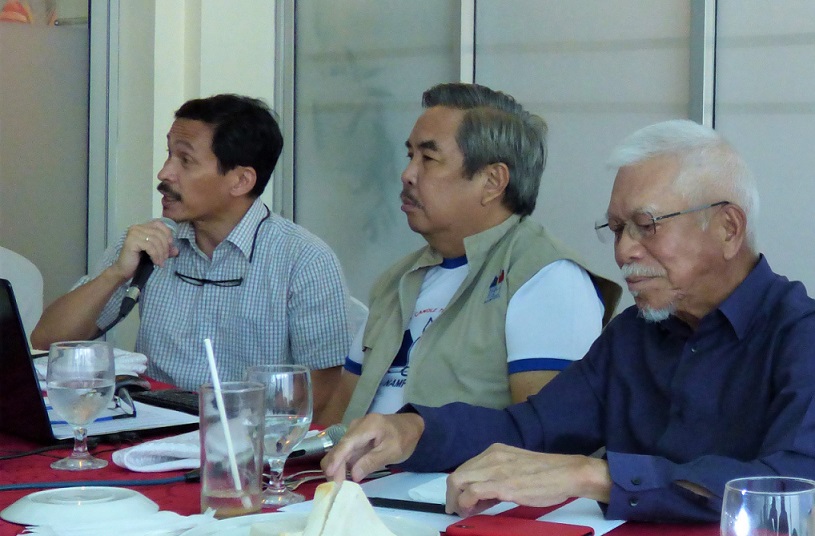 NAMFREL officials Secretery General Eric Alvia (left) with Council Member Lito Averia and National Chairman Gus Lagman. Photo by VJ Bacungan.
(Note: This is a revised, more detailed version of the story first posted on May 3, 2019)
The National Movement for Free Elections (NAMFREL) returned on April 30 the accreditation granted them as observer for the Random Manual Audit (RMA) by the Commission on Elections (COMELEC) after they were refused access to election data for their Open Election Data project, NAMFREL Secretary General Eric Alvia said Friday.
Comelec, through a minute resolution last March 29 granted NAMFREL accreditation to conduct RMA. Alvia said the accreditation was released to them on April 26.
In their April 30 Manifestation, NAMFREL mentioned two items that the poll body did not grant them. They were:
Obtain from the Commission, in a timely manner and without charge; any document data and information (such as the election day & precinct computerized voters' list (EDCVL/PCVL), project of precincts (POP) and related precinct statistics, any of the 28th to the 30th copy of the municipality/city/district/provincial/national certificate of canvass (COC), any of the 27th to the 30th copy of the precinct election return (ER), municipality/city statement of votes (SOV).
Directly access the transmitted ER from the main server, audit logs, DNS server logs, single line transmission diagram, data structure of transmitted ER and COC (at least 2 weeks before election day), the voter verifiable paper audit trail (VVPAT) on RMA selected precincts, vote counting machine (VCM) and consolidation and canvassing system (CCS logs, transmission logs including those that are generated from the "meet-me-room", configuration files including internet protocol (IP) addresses, candidates list in all positions nation-wide, statement of contribution and expenses (SOCE), local absentee voting/overseas absenting voters data."
"Without open access to information and data, we are unable to participate in the RMA because the inaccessibility diminishes the verifiability of data separately provides during the RMA," Alvia said.
The Open Election Data project is a website meant to provide near-real time data on this year's midterm elections. The site could help identify "red-flag" incidents in the polls.
The COMELEC only accredited NAMFREL to be part of the Random Manual Audit and to receive the 27th copy of the Election Returns.
Alvia said they will continue with their Open Election Data project even without COMELEC accreditation.
"Groups with access to the data have offered assistance to us," he said. "It's not ideal. There will be some adjustments. We need to make this data as pristine as possible."
Alvia admitted that NAMFREL's work will be more difficult without COMELEC accreditation,
"Some election officers might be strict about our volunteers being inside polling places without accreditation," he said. "But it won't be impossible for us to monitor the elections."
Alvia said they would reconsider if COMELEC grants their request. "The ball is now in COMELEC's court," he said. "It seems they did not look closely at our request for this data." (with reports from Ellen Tordesillas)