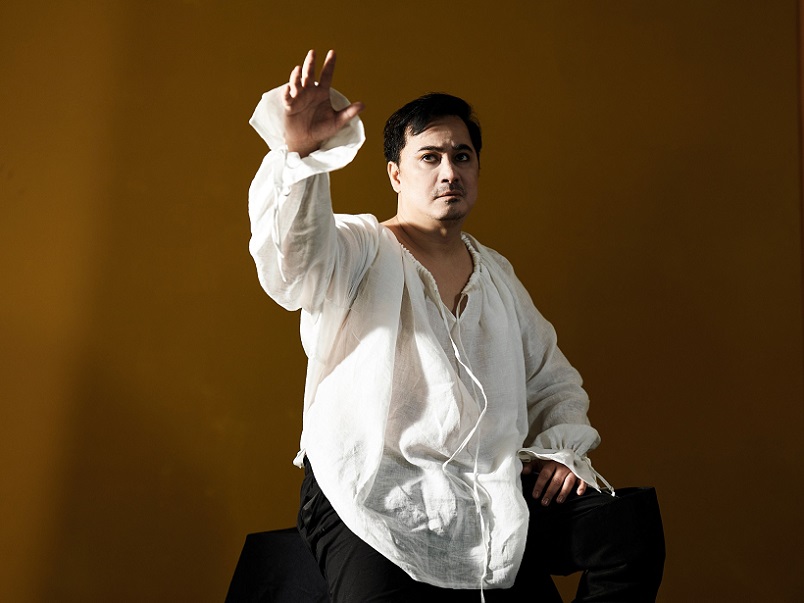 Filipino tenor Arthur Espiritu is back in Vienna, Austria in the title role of a new Oper Klosterneuburg production of Verdi's Don Carlo  opening on July 8, 2023.
"The singers I'm working with are all very good and the rehearsals have been going well," the tenor told Vera Files. "Most important is that we have so far no incident with difficult personalities.  It has been drama-free so to speak. The first rehearsal was so stress-free.  I felt so comfortable with the people I'm working with from the conductor to the director who's also singing the role of Filippo."  
Klosterneuburg is the center of Austria's summer cultural landscape famous for its open-air ambience of the baroque imperial court of Klosterneuburg Abbey founded in 1114.
The Kaiserhof open air venue good for 846 opera enthusiasts does not require amplification. It is now considered home to the second largest open-air opera festival visited by some 11,0000 spectators every year.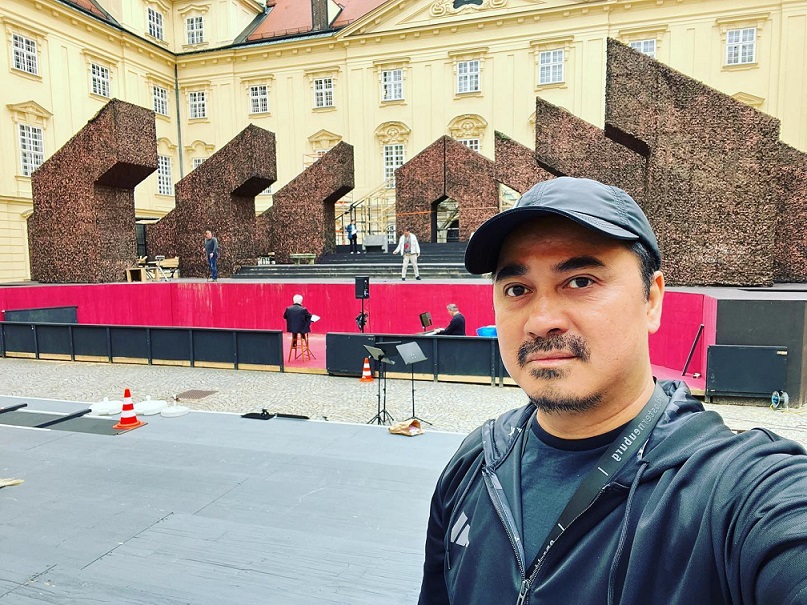 At this time of the year, the tenor enjoys what he calls a fantastic weather in the outskirts of Vienna. "It gets hot but the fresh breeze cools you down.  During the end of spring and beginning of the summer. I love spending summers here in Vienna.  No more health protocols around here.  I am staying in the city area where I can walk around and see the sights.  To experience the life here, you have to walk around and see all the beautiful historical buildings, art, the people, and of course, the thriving city."  
The Filipino tenor debuted in this opera house as Ernesto in Don Pasquale, the Duke in Rigoletto (2016) and later as Alfredo in La Traviata (2018).
He got the part through his European agent. "They have trusted me with important roles before and this place has been one of my favorite places to sing in. My favorite tenors in this role would be Luis Lima, Pavarotti, John Vickers, even Angelo Lo Forese.  They all have made an example and sort of helped me develop my voice in a very healthy way.  I can hear so much heart and dedication to this role in their voices and in their beings."
He felt he was ready for the part by simply listening to his body. "It's not about transforming my voice but rather discovering a way to produce the type of execution to the syntax of the role and the understanding of its true nature.  We usually go by voice models of the past and the usual voices that have become synonymous with Don Carlo.  It's not the case."
 He said it is how much technical acuity you have to match the orchestration of the piece. 
"Verdi wrote this opera in a masterful understanding of the human voice.  Where to put the instruments and which registrations to put the voices so it will ring over the orchestra.  I find that when looking at the score, one must realize what instruments are involved.  Verdi often wrote pieces that are fitting of a certain voice type and orchestrates it according to that type of voice.  If I were to compare it to Verdi's Rigoletto, it would be how the composer wrote the instrumentations.  In Don Carlo, he uses more brass instruments, trumpets, and louder sounding instruments.  But he puts them in certain moments in the drama.  In Rigoletto, he uses much lighter instruments and focused more on accompaniment of the singers/characters.  In Othello, it's also a much different type of sound.  But in my case, I found my voice to be comfortable with the piece.  Don Carlos is surprisingly in a much higher register than Verdi's Un ballo in maschera which I have earlier sung."
The artistic team includes Michael Garschall (artistic director) and Christoph Campestrini (musical director and conductor). Director Garschall worked for three years on the realization of his dream production. Don Carlo will mark his 25th opera production.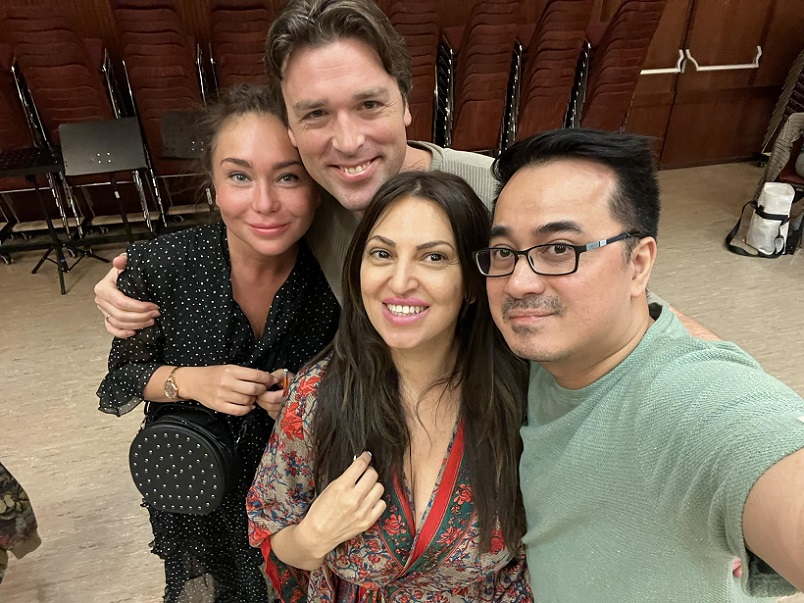 He said: "I've been dreaming of a Don Carlo in the Kaiserhof of Klosterneuburg Abbey for 25 years. This year this vision has finally become a reality and with a sensational cast!"
The man behind the new production — Günther Groissböck – wears two hats as director and singing the role of Philipp II.  Groissböck last sang this role at the New York Met to great acclaim.
The rest of the cast: Margarita Gritskova as  Princess Eboli, Thomas Weinhappel is  Marquis von Posa. Karina Flores is  Elisabeth to the Imperial Court and Matheus Franca as the Grand Inquisitor.
Christoph Campestrini conducts the Beethoven Philharmonic, Hans Kudlich handles the stage design and Andrea Hölzl does the costume designs.
Espiritu talks about the stage director and singer  Grossböck. "It is interesting and very much different to have a singer as a stage director.  He understands the psyche of a singer and I was very happy to be able to have this in him.  I debuted with Oper Klosterneuburg as Ernesto in Donizetti's Don Pasquale, then as the Duke in Verdi's Rigoletto, then as Alfredo in Verdi's La Traviata, and now as the title role in Verdi's Don Carlo.  What is truly unique about this place is that it has unparalleled natural acoustics.  It is such a great place to sing in.  This monastery built in 1114 has this open courtyard (Klosterhof) where the operas are staged."  
After ten performances of Don Carlo and Faust in two different theaters, he reprises lead role in La Boheme until next year.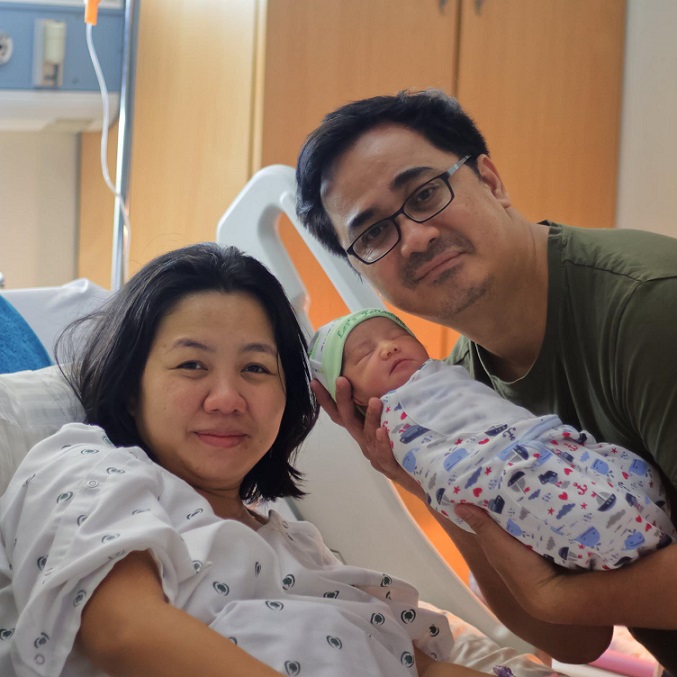 Now a father of three (Aaron, Malaya and Liham)  the tenor is hard put to leave Manila after recent birth of his youngest baby boy.
 "It has become increasingly difficult to leave my family to fulfill my European engagements. It is emotionally challenging to try and explain why I have to leave all the time. This is one of the most unfortunate trade-offs with becoming a freelance opera singer today.  I'm very lucky to have an amazing partner in Christina.  She understands what I do and supports me wholeheartedly, even though I know that this is hard for her.  I keep hoping that I will have longevity in my career in the future to be able to help my family the best way I could," the tenor shares the trade-offs of a flourishing international career.
For now, Espiritu is looking forward to recording with the Austrian National Television (ORF).