Filipino tenor Arthur Espiritu has sung six operas during the year from Sydney Opera House to Germany and ending in the Israel Performing Arts Center in Tel Aviv where he wrapped up a total of six performances of La Boheme in the lead role of the starving poet Rodolfo.
Espiritu is the third Filipino to make a big impact in Israel's classical music scene after tenor Otoniel Gonzaga who sang a role in Fidelio many years back and pianist Cecile Licad who played a Mozart concerto under the baton of Russian conductor Mark Gorenstein whom she would re-encounter in Moscow when she debuted with the Russian State Orchestra some years back.
Espiritu earlier sang the role of Tamino (Mozart's Magic Flute) in the same opera house to good audience reception.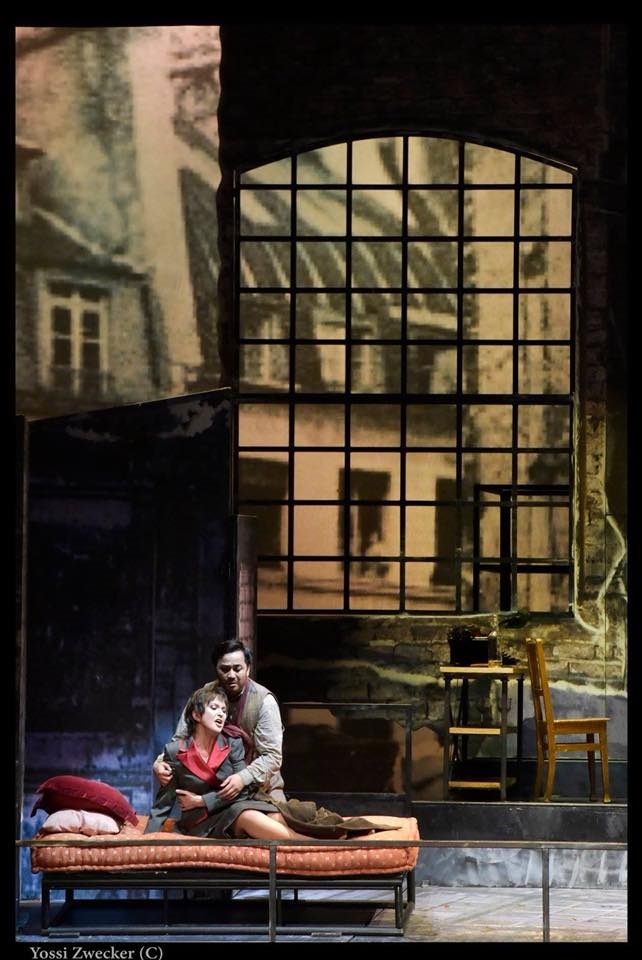 Arthur Espiritu in a scene with her Mimi in a Tel Aviv La Boheme. The theater has 18,000 opera season subscribers.
The Tel Aviv Opera House has a capacity of over 1500 seats with 85 to 90 per cent of the shows sold. "It has good acoustics and the opera season has over 18,000 subscribers," the tenor told Vera Files.
Last month's Israel premiere of La Boheme was conducted by the Israel Symphony Orchestra of Rishon LeZion (the Israel Opera's resident orchestra) under the baton of Francesco Cilluffo alternating with Israeli conductor Karin Ben-Yosef.
Noted Espiritu who alternated with Russian tenor Alexei Dolgov in the role of Rodolfo: "Maestro Ciluffo was such a nice guy, very helpful and I must say singer friendly. The two alternating Mimis were great. Young Russian soprano Alla Vasilevitsky has a beautiful and lyric soprano sound. She is quite exciting to hear. Soprano Noa Danon and I have collaborated before, and she also has a very beautiful voice and quite a lovely actress in her own right."
With two Tel-Aviv engagements behind him, the Filipino tenor easily fell in love with the country. "Israel has many cities, but Tel Aviv is by far the most progressive city. It is a melting pot of people from all over. They are very candid people and they will tell you what's in their mind. I like that! I love the Shakshuka, the hummus, falafel. With the current geo-political conflicts as you may have heard on the news, I don't feel the conflict among the people here. I guess I'm just so used to being in a different place and I pretty well know how to coexist."
A briefing on the history of opera in Israel can pass for a libretto of any popular opera. Many years back, the opera pioneers fought to keep their opera dreams alive in a country that had yet to be born.
An opera chronicler noted: "It is a story of struggle and love, of faith and despair, a story that eventually, 93 years later, puts Israel very proudly on the international opera map. It is a story that began in 1917 in Moscow, where Mordechai Golinkin wrote his thesis The Vision of the Hebrew Art Temple of Opera Work in Palestine. Six years later Golinkin arrived in Palestine to make his dream come true. Opera life in the pre-statehood Israel began in Tel Aviv on July 28, 1923 with Verdi's La Traviata. As no opera house was in existence in the city, which was all desert, Golinkin's Palestine Opera had to perform in movie theatres.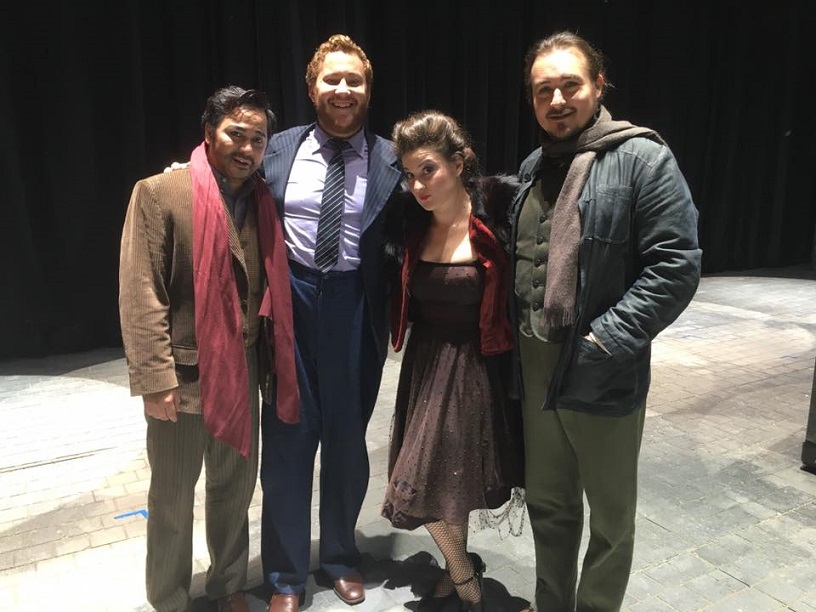 Arthur Espiritu (third from left) with cast of Israel La Boheme.
Golinkin directed the Palestine Opera for four years, and in 1940, the composer Marc Lavry and the conductor George Singer established the Palestine Folk Opera. By 1945 sixteen productions had been staged, among them the first opera in Hebrew, Dan the Guard by Lavry, the poet Shin Shalom and writer Max Brod. A major change came on November 13, 1945 when American soprano Edis de Philippe landed in Israel and within a short time created the Israel National Opera. One Spanish tenor spent three years in Tel Aviv in the early 1960s. It was in Tel Aviv that he learned the basic tenor repertoire before embarking on an international career. His name is Placido Domingo."
Indeed 2017 was such a very busy year for the Filipino tenor. "I had so much memories from it from performing and teaching the art of singing. From it, I realized some things about my voice. I'm glad that I'm still able to sing from bel canto to more lyric roles. My voice is settling in and has experienced growth. I think also the teaching has helped me in a way in finding out more about my voice in a much more existential way."
For now, the tenor is Manila-bound excited to see his first daughter Malaya. "It is exciting, and I cannot wait. When Malaya was born, I was already in Europe, so I was not there to see her come into this world. I am so happy to be able to come home."
The tenor's New Year wishes: "I wish for a successful year for my family and for my wife and children to be healthy along with my friends. I also wish for peace, reconciliation, and end to hunger all over the world."