In a posh hotel in Manila, close to a thousand local executives gathered Dec. 6 to 8 to seek climate change and disaster preparedness solutions, learning best practices from experts in the first-ever convention of its kind in the country.
Various proposals were made during the Climate Change Commission (CCC)-led convention to address the disproportionate effects of natural disasters on vulnerable groups. For children, proposals were offered to develop sustainable energy initiatives in anticipation of school cancellations; for the youth, proposals to make their creative ideas and voices heard in climate action; for Indigenous Peoples, to recognize their rights to land; and to include women and elders, who are repositories of knowledge, in crafting local adaptation plans.
Yet one sector, considered the world's biggest minority, was only mentioned in passing.
Carmen Zubiaga, National Council on Disability Affairs Executive Director, is not surprised.
"In all matters relating to their development, PWDs should be consulted. That's important. All sectors of society have PWDs so they must not be ignored," she told VERA Files.
"If they don't consult PWDs, it is likely that the needs of PWDs, which regular people do not know about, won't be given enough concern," Zubiaga added.
The forum, she said, would have been the proper venue to discuss before communities the specific needs of people with disabilities before, during and after a disaster, which should be mainstreamed in local disaster management plans.
More important, Zubiaga said, disability is a cross-cutting issue, affecting women, children and IPs, and must therefore be recognized.
"For instance, in times of flooding, how can you save a PWD without spending too much in providing safety devices?" she said, adding that first responders are not usually equipped in handling different types of disabilities. (See PWDs left behind in Marikina's disaster preparedness efforts)
People with autism, especially children, cannot just be pulled out or carried abruptly during rescue. "You can't make them feel like there's tension," Zubiaga explained.
When the government issues relief packs, she added, there should be assistive devices and other needs like diapers, catheters, and many others that PWDs need to survive.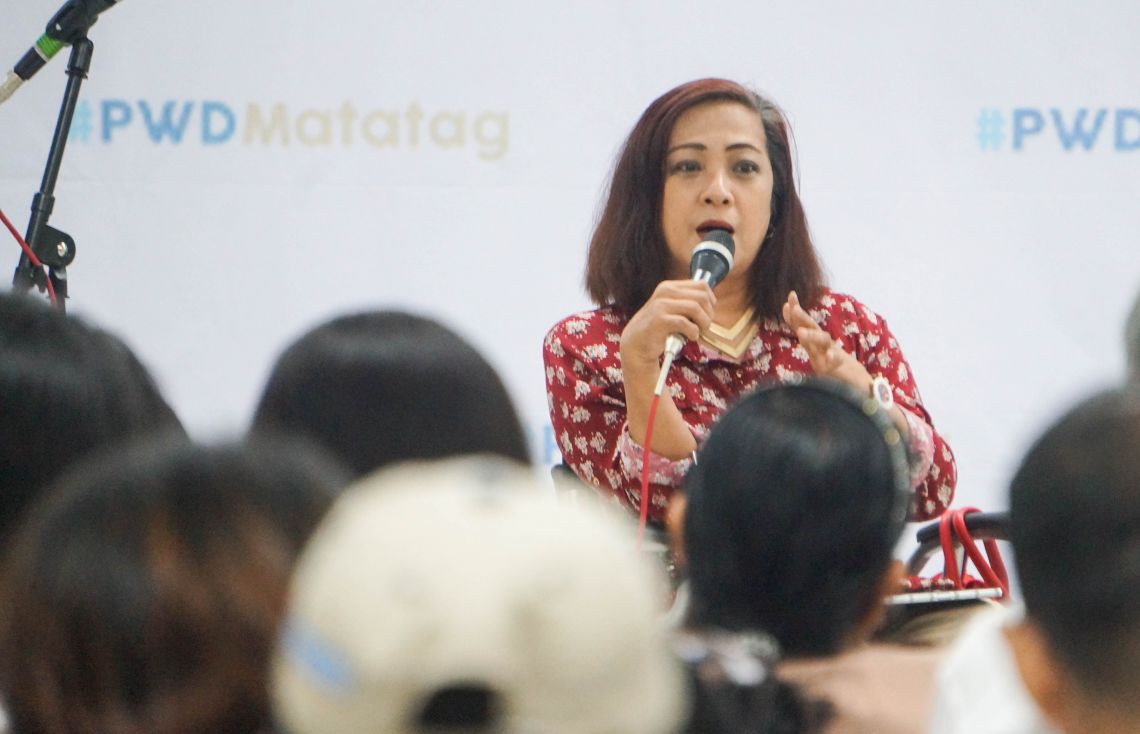 NCDA Director Carmen Zubiaga presents suggested reforms to the country's accessibility law to include provisions for disaster risk reduction.
Sought for comment on why PWDs were not included in the forum, Kristoffer Berse, senior advisor to the CCC, said the commission is making an active effort to raise awareness on disability-inclusive disaster risk reduction.
"The most the CCC could do is promote and advocate for it, establish partnerships with these organizations," he said.
Roberto Baggong, the disaster risk reduction officer of Lake Sebu, South Cotabato, a landslide-prone community, said their municipality uses a multi-purpose hall during evacuation, due to the lack of accessible shelters.
Meanwhile, Marivic Fernandez, city environment officer of Baybay City, Leyte, often hit by typhoons, said PWDs in their area are usually "fragmented" when raising concerns, unlike other sectors that are coordinated.
Both Lake Sebu and Baybay City do not have a PWD Affairs Office, which is mandated by Republic Act No. 10070. Instead, PWDs go to a desk and a focal person at the social welfare and development office to raise their concerns.
Fernandez does not see the need for a separate office for PWDs since most LGUs do not have them, she says.
At the session on vulnerable sectors, the only mention of disability was made by Carlos Padolina, who takes charge of disaster response assistance in the Department of Social Welfare and Development.
Vulnerable sectors, like women, children, PWDs and IPs, have the least capacity to recover from the impacts of disasters, he said. Their capacities should be strengthened so they "will cease to be the victims of disasters and become the agents of change in their communities."
Asked how the DSWD specifically factors in PWDs in their programs, Padolina said the department provides technical assistance to LGUs, and families who sign up for their disaster monitoring scheme can indicate if they have a PWD family member.
Yet, Padolina admitted the database does not specify the kind of disability of a PWD, which disability advocates say are crucial in identifying a PWD's needs. (See Evacuation centers, relief goods not PWD-inclusive)
The NCDA said it is seeking reforms in the decades-old Batas Pambansa 344 or Accessibility Law to incorporate disaster risk reduction for PWDs.
"Often, accessibility is overlooked. For instance, evacuation centers and temporary shelters aren't inclusive, and we see how PWDs struggle the most during emergency and recovery situations," Zubiaga said.
Passed in 1982, the law outlines requirements for buildings to be barrier-free for PWDs, but Zubiaga thinks the law is outdated and limited to mostly physical and mobility disabilities.
Under the NCDA's proposal, the law will be expanded to cover other disabilities. For instance, buildings will be required to install audio signals for the blind and blinking lights for the deaf to warn them of a disaster, while directional tactile for blind people will be placed on pedestrian lanes.
The NCDA is also proposing "learning coaches" for children with intellectual disability who can "communicate with them in a simple language that would draw about their opinions" on natural disasters, Zubiaga said.