Twenty-seven-year-old fashion entrepreneur Prince Jimdel Ventura has not bought "new" clothes for five years. He hopes that his company "Wear Forward" will help others do the same, especially in light of the global call to address the problem of climate change.
For the last half decade, Ventura has repurposed pre-loved clothing items and worn hand-me-downs. In an interview for this article, for example, he came wearing a long-sleeved polo shirt he got from his grandfather, a pair of pants formerly owned by his brother, and a set of pre-loved boots.
Ventura said he does this because he is aware that the fashion industry is a major producer of greenhouse gas emissions, which cause climate change.
"The fast production of textiles – due to fast fashion where you produce low-quality textiles to facilitate the people's consumption of more clothes and overproduction – emits carbon," he said.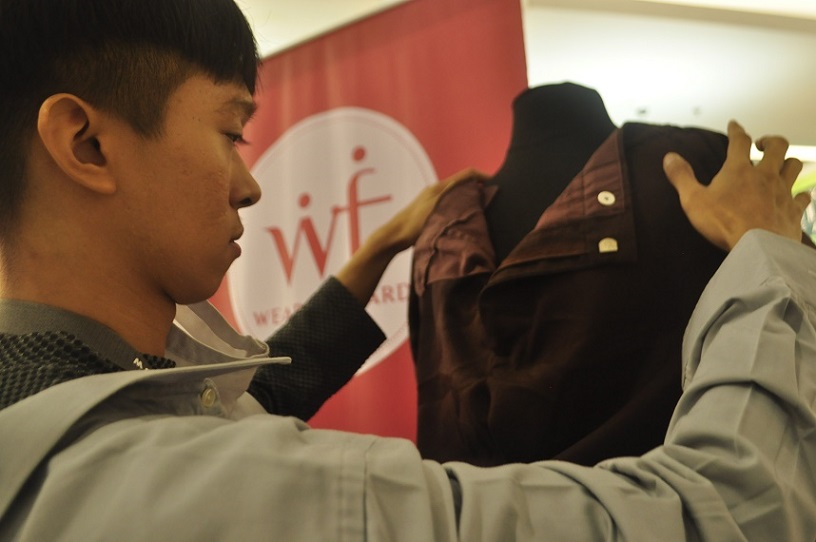 Prince Jimdel Ventura inspecting one his Wear Forward clothes.
The amount of carbon generated from the said industry is no joke, as stated in a report by Quantis, a sustainability and life-cycle assessment consulting firm.
"Together the apparel and footwear industries generated between 5% and 10% of global pollution impacts in 2016. Footwear alone represents approximately one-fifth the impact of the apparel industry, about 1.4% of global climate impacts (700 million metric tons CO2eq), while apparel represents 6.7% of global climate impacts (3,290 million metric tons CO2eq)," the firm said in its report entitled "MEASURING FASHION 2018: Environmental Impact of the Global Apparel and Footwear Industries Study."
"Combined, they account for an estimated 8.1% of global climate impacts."
The carbon emissions came mainly from the dyeing and finishing processes and yarn preparation.
"Most of these impacts are a direct result of apparel's reliance on hard coal and natural gas to generate electricity and heat in key processing locations", the study pointed out.
Upcycling, Recycling, Downcycling
Ventura's "Wear Forward" treats clothing not as item to be owned, but as an article to be used. The former promotes consumption and then disposal, while the latter espouses sharing and repurposing, and thus limits the production of new garments.
Wear Forward fleshes out this guiding principle through recycling, downcycling, upcycling, and repair. The social enterprise gathers old textiles and garments, sorts them out, and then does the above based on the quality of the old clothes they have.
"Upcycling means you're transforming something into a different form with greater value," Ventura explained. An example of this is when he turned a pair of old pants into an off-shoulder tunic.
Downcycling, he said, is when you're devaluing a product, such as turning an old shirt into a rag.
Clothing recycling can be done either by reusing old clothes that are still in good quality, or by breaking down and processing textile fabric so that it can be used as material for other products. In the case of "Wear Forward," clothes still in good shape are rented out for varying periods of time – from two weeks to six months.
Wear Forward primarily caters to the middle and upper class. At the same time, the company makes sure that no clothing is wasted by also setting aside items that will be donated to those who need them the most. "There are still nice clothes that can be appreciated by the community," he said.
Circular fashion
Wear Forward went public only last month, two years after Ventura ideated it as a student. The company made a callout on social media for donations of old garments, and the response has, since then, been
positive.
"When we went public, it was very overwhelming. In less than two weeks, we already gathered 1,400 kilograms of textile waste from 140 people in greater Manila. We even got inquiries from people in Mindanao and Visayas," he said.
"There were also factories and fashion brands that approached us" with the intent of repurposing deadstock fabric that would have otherwise been discarded, Ventura said. He has used deadstock to create new clothes, such as a kimono which was shown on display in a recent eco-trade fair in Manila.
Deadstock fabric refers to fabric left unused by brands or designers. It forms part of the 92 million tons of waste produced by the fashion industry annually, according to the Copenhagen Fashion Summit.
Community and collaboration
Working with brands and other companies is also part of Wear Forward's business model.
"In Wear Forward, we promote circular fashion and collaborative consumption [in line with] a sharing economy model," Ventura said.
But Ventura hopes to collaborate most with consumers who opt to throw away their old clothes instead of reusing or recycling them.
According to the YouGov Omnibus, a report produced by the market research firm YouGov in 2017, 65% of adult Filipinos have thrown their old clothes away, with three out of ten saying they have done this even if they have worn the clothes only once.
Wear Forward aims to change this by engaging consumers who don't see any use for old clothes. The social enterprise's call-out below, posted on Facebook on Aug.11, was quite clear about the important role of people in making sustainable fashion the new normal.
What we can do:
S_STAINABILITY
CIRC_LAR FASHION
COLLABORATIVE
CONS_MPTION
COMM_NITY
ED_CATION
SOL_TION
What's missing?