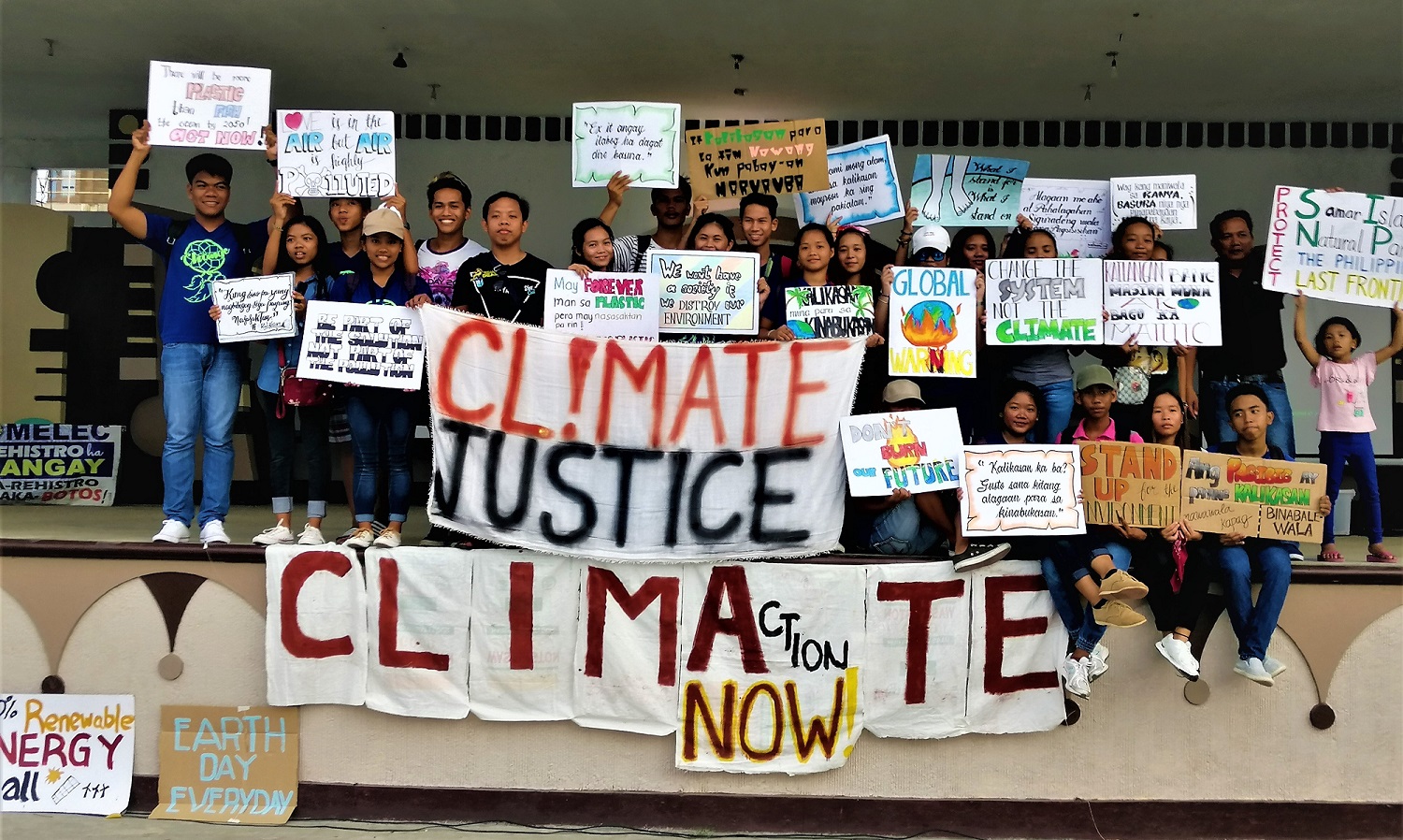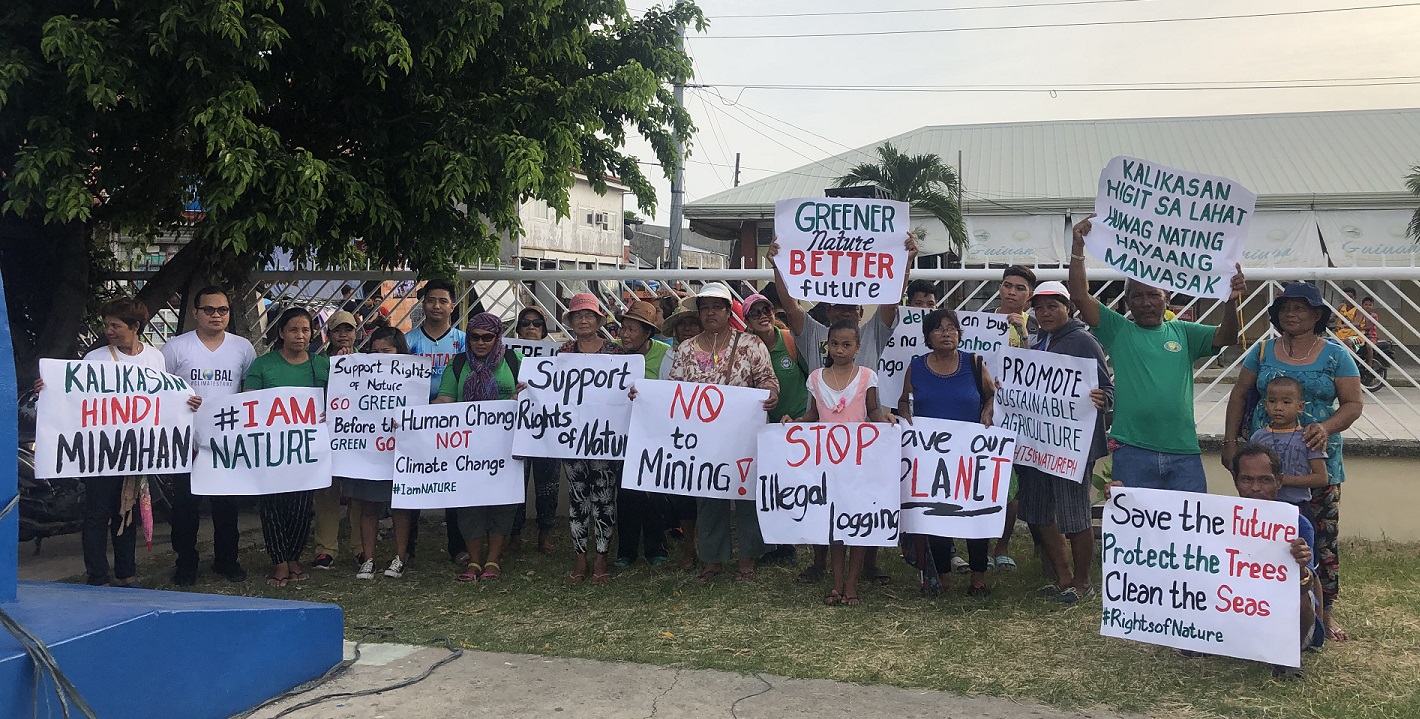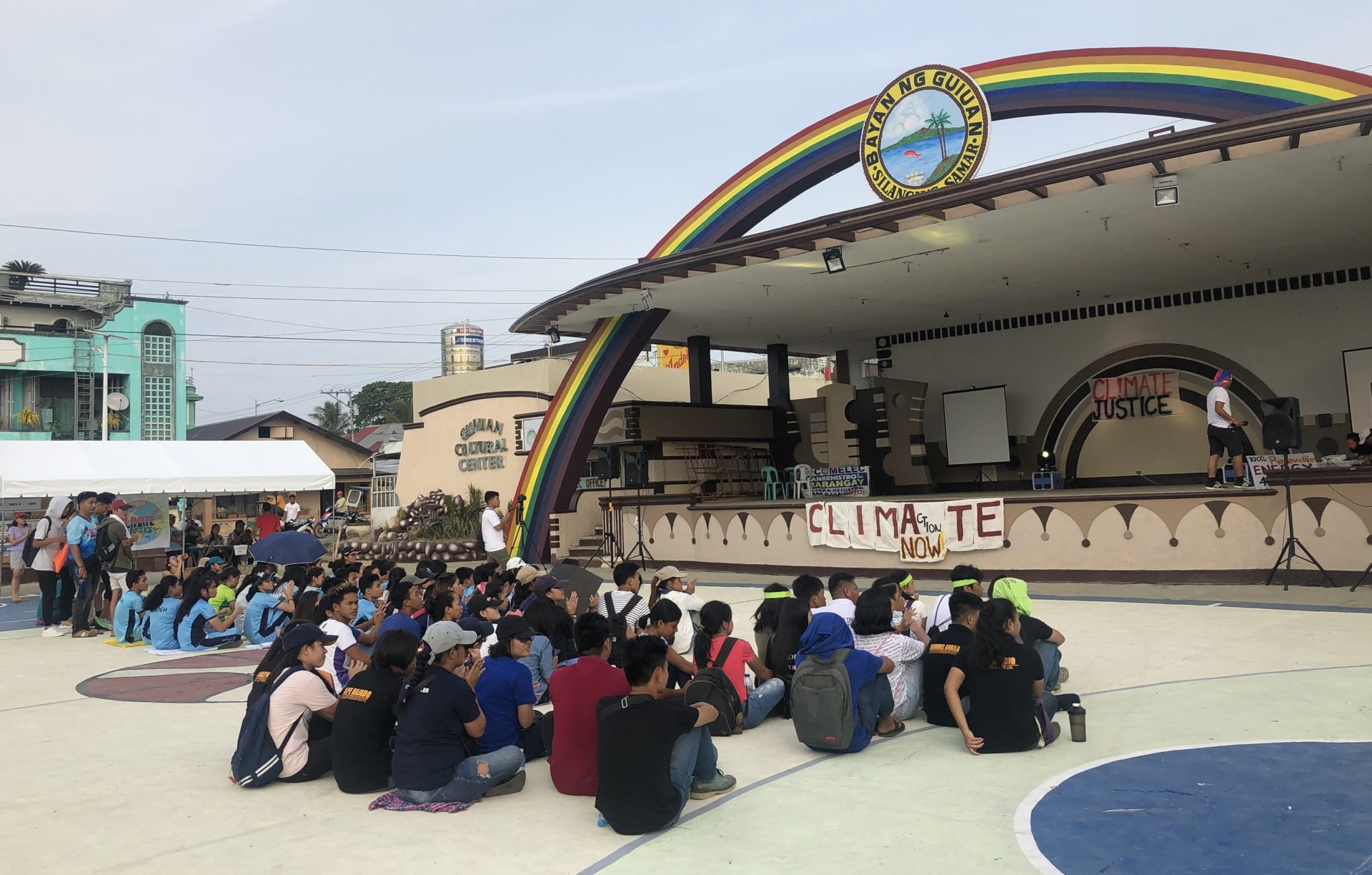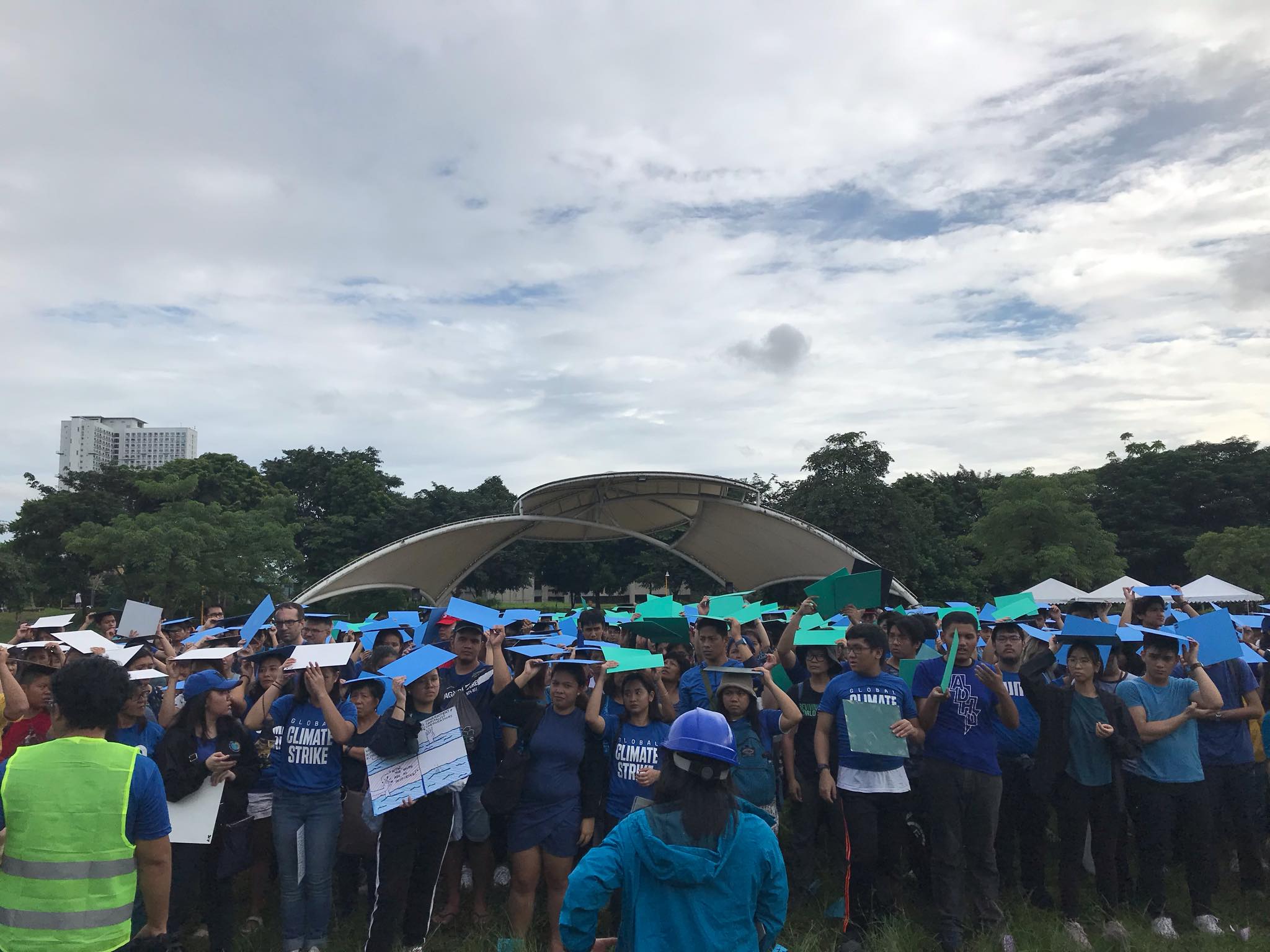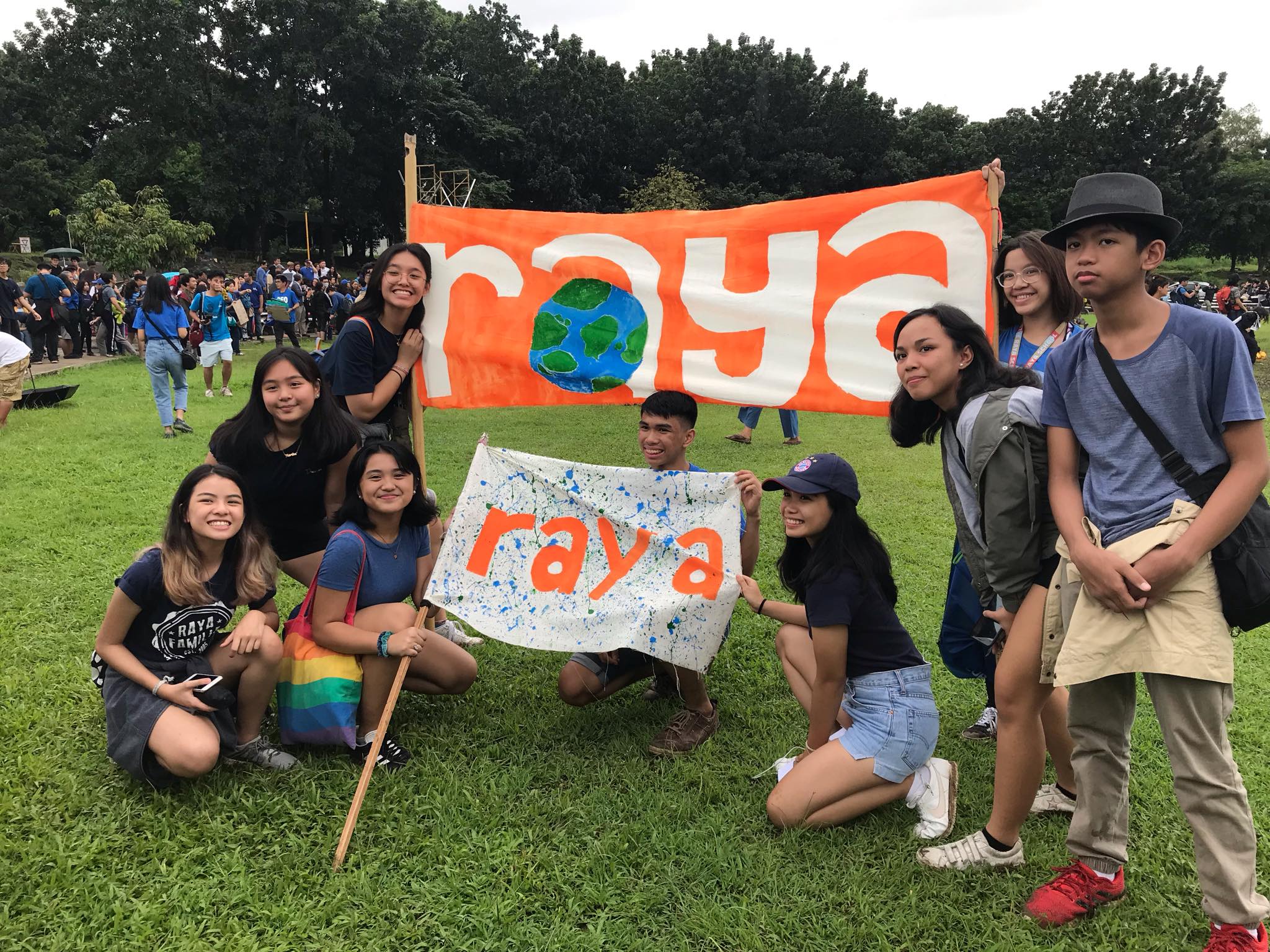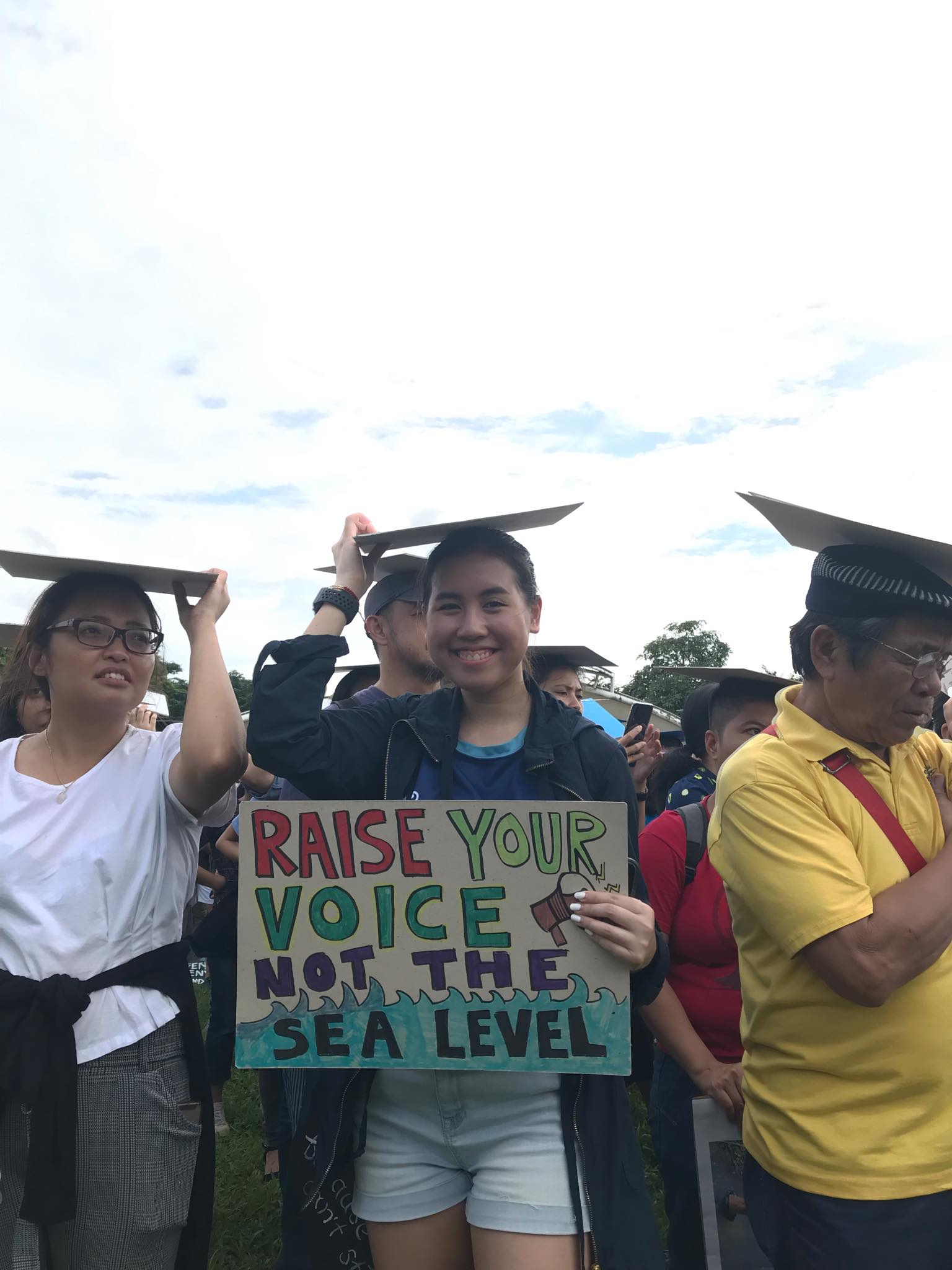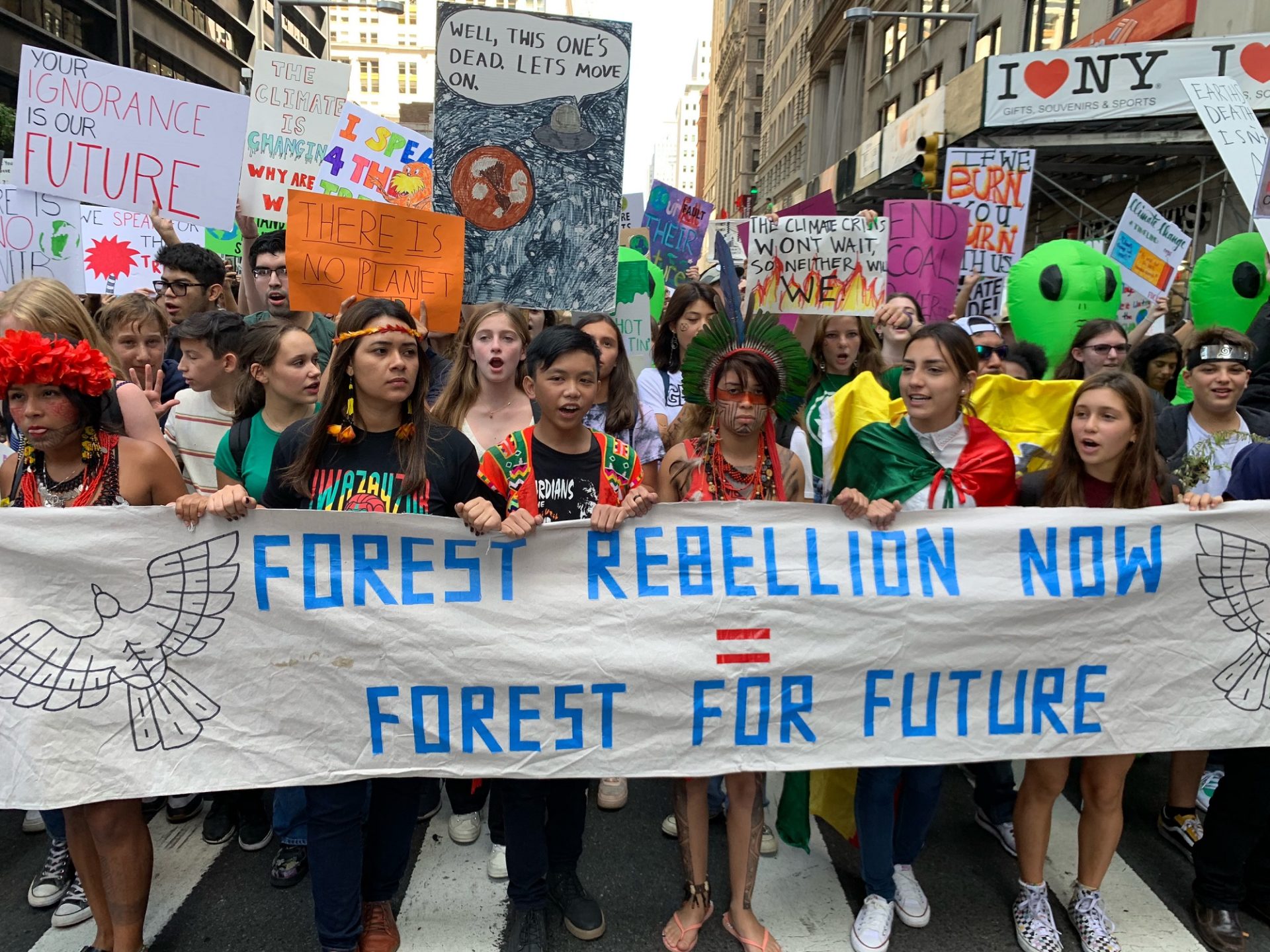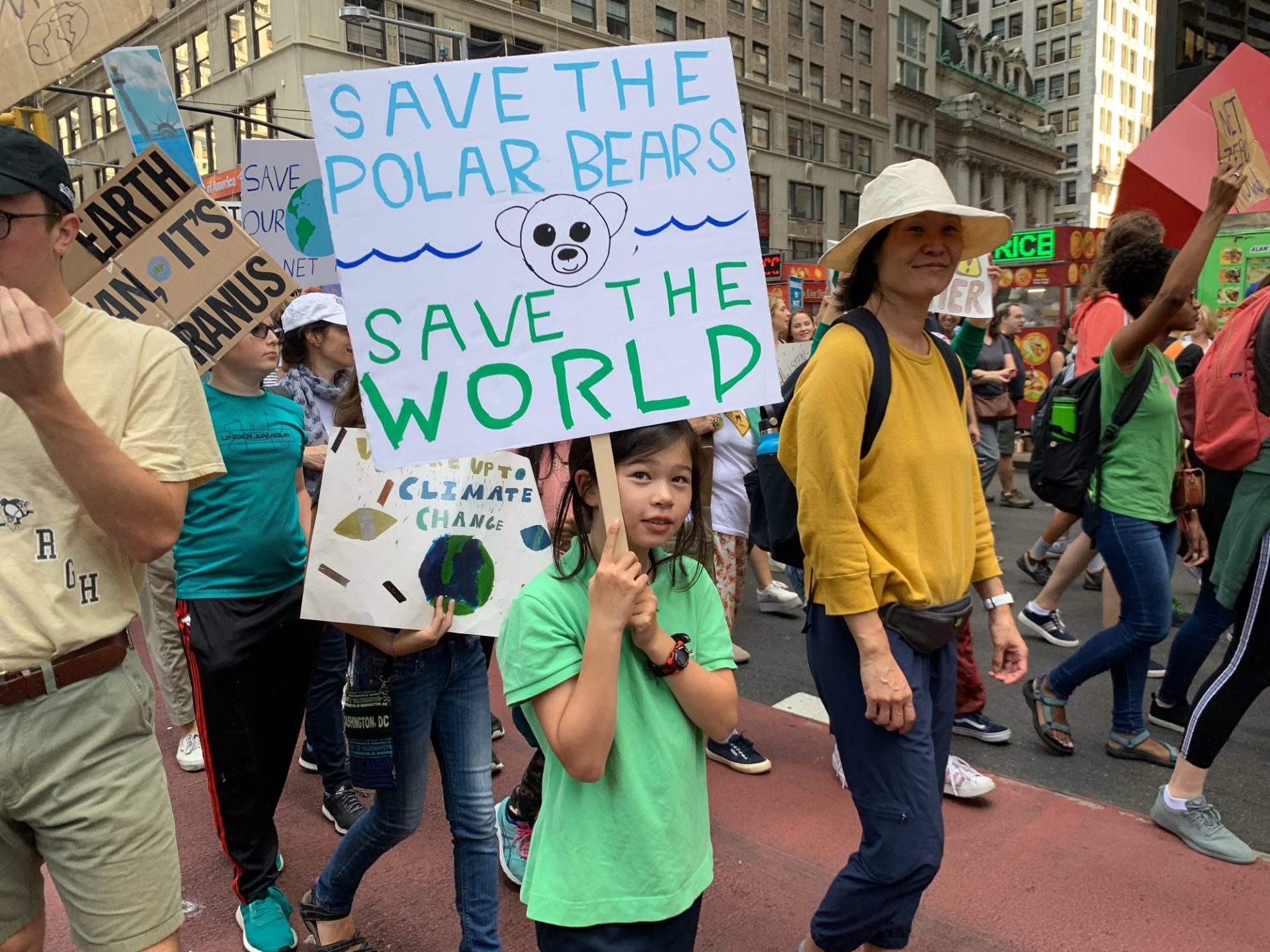 Guiuan_climate_strike
Climate strike by Guiuan residents, survivors of 2013 supertyphoon Yolanda organized by various groups of environmental advocates: MAG (Medical Action Group, Inc), PMPI (Philippine Misereor Partnership Incorporated), GNIP (Good Neighbors International Philippines), 4D (Determined, Driven, Different, Dedicated) Youth of Guiuan, Samurayan Surfers, Youth From Balangkayan and Salcedo and 11 more organizations participated the event. Students from GNHS (Guiuan National High School), Immacualte Conception School (ICS), SMAG (Saint Mary's Academy of Guiuan) and ESSU (Eastern Samar State University).
Guiuan_climate_strike_2
Protesters in Guiuan call for a stop on illegal logging and mining, among others, as part of the climate strike.
Guiuan_climate_strike_3
Protesters in Guiuan gather for climate justice.
climate_strike_-_UP1
Climate strike protesters gather at the College of Science Amphitheater in the University of the Philippines, Diliman.
climate_strike_-_UP2
Students from Raya School Fairview join the climate strike.
climate_strike_-_UP3
Protesters continue the strike despite a light rain in the afternoon.
climate_strike_-_New_York1
More members of the youth mark their presence in New York with bold and colorful placards.
climate_strike_-_New_York2
A young girl joins the climate strike in New York, USA.
Survivors of the 2013 super typhoon Yolanda (international name Haiyan) in the town Guiuan in Eastern Samar joined the millions of protesters in different parts of the world Sept 20 demanding governments to take greater action on climate to prevent further devastation and loss of lives.
More than 250 residents of Eastern Samar gathered in Guiuan, where Yolanda made its first landfall on November 8, 2013 and went on to destroy several towns in the province while reserving its fiercest fury for Tacloban in neighboring Leyte province.
Yolanda is the deadliest typhoon to have hit the country, wiping out communities and killing more than 6,000 people.
Guiuan protesters, mostly youth, held placards articulating their demands: "Aksyon para Klima, ayaw na pagiha-a!" (Action for Climate, Now!) and "Climate Justice Now!"
Others focused on specific issues: "No to Mining!", "Pass SINP (Samar Island Natural Park) Bill to Law", "Enough Commercialization, Enforce Conservation", "Protect SINP the Philippines Last Frontier", "Change the System, not the climate", "100% Renewable Energy for all."
Alvin Daga of 4 D (Determined, Dedicated, Driven, Different) youth group expressed his feelings through a reverse poem.
Hundreds of students and environmental activists also gathered in the University of the Philippines in Diliman to press demands for urgent action to curb climate change. Other schools held similar actions.
The protests, part of the Global Climate Strike, reverberated around the world with 5,800 activities in 163 countries from Sept 20-27.
The largest assembly was in New York where an estimated 250,000 people, mostly youth, 'shouted' their messages in placards and slogans. "We are not done. Actually we are just getting started," Alexandria Villasenor, co-founder of the United States Youth Climate Strike movement said during the gathering of more than 200 environment and human rights groups in New York held ahead of the United Nations Climate Action Summit.
"Over the past year, the youth has become the moral voice on the climate crisis urging adults and world leaders to listen to the scientists and take action for as long as it takes. The future of our generation and all humanity is at stake and we will not stop until we will have one."
According to the scientific report of the United Nations Intergovernmental Panel on Climate Change (IPCC) released in October last year, the world has only 12 years to address the devastating impacts of climate change such as inundated coastlines, intensifying droughts and poverty, including the displacement of millions of people. The report highlighted that greenhouse gas emissions, mainly from burning fossil fuels, would need to be cut roughly in half by 2030 and eliminated by 2050.
Greenpeace Southeast Asia Director Naderev Sano said the climate strike is a demonstration of the collective indignation of peoples and movements around the world, buoyed by fresh energy from the world's children and youth, clamoring for climate justice and ambitious action.
"The wave of youth-led climate strike is a celebration of a massive awakening happening all over the planet on the stark inaction by political and industry leaders on the climate crisis," said Sano, who is in New York to join the call for urgent climate action.
He said that ahead of the climate strike, youth from communities also joined civil society groups and petitioners in filing on Sept. 19 the first climate change and human rights liability inquiry of big fossil fuel companies before the Commission on Human Rights.
"We are inspired by the spirit of solidarity and strong resolve of all the climate-impacted communities, organizations and individuals who have been part of this journey to hold the big polluters accountable for the human rights implications of the climate crisis," Sano added.
A new era of climate movement
Like many countries, the Philippine government has given the green light to more than 23 million public school students to skip classes last Friday (Sept 20) to join the climate protests calling for immediate action to fight climate change.
Through a memorandum order, the Department of Education announced that students will be allowed to miss school for the massive youth climate protest.
"Moved by the climate realities faced by the Philippines and inspired by the global youth action, young Filipinos nationwide will take part in the global climate strike. With this the department enjoins school heads and teachers to excuse students who will be joining the localized climate strike provided that parental consent/legal guardian consent is given," the memorandum stated.
Likewise, the department encourages schools and offices to conduct climate education and action activities within school grounds. Examples may include noise barrage, school or community clean-up and educational discussions.