(Note: This article first appeared in the Philippine Daily Inquirer on April 16, 2019.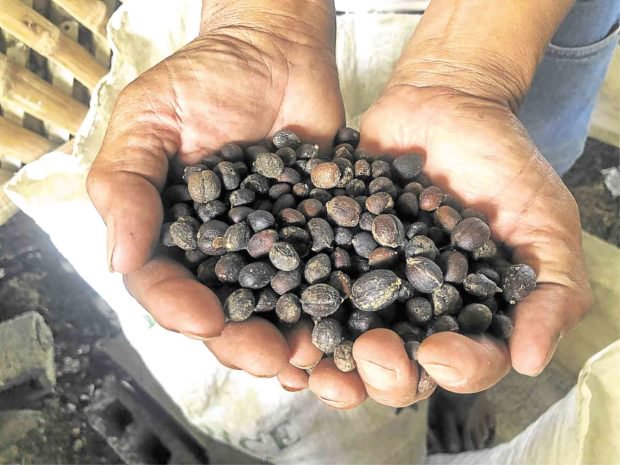 Farmer Julian Aguilar shows the coffee beans he has harvested on his farm in Cavite province. With changing climate, he is planting other crops to ensure yield for his livelihood and food on the family table. Inquirer photo by Jhesset O. Enano.

SILANG, Cavite, Philippines — Under the sweltering sun, Julian Aguilar inspects his crop, which, like him, have been reeling from the intense heat.
The 65-year-old farmhand cultivates coffee, also the perennial product of other farmers in this province.
Like his father and grandfather who tilled the land before him, Aguilar produces mainly the sought-after arabica beans and the less-common excelsa beans.
The laborious journey from tree to cup, however, requires the perfect mix of conditions, Aguilar said, including just the right amount of sunlight and water.
Livelihood in peril
But with recent prolonged dry spells and stronger rains, relying on coffee production alone — which is harvested once a year—may put his livelihood in peril.
"Last year, we had really strong rains and our coffee production was really affected," he said.
Under ideal conditions, his 3-hectare plantation can yield up to 3 tons of dried coffee beans. Last year, he said the harvest was meager.
To adapt to the changing climate, Aguilar began to diversify, adding crops that can be resilient under different weather conditions.
Crop diversification
Now, his land also produces bananas, pechay, pineapples, cucumbers, dragon fruits and "sili" (pepper).
While not entirely a new concept, crop diversification is one component of climate-smart agriculture (CSA).
It is an approach that not only ensures a country's food security, but also supports farmers whose lives are intricately linked with the soil and the climate.
From rice to coffee
Agriculture that is "climate-smart" or "climate-resilient" has three main concerns, namely food security, climate change adaptation and climate change mitigation, said Rene Vidallo, country program manager of the International Institute of Rural Reconstruction (IIRR).
This approach incorporates practices already being done in the local level. Traditional knowledge of farmers and communities is combined with research and technologies needed to adapt to a changing climate and to reduce greenhouse gas emissions from agriculture.
After all, longtime farmers like Aguilar know the land and the crops best.
A farmer since he was a teenager, Aguilar said his family's land used to be rice plantations, until they decided to shift to coffee amid growing demand for it.
But even as early as the '90s, he said the family began to notice changes in weather patterns.
Typhoons and droughts lingered more often, affecting the harvest that the family would sell as well as put on the table.
"Now, because we have diversified our crops, we won't go zero in our production," he said.
Planting various crops based on seasonal calendars can also maximize soil productivity, which translates to better farm yield and income for the farmers.
Vidallo said there was no one-size-fits-all approach to making climate-smart farms.
'Disaster days' crops
For instance, for areas that are heavily hit by typhoons, disaster-resilient, or "disaster days" crops, such as bananas, roots and tubers, may be planted.
Pineapple is considered "resistant" to drought.
Management of small livestock production can also be made climate-smart, with a successful case in Guinayangan town in Quezon province.
Over the years, several barangays have been turned into "climate-smart villages" through initiatives led by IIRR and the local government.
These villages serve as real-time laboratories, where farmers test farming practices and systems that would best adapt to their climate.
Farmers have transformed grasslands into productive rice fields. Coconut farms, meanwhile, have rich vegetation growing underneath tall trees.
Under IIRR's initiative, Guinayangan women led in managing and breeding native pigs.
Instead of consuming commercial feeds that are costly and energy-intensive to produce, the hogs eat plants and plant products often found in backyards, such as sweet potato tops and "kakawate" (madre de cacao) leaves.
Gloria Macaraig, president of the Guinayangan Native Pig Association, or GuiNaPig, said the small-scale production had allowed women to participate in agricultural activities and even organize themselves in learning groups and cooperatives.
She said the practice had also provided them with additional income, meeting the growing demand for native and organic pigs.
As an agricultural country that is also most vulnerable to climate change, the Philippines and its farmers would benefit greatly from CSA approaches, Vidallo said.
Challenge
"The challenge is that farmers are often limited by their traditional practices," he said. "But all this talk about climate change and the rising demand for food presents a big opportunity for them. They just have to have access to proper information."
Ironically, while farmers produce the country's food supply, they remain to be among the poorest and, thus, more at-risk from climate change.
"There are so many research outputs but these are not given to the farmers," Vidallo said. "But if we support them and we invest in agriculture, everyone will surely benefit from it."