A month-old basketball-oriented Facebook page literally went "off" its court after it posted on Sept. 3 a fake quote card of transgender woman Gretchen Diez claiming she is pushing for "exclusive schools" for members of the lesbian, gay, bisexual, transgender, queer (LGBTQ) community nationwide.
We Are Pba Updates, an unofficial fanpage of the Philippine Basketball Association with over 7,000 followers, deviated from its regular content when it uploaded a cropped version of an Aug. 16 photo of Diez by the Quezon City Public Affairs and Information Services Department (QCPAISD), juxtaposed with the quote, "Exclusive schools for LGBTQ in every cities (sic)."
The fanpage claimed Diez was pushing for LGBT-exclusive schools, and asked its followers to weigh in on the matter, writing as the post's caption:
"off topic: isinusulong ni Gretchen Diez ang pagkakaroon ng Eksklusibong paaralan para sa mga LBGTQ sa bawat Lungsod! pabor ka ba o hindi (Off topic: Gretchen Diez is pushing for exclusive schools for LGBTQ in every city. Are you for or against it)?"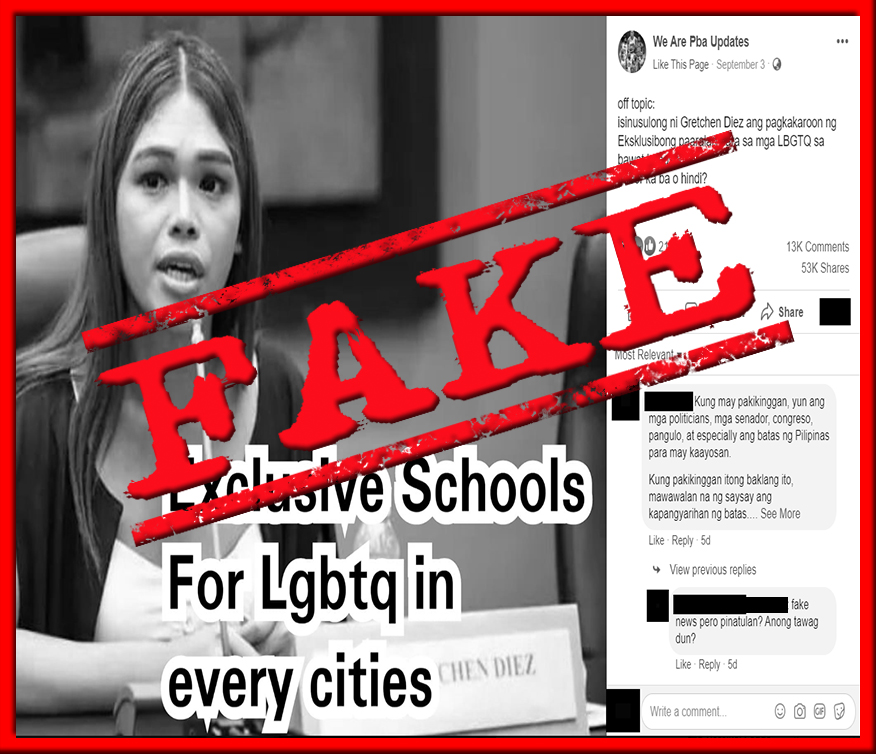 There are no news reports nor media interviews where Diez made such a call. The trans woman made no mention of this during the Aug. 16 press conference by the Quezon City Pride Council.
Diez, in her personal Facebook account, posted on Sept. 4 rumors about her that have been circulating and rated them either as true or false.
She said she advocates for "inclusivity" and "equality," and "does not like exclusivity," belying the report she was pushing for exclusive schools for LGBTQ.
We Are Pba Updates' fake quote card surfaced almost a month after Diez was discriminated against in a Quezon City mall on Aug. 13, when a janitress asked her to use the men's restroom after two women supposedly complained of her presence in the women's restroom.
We are Pba Updates' fabricated post could have reached over 800,000 social media users. Its top traffic generators largely came from Facebook page HINDI PORKE'T NASA ABROAD AKO, MAYAMAN NA! HINDI AKO BANKO! and public Facebook groups Tulfo Brothers Worldwide and SARA DUTERTE FOR PRESIDENT 2022 -JOIN NA PO KAYO.