A netizen recently published a Facebook post that falsely insinuates that Vice President Leni Robredo wants to remove the assignment of sex to newborns, fusing her support for the Sexual Orientation and Gender Identity and Expression (SOGIE) bill with a statement made by another gender equality advocate.
The misleading online post, published on Aug. 27, carried screengrabs of two Aug. 25 stories by website philnetizen.com. One story was of Robredo encouraging Congress to pass the SOGIE bill, a few days after a transgender woman was discriminated against in a Cubao mall restroom; the other a report on Lesbian and Gay Legislative Advocacy Network-Philippines spokesperson Naomi Fontanos saying in an Aug. 20 Senate hearing that "as much as possible," sex should not be assigned at birth because it was merely "predictive."
Philnetizen.com has previously published stories that VERA Files Fact Check has found to be misleading or needing context.
The netizen mishmashed the two stories, its three screengrabs consisting of:
the headline and lead paragraph of the Robredo story,
a paragraph from the Fontanos story that said, "a SOGIE Equality bill advocate said parents should not assign the sex of their newborn babies because they might turn out to be gay or lesbian in the future," and
Fontanos explaining how some countries give parents the option to put an "X" or double-dash on the sex category of babies' birth certificates.
Additionally, the misleading post was captioned,
"Nanawagan si Leni Robredo na ipasa na ang batas ni Satanas para magkabali-baliktad na ang sex o gender sa Pilipinas.. Wag daw munang lagyan ng male o female ang birth certificate ayon sa Sogie Bill advocate pag may ipinapanganak, maghintay daw muna baka kumembot yung male para ilagay ang female.. (Leni Robredo is calling for the passage of Satan's law to reverse sexes and genders in the Philippines… Don't immediately identify that one is male or female at birth, said the SOGIE Bill advocate, wait because the male might sway his hips and end up being called female instead),"
This falsely suggests that Robredo is supporting the passage of a bill that will terminate the assignment of sex to newborns.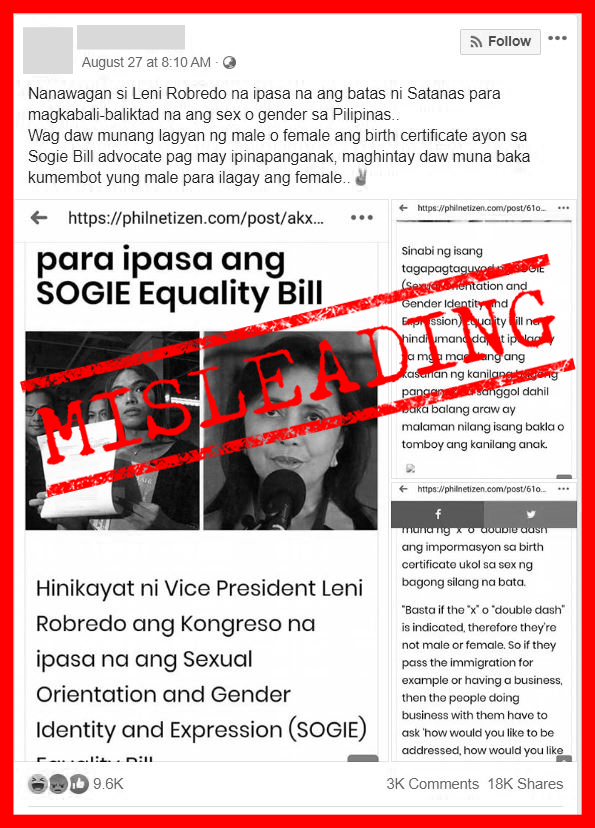 The SOGIE Bill — filed as Senate Bill 159 in the Upper House, and House Bill 4982 in the Lower House — does not have any provision which tackles the determination and assignment of sex at birth. Fontanos' statement regarding sex assignment during the Senate hearing was only made to answer Sen. Nancy Binay's inquiry on SOGIE labels.
When asked if the non-indication of sex in birth certificates will eventually be part of Fontanos' group's proposal in relation to the SOGIE Bill, Fontanos said other countries such as New Zealand and Australia are already giving their citizens the choice of indicating an indeterminate sex in official documents such as birth certificates and passports.
The misleading Facebook post was published 10 days after Robredo said it was "about time" to pass the SOGIE Bill, in an interview with One Media TV48 Naga on Aug. 17. The vice president was among the principal authors of a similar bill filed in the 16th Congress.
The netizen's misleading FB post got a total of 88,886 engagements and could have reached around 38,000,000 social media users. Its top traffic generators are Facebook pages HKG報 HKGpao, Humans of Hà Nội, and Knowledge Products.