At least two fake Facebook (FB) posts are making the rounds on the Web claiming trans woman Gretchen Diez wants to use "transgender names" for typhoons entering the country.
Basketball fan page We Are Pba Updates and a netizen posted on Sept. 2 and 3, respectively, a photo of Diez superimposed with the text, "…and to be fair, I also wish they will use transgender names for our typhoons in the Philippines." Both described Diez as a "2022 Senatorial Candidate."
There are no news reports nor official records quoting the trans woman making such a statement. Diez also did not make the claim during the Aug. 16 press conference of Quezon City (QC) Pride Council, where QC Public Affairs and Information Services Department took the photo used in the fabricated posts.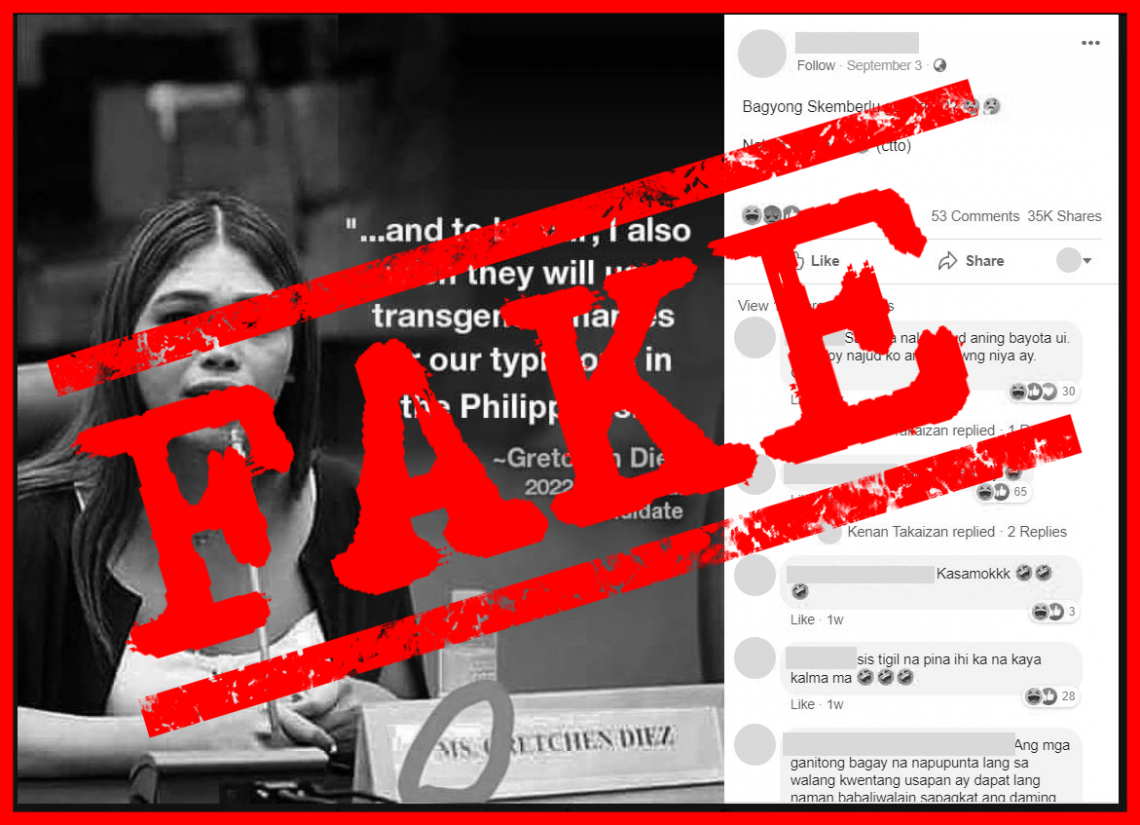 In a post on her personal FB account on Sept. 4, where she debunked a number of rumors about her, Diez refuted the claim that she wants transgender names for typhoons. She questioned how names can be classified as "transgender," and said past typhoons like Yolanda, Glenda and Katrina already sound like transgender names.
The two fake quote cards are the latest in a string of fabricated statements being attributed to Diez, under the theme of supposed LGBTQ representation in society. We Are Pba Updates was recently flagged by VERA Files for publishing on Sept. 3 another fake quote card using the same photo, and claimed Diez was calling for LGBT-exclusive schools.
The "2022 Senatorial Candidate" label was an exaggeration of Diez's Aug. 24 statement where she said she was "open to running for public office," to further her advocacy of gender equality.
The fake quote cards surfaced two days before the second Senate committee hearing on the proposed Sexual Orientation, Gender Identity and Expression Equality Bill.
The We Are Pba Updates' post could have reached 250,000 people, with traffic to the story from social media largely coming from Facebook groups ALAN PETER CAYETANO SUPPORTERS INTERNATIONAL and Top Tier Cringeposting. The page was created on Aug. 2.
Meanwhile, the netizen's post has garnered over 15,000 reactions and has been shared more than 35,000 times.