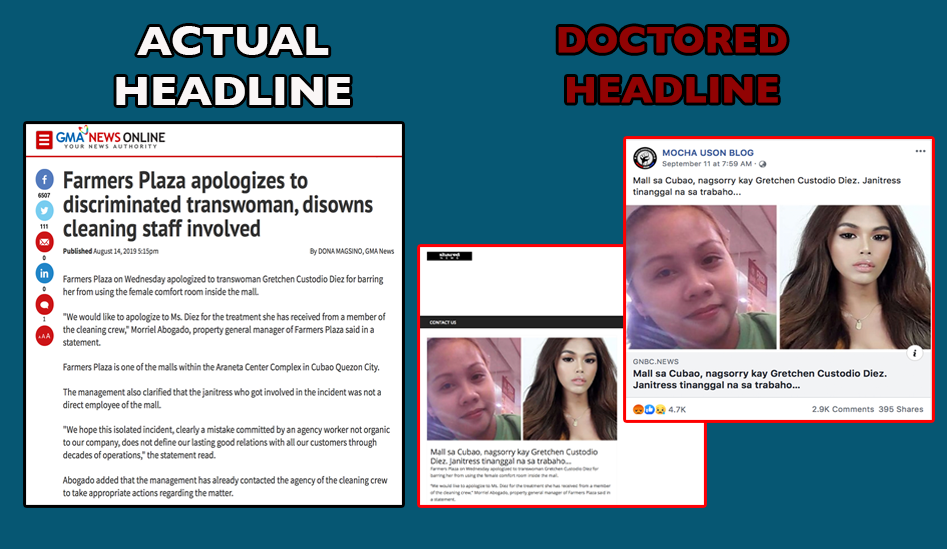 Margaux "Mocha" Uson, newly-appointed Deputy Executive Director of the Overseas Workers Welfare Administration, shared twice in September an altered and false version of a GMA News Online report.
The rip-off article claimed Chayra Ganal, the cleaner who disallowed trans woman Gretchen Diez to use the women's restroom at Farmers Plaza mall, was fired from her job. Not true.
STATEMENT
On Sept. 4 and 11, Uson shared on her Facebook (FB) page an article published by a website named Shared News (gnbc.news) on the apology of Farmer's Plaza regarding the altercation between Diez and Ganal on Aug. 13.
The false article, uploaded Sept. 4, was taken from a GMA News Online article published three weeks prior on Aug. 14. It was headlined "Farmers Plaza apologizes to discriminated trans woman, disowns cleaning staff involved."
Shared News copied the body of the GMA article word for word, but changed the headline — its report now claims Ganal was dismissed after the mall issued a public apology.
The false headline is also the caption to Uson's post:
"Mall sa Cubao nag-sorry kay Gretchen Custodio Diez. Janitress tinanggal na sa trabaho (Mall in Cubao says sorry to Gretchen Custodio Diez. 'Janitress' fired)…"

Source: MOCHA USON BLOG, Sept. 4, 2019 and Sept. 11, 2019
FACT
Ganal was never fired. The 25-year-old cleaner said this in a video interview uploaded online on Aug. 19, or 16 days before the false report was published by Shared News and shared by Uson.
In an interview with online news group PressONE.PH, Ganal was asked about her employment status. After explaining that she was a regular employee of a service agency and not of Farmers Plaza, she was asked whether her employer dismissed her after the public uproar.
"Ganal: Ang gusto po nila mangyari, papasok pa rin po ako. Pero nag-suggest po ako na kung pwede mag-rest po muna ako dahil sa inabot kong i-stress na rin po (What they [employer] wanted to happen is for me to continue going to work. But I suggested that if permitted, I will rest for a while because of the stress). /


PressONE.PH: Hindi ka naman tinanggal ng employer mo (Did your employer fire you)?

Ganal: Hindi naman po (No).
PressONE.PH:Pero pumayag sila na magpahinga ka (But they allowed you to take time off and rest)?

Ganal:Opo. Sinupport naman po nila yung pag-ask ko sa kanila na mag-pahinga (Yes. They supported me when I asked to rest)."

Source: PressOnePH Exclusive: Janitress in LGBT firestorm speaks up, Aug. 19, 2019. Watch from 12:13 – 12:22 and 13:10-13:25
VERA Files Fact Check has been reaching out to the management of Araneta Center, which handles Farmers Plaza, since Sept. 9, but has yet to receive its response.
The Shared News article gained about 29,000 interactions on Uson's FB page. It was also shared by 20 other FB groups and pages, garnering almost 80,000 interactions in total. Over 6.7 million people could have been reached by the false report, according to social media monitoring tool Crowdtangle.
A check of the Shared News website's Google Adsense code (ca-pub-2389116891968561) reveals it shares the same code with six other domains, including goodnewsnetworkph.com, a website that published articles also frequently shared by Uson in 2018. VERA Files Fact Check had previously flagged several reports on the site as false or misleading before the domain went offline.
The following have the same code as Shared News:
Factcheckerph.com
Goodnewsduterte.com
Goodnewsnetworkph.com
Newsreviewph.com
Weblogph.tk
Web publishers and YouTube channel owners may use Google AdSense to earn from their sites through advertisements. Publishers are issued a code to place on their web pages to display ads from Google.
Sources
PressOnePH Exclusive: Janitress in LGBT firestorm speaks up. PressONEPH. Aug. 19, 2019.
"Farmers Plaza apologizes to discriminated trans woman, disowns cleaning staff involved." GMA News Online. Aug. 14, 2019
Araneta Center's apology to Gretchen Diez. Aug. 14, 2019
"VERA Files: Fact checker or fact blocker?" Philstar.com. June 5, 2018
(Guided by the code of principles of the International Fact-Checking Network at Poynter, VERA Files tracks the false claims, flip-flops, misleading statements of public officials and figures, and debunks them with factual evidence. Find out more about this initiative and our methodology.)