A story carrying a false headline and misleading photos that link former president Benigno "Noynoy" Aquino III to Cebu's stalled infrastructure projects amounting to P557.8 million was published May 24 by website Our Daily Revelations PH (ourdailyrevelationsph.com).
While the Commission on Audit discovered earlier this year that the multimillion=peso projects remained in limbo, one of the story's "fact check" sources – a May 20 Philippine Star report – makes no mention of Aquino or any information about the projects being carried out under Aquino's term.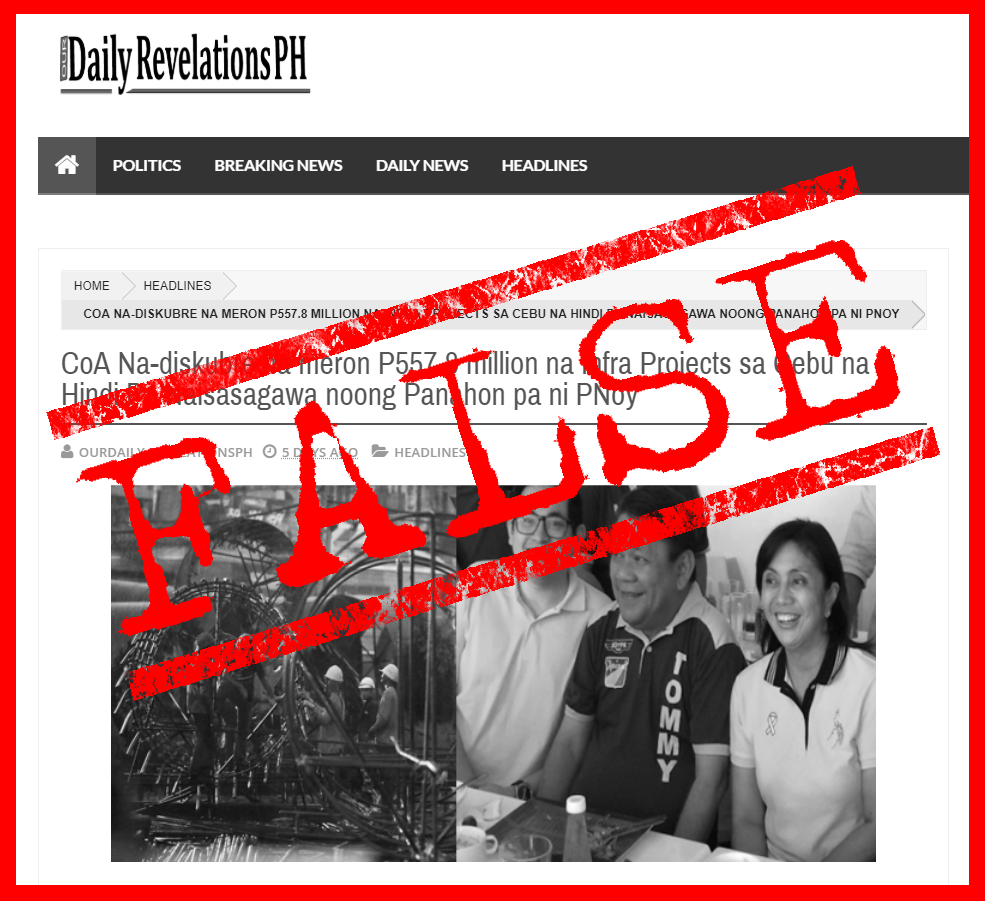 The story's other source, a May 21 report by goodnewsnetworkph.com, merely copy-pasted the Star report and deliberately changed its headline from "P557.8 million Cebu infra projects delayed — COA" to "BASTA DELAYED. TATAK DILAWAN. CoA na-diskubre na merong 25 Infra Projects sa Cebu na walang nangyayari (If it's delayed. It's with the yellow team. COA discovers 25 infra projects in Cebu remain unimplemented)." Vera Files has reviewed a number of stories from goodnewsnetworkph.com that all turned out to be misleading or false.
The erroneous post, which bore the headline "CoA Na-diskubre na meron P557.8 million na Infra Projects sa Cebu na Hindi Pa Naisasagawa noong Panahon pa ni PNoy (COA found P557.8 million worth of infra projects in Cebu not implemented since PNoy's term)," also misleadingly used unrelated photos of Cebu City Mayor Tomas Osmeña with Aquino's Liberal Party-mates Vice President Leni Robredo and Sen. Paolo Benigno "Bam" Aquino in 2015 and 2016.
The story, which could have reached more than 1.1 million readers, was published as Aquino faced charges in connection with the Dengvaxia vaccine controversy.
Ourdailyrevelationsph.com was created in September 2016. The story's biggest traffic generators on social media are The Filipino News, News Wire PH and The News Gear.
(Editor's Note: VERA Files has partnered with Facebook to fight the spread of disinformation. Find out more about this partnership and our methodology.)