The website Duterte Federal (dutertefederal.info) re-posted May 26 a fabricated story from 2017 that claims President Rodrigo Duterte rejected the proposal of Vice President Leni Robredo to "legalize" drug use in the country.
The fake news story, which could have reached more than 2.1 million people, carried an April 24, 2017 video that does not at all reflect its headline "SHOCKING! President Duterte Pumalagsa Gusto ni Leni na Gawing Legal ang Druga sa Bansa (Shocking! President Duterte rejects Leni's proposal to legalize drugs in the country)." It splices together a video of an ABS-CBN reporter speaking to then Dangerous Drugs Board chairman Benjamin Reyes, an unrelated report of Duterte being included in TIME Magazine's 100 most influential people in 2017, and footage of Duterte speaking at the opening ceremony of the Palarong Pambansa on April 23, 2017. The video's audio levels had been altered.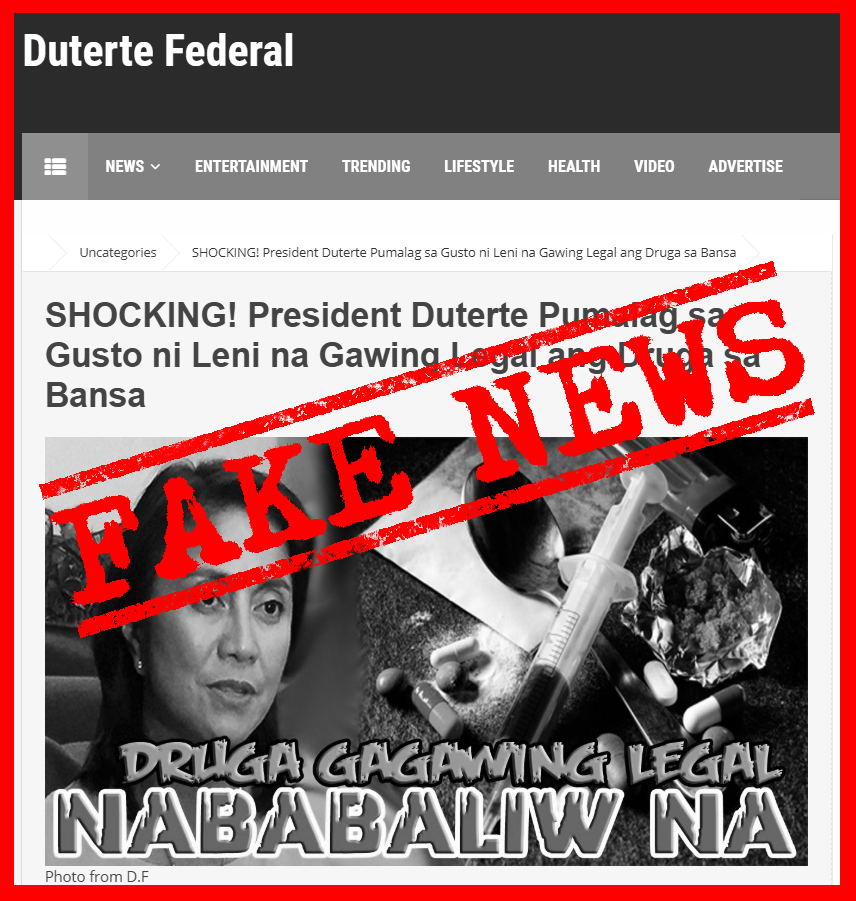 The video made no mention that Robredo was proposing to legalize drug use. In fact, Reyes and the reporter were only discussing Robredo's statement in an April 23 forum where she recommended that the government study how other countries, like Portugal, addressed their drug problem. Portugal in 2001 decriminalized drug use and shifted its approach from a punitive one to seeing the drug problem as a health issue.
Duterte also did not "reject" Robredo's statement but merely mocked it, as shown in an April 28, 2017 report by the Philippine Daily Inquirer.
Dutertefederal.info was created October 2017; Youtube channel TatayDuterte News, which published the video, in December 2016. The story's biggest traffic generators on social media are Silent No More PH, Duterte Worldwide Supporters and President RodyDuterte -Federal Movement International.
(Editor's Note: VERA Files has partnered with Facebook to fight the spread of disinformation. Find out more about this partnership and our methodology.)