A twice recycled story by the website The Asian Policy (asianpolicy.press) on the failure of former President Benigno "Noynoy" Aquino III's administration to distribute the emergency fund and donations to victims of Typhoon Yolanda made rounds on social media again on May 25 and 26.
The story is misleading even in its first publication in November 2017. The Asian Policy post rehashes a Sept. 8, 2014 Rappler report, changing its headline from "COA: Yolanda fund, donations did not reach victims" to a more antagonizing "COA: PNoy admin didn't give fund, donations intended for Yolanda."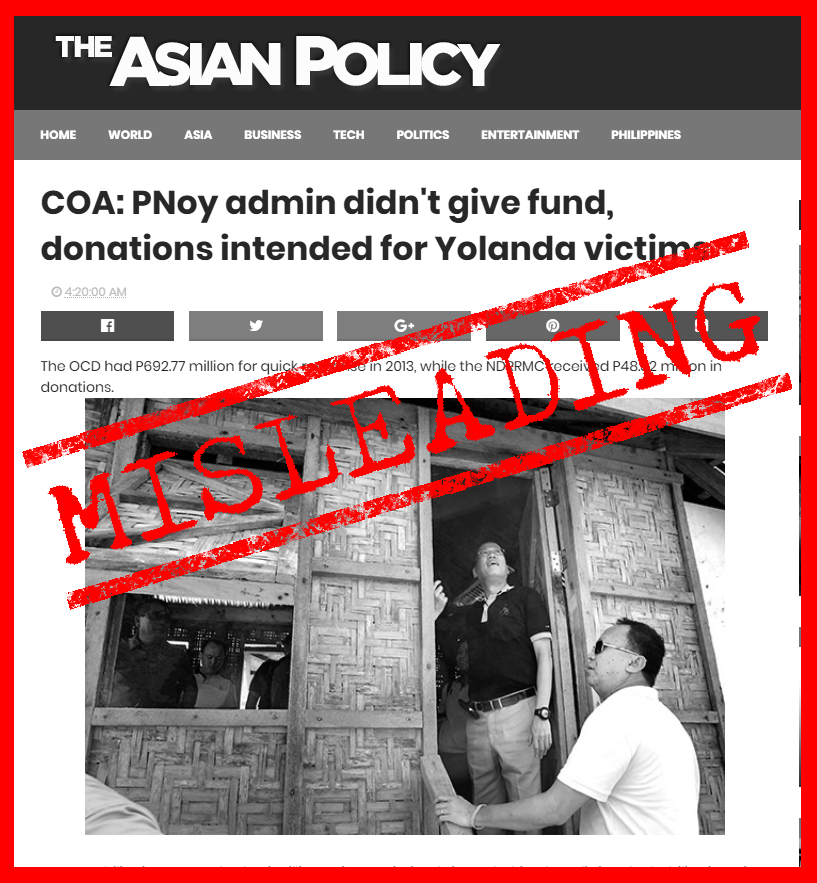 Traffic to the story, which could have reached more than 2.2 million people, was largely generated by Facebook page Duterte Today which shared it with the caption, "Siguradong hindi na naman 'to alam ni Panot. Palibhasa, wala kasing alam (For sure the Bald Guy would have no idea about this again. He knows nothing)!!"
The misleading story was re-shared about a week after President Rodrigo Duterte's Presidential Anti-Corruption Commission discovered "anomalies" in three multi-billion peso projects under Aquino's term.
The Asian Policy was created in August 2016.
(Editor's Note: VERA Files has partnered with Facebook to fight the spread of disinformation. Find out more about this partnership and our methodology.)
2018-05-31 10:21:06 UTC