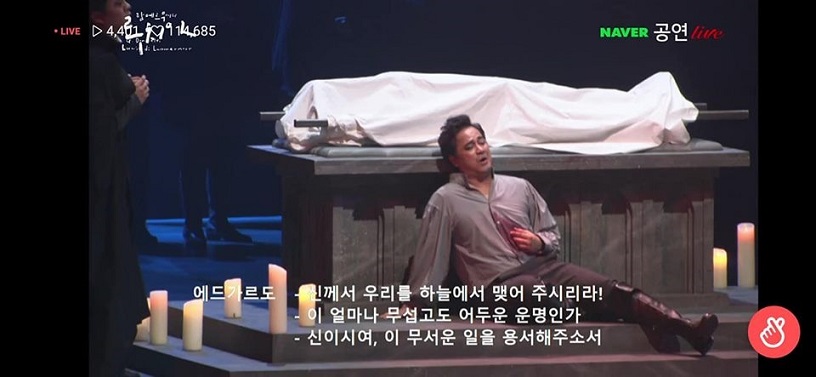 Arthur Espiritu
as Edgardo in the graveside scene in Lucia di Lammermoor in Korea.
From Daegu Opera House.


While opera
remains a rarity in Metro Manila (except for some concerts offering
token arias and some once-a-year opera production), tenor Arthur
Espiritu is leading an opera life that the Filipino opera lover can
only dream of.
For instance,
Donizetti's Lucia di Lammermoor was heard in the Philippines only
in the late 40s with Maestra Mercedes Matias Santiago singing the
title role at the UST Gym. She became a Free Press cover girl without
asking for it.
Filipino tenor
Arthur Espiritu recently sang the role of Edgardo in the Donizetti
opera at the Daegu Opera House in South Korea and won more than his
share of compliments.
A Vienna-based
opera critic noticed the Filipino tenor's voice was reminiscent of
(Luciano) Pavarotti and (Placido) Domingo during their heyday.
Critics found his graveyard scene as Edgardo very moving.
When the opera
house released the video footage of Lucia, one heard the ecstatic
stomping of feet from fellow musicians during the curtain call.
It was no doubt a
clear signal the Filipino tenor has risen way beyond everyone's
expectations and has in fact soared to the stratosphere of opera.
"I had an
amazing time in Daegu," the tenor said. "On top of that, the
audience was great and so was stage director Bruno Berger-Gorski and
conductor Roberto Rizzi Brignoli. The orchestra was great! Best of
all, the people were so accommodating and nice to me. They treated
me with respect and appreciation. I had wonderful time."
If there was one
impression left on him when he left Korea, it was the fact that his
fellow Asians are hungry for good music and the arts. "They
appreciate the craft and value it as a way of life."
After Korea, he
sang a few more Boheme (Rodolfo) in Munich in the same opera house
where he won great acclaim as Elvino (La Sonnambula) and watched by
no less than the reigning King of Opera, Jonas Kaufmann. A German
magazine called the same production as Opera of the Year.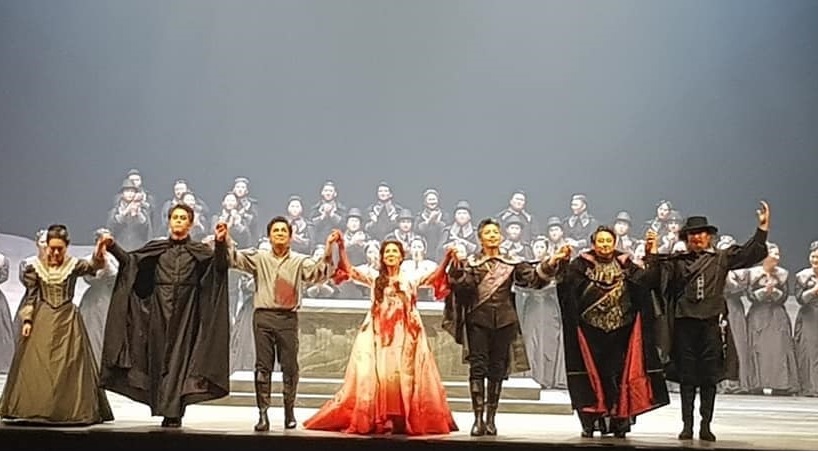 Triumphant curtain call for Arthur Espiritu's first Lucia di Lammermoor in Korea. From Daegu Opera House.

Going back and
forth Germany and Switzerland for more Boheme and rehearsals for
Faust which opens second week of October, his schedule is indeed a
whirlwind of frequent flying and hotel check-ins and rushing to the
opera house. "Yes, I'm glued to my score whenever I get a chance
to study," he said. "I try to get some sleep whenever I can and I
try not to get anxious. Singing is 80 percent psychological and 20
percent technique. When you panic, your body reacts and that will
get you in trouble."
With Rossini
roles fading in his repertoire and more Puccini and Gounod operas
getting into the picture, he discovers he is really more like lyric
tenor than its light equivalent. "But I still have the flexibility
and the means to be able to translate what's on the pages of the
music. The voice has settled and I find it easier to sing different
styles now. Thanks God, I have not encountered any hiccups."
He himself
wonders how he is keeping up. "All I know is that I am actually
pretty tired. But I have to keep going. I keep saying to myself
that, 'Oh really don't deserve having this career.' But as
someone just recently told me, it is a responsibility to be able to
share your art with people. In a way, I find peace in the thought of
having to affect people and helping them feel something as an
audience. As long as I can do that, I will try my best to keep
going."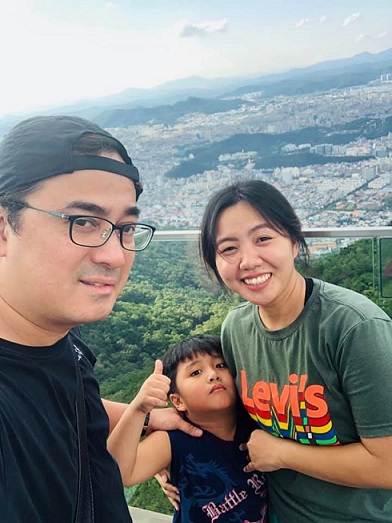 The tenor with wife Christina and son, Aaron in Apsan Mountain in Korea.
A good break from hectic opera schedule.

For now, his
eyes are on the title role of Gounod's Faust running at Theater St.
Gallen in Switzerland October 13, 2019 to March 25, 2020 with
musical direction by Michael Balke and staging by Ben Baur.
He has no doubt
his latest opera assignment is a quality role and a supreme vocal
challenge. "It is one role where one has to remain in the drama.
Vocally, it's not very demanding tessitura-wise but it is demanding
in the size of the orchestration and how it's composed. You really
have to sing it. There are some dolcissimi sections where you have
to express your vocal skills in the way it's phrased. It's a
very long opera. You have to know the interjections or else you will
lose your entrance. You always have to count and anticipate."
He admits his
duet with Marguerite is his favorite part of the opera. "That duet
in the third act has some of the most beautiful music ever written."