Last La Boheme engagement of tenor Arthur Espiritu at
Magdeburg Theater.


Are opera productions going back to normal?
After six months of lockdown in Manila, tenor Arthur Espiritu gets
back to the opera stage with a role debut in Gounod's Romeo et
Juliet at the Magdeburg Opera House in Germany.
The role simply suited him. "The part settled nicely in my
voice," he told Vera Files. "With my age and growth of my sound,
it's getting to where it needs to be. It's way different
than singing Rossini or any bel canto roles indeed."
The theater is no stranger to him. Earlier, he has done La Boheme
and Cosi fan tutte in the same theater. "I am excited about this
role debut."
Before the Gounod opera, the tenor had a much-acclaimed Edgardo in
Donizetti's Lucia di Lammermoor, the last opera mounted at the CCP
before the lockdown.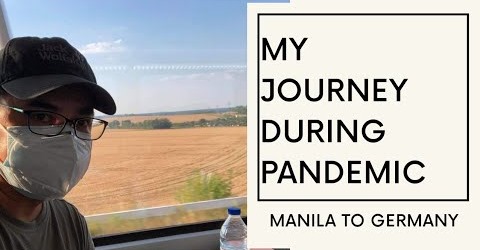 Tenor Arthur Espiritu's youtube account of his Manila travel ordeals before leaving for Germany.
When the quarantine protocols started in March, Espiritu had lost
four engagements but it allowed him a long overdue reunion with his
family in Manila.
He recalled: "I coped quite well. Thanks to the pandemic, I'm
able to spend more time with my family and I am so happy that I was
able to connect with my wife and kids. Although, with four
contracts cancelled, it wasn't a good situation for us
economically."
With all the travel requirements, it took him a week before he
could fly to Germany. It was an agonizing week of looking for
hospitals where he could get health clearances required before
departure.
When he got to Magdeburg, the situation he found quite relaxed.
"But the people are observing the rules. Most are well
informed about when the masks should be on and when the masks can be
off. The government does a good job of implementing the rules.
Although some are not wearing masks out in the outside open-air
setting, they put it on when in a grocery stores or any indoor
settings."
This medieval city with a population of 235,723 as of 2016 is
where you can find the famous Magdeburg Cathedral which is the burial
place of the Holy Roman emperor Otto the Great.

The Magdeburg opera house in Germany.

As expected, the staging took into consideration the
corona-related requirements.
"We have to be at least two meters apart. In a rehearsal
room of more than three people, we have to wear face masks while
singing. Rehearsals are going well so far. I am now in a
process of deciding for myself whether I should sing with mask on.
Maybe during the shows, I can take them off but I have to be
two-three meters away from the other singers, especially on ensemble
scenes with the chorus. The chorus will be in the back isolated
from the front part of the stage. Audience has to also be two
meters away from each other. So, they gutted the chairs in the
audience. It will be around 40% capacity at best.
The orchestra will have plexi glass between them."
In his Magdeburg role debut, his Juliet is a prizewinning
soprano
Raffaela
Lintl
who has
sung Rusalka, Desdemona (Otello) and Liu (Turandot), among others.
Bulgarian conductor
Svetoslav Borisov conducts the Magdeburg Philharmonic with its opera
choir and ballet ensemble. Borisov took
masterclasses with the eminent Kurt Masur who once led the New York
Philharmonic in one performance at the CCP in 1998.
The tenor describes of
his opera colleagues thus:
"Raffaela
Lintl is a great colleague. She has all the capabilities.
It's good to have people to work with that are down to earth and
real. Maestro Borisov is quite nice and is very easy to work
with. He knows where he is going with the music and I'm able
to grasp what he wanted to do and he reciprocates it by honoring some
of the ideas I have with the role and what I wanted to do as far as
my singing is concerned. It is going to be traditional staging
with real sword fights choreographed by Johannes Wollrab. I am truly
excited about this new experience."
Earlier, Manilans had an exciting preview of the Gounod opera when
Espiritu sang a Romeo et Juliet duet with soprano Stefanie Quintin in
Manila last year.
(Gounod's Romeo et Juliet opens at Magdeburg opera house on
October 3. Members of the artistic team are as follow: Conductor:
Svetoslav
Borisov
;Director Karen
Stone
; Set Designer, Costume Designer: Ulrich
Schulz
; Dramaturg Thomas Schmidt-Ehrenberg; Chorus
Director
Martin
Wagner
, Philipp
Schweizer
; Juliette Raffaela
Lintl
; Roméo Arthur
Espiritu
/Benjamin
Lee
. For tickets call Box office: +49 (0)391 40 490 490)