When the brave ladies of ICanServe gather at the PICC in Pasay City
on Sept. 28 for the 2019 Silver Linings, there is one person who will be
sadly missed: Maria Fatima (Pamsy) Teosico.
Pamsy has gone
ahead. But I bet, she will be in Silver Linings. Forever solicitous,
Pamsy will make sure that everybody is attended to in a large gathering
like Silver Linings.
Pamsy is most remembered as the dean of the
senators' public relations officers. She is mother hen not only to
journalists covering the Senate but also to her fellow PRs.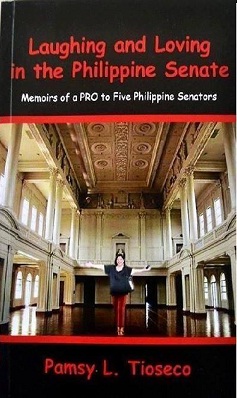 I first met Pamsy when she was the PR of then Sen. Rodolfo Biazon. When the former AFP chief's term in the Senate ended, she helped Assumption College high school classmate, then Sen. Loren Legarda, who is now the representative of the lone district of the province of Antique.
Lucky was the official that Pamsy represented to the media because not only did she send out press statements or facilitated requests for interviews but she initiated interviews with her principal, when she thought there was something significant that the senator had to say.
Many times after Senate hearings, even as I was still trying to organize the information gathered, Pamsy would tell me, "The senator is coming this way, you better interview him now because he has other appointments. He may not be able to entertain you later."
There was no dull moment with Pamsy. One time, she directed my attention to a good looking young man at the Senate hall. She said, "That guy, he was the one who devirginized me."
When I shared this incident with the other senate reporters, they quipped, "Naniwala ka naman? (Did you believe her?)"
Oh Pamsy, I will miss you.
When she was diagnosed with cancer in 2005, she said it must be a punishment for her being naughty and vowed to behave. She survived breast cancer but in 2012, Pamsy suffered and survived a multiple stroke which necessitated her resigning from her Senate chores. To celebrate her healing, Pamsy made Mother Mary necklaces, Padre Pio medals and Angel charms and gave them to everybody.
Pamsy came out with a memoir of her Senate days, "Laughing and Loving in the Philippine Senate."
Pamsy became active in ICanServe Foundation, a Philippine-based non -government organization that promotes early breast cancer detection, access to accurate diagnosis and timely treatment. She was one of the Foundation's director and volunteered to be part of the committee where she felt she could use her talent, skills andmedia connections: Information and Media Committee.
Carla Paras-Sison, one of the active movers of ICanServe, said "For the forthcoming Silver Linings, she drafted the solicitation letters for potential sponsors. She was a tireless and generous volunteer, giving of herself as much as she was able. We will miss her so."
ICanServe's Silver Linings this year is the fourth in the organization's 20 year history.
A Silver Lining event is a summit of the breast cancer community."It's a day of education and inspiration," the organizers said.
Topics lined up for the Sept. 28 event range from the personal, to the medical to advocacy. Everything you need to know about breast cancer–Can one have children after cancer? Can one find a job after cancer? How do cancer patients deal with a Stage 4 diagnosis? Does cancer run in my family? Transforming a Crisis to an Opportunity; Anxiety and Depression during cancer; Healing through storytelling; Eating right; Meditation; Yoga; Where to Find Financial Assistance; what's in store for you in the new Cancer Law? There will be free X-rays and consults with doctors, and many more.
One of the speakers will be lung cancer survivor, Father Jerry Orbos, SVD.
Registration fee is P500 to include meals. Open to the public (even non-cancer patients/survivors).
For more information about Silver Linings, please visit http://www.icanservefoundation.org/?p=4824 and register at http://www.icanservefoundation.org/silverlinings.