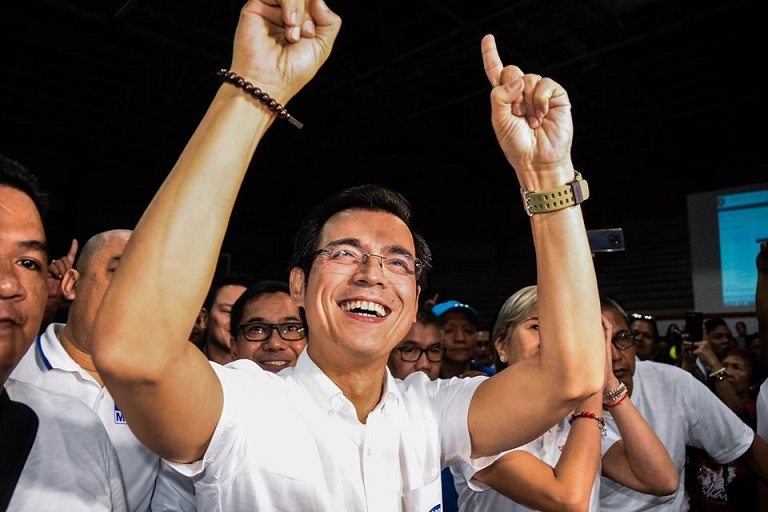 Manila Mayor-elect Isko Moreno Domagoso. Photo from Moreno's FB page.
It's been a long time coming: a Manila Mayor who is considered presidential timber.
I wasn't born yet when Arsenio H. Lacson was being touted as the next president of the Philippines.
Elected Mayor in 1952 and re-elected twice more, he was (old folks say) a "shoo-in" for the presidency in 1965. Except that he died in early 1962 at age 49 while, I am told, in the arms of one of Philippine cinema's most celebrated "bombshells."
With Lacson dead, the Nacionalista Party had to look for someone else to try to stop the re-election bid of Diosdado Macapagal. So they turned to a senator: Ferdinand Marcos.
And the rest, as they say, is history.
Imagine the impact of that "bombshell" in that history!
It was in 1998, more than 30 years later, when another Manila mayor decided to throw his hat into the ring. Alfredo S. Lim was finishing his second term and was entitled to run for a third. He had decided that rather than being the host of the President living in Malacanang, he would rather be the occupant of the presidential residence! But 1998 was Erap's year, and again history was denied the elevation of a Manila Mayor to the presidency.
It struck me yesterday that a Manila Mayor is entitled like all local government officials to three successive terms. That's nine years. So from 2019 that three three-year term ends in 2028 which, unless someone decides to tinker with the 1987 Constitution, is a presidential election year.
And this in turn means that if the Mayor-elect of Manila, 44-year old Francisco Domagoso (aka Isko Moreno) is able to acquit himself well, then by 2028 he will be in a good spot to try to achieve what Lacson is said to have wanted to aspire for in the 1960s and what Lim failed to achieve 30 years later.
Domagoso for President in 2028.
Now why Isko? Why not some of the other newly elected mayors?
In truth, the election of Rody Duterte as president has made it clear to one and all that the Philippine presidency is not a "promotion" limited to Senators or Congressmen. Or even provincial governors.
Since mayors are local executives they are in effect the "little presidents" of their localities, confronted in a minute scale by the woes that a President faces.
This means that any mayor may be considered presidential timber. But of course running a big city well like Manila is always a far better achievement than running a small city or town. That's why in the US, the mayors of New York or Chicago or LA have at times been considered potential candidates, far more than those of small American cities or towns.
So yes, a Francis Zamora or a Lino Cayetano can be aspirants in 2028 but they come from "small towns;" a Vico Sotto on the other hand will be two years short of the minimum age; but an Isko Moreno would be in the best position.
Unless by that time a Sebastian Duterte would have been Mayor (Sara is on her last term) and decided to run. But it would be unlikely for a Mayor Duterte to be elected President in 2028, especially if another is elected in 2022, yes?
Of course, there's also Mayora Joy Belmonte. And taming Quezon City will just be as miraculous as taming Manila. But Manila is still the capital, whatever you say. And after PCCA and PGMA there are some sectors of society who eschew another female president.
And so, nine years early, and provided he does magnificently for nine years, it seems that 2028 is perfect for a President Moreno. Or Domagoso.
Or better yet, an Isko.
(Maybe many of the Iskos and Iskas of UP will agree?)
This column first appeared in Malaya Business insight.