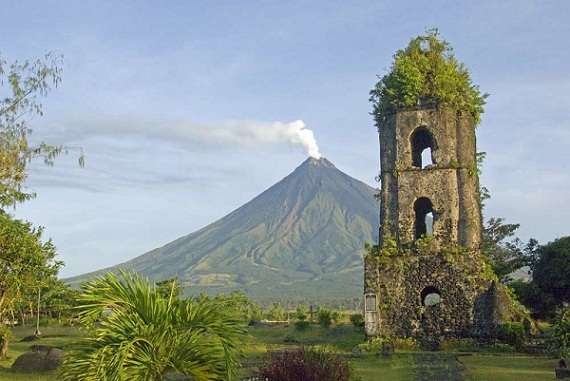 By PABLO A. TARIMAN
 THINGS Bicol are once again in the news because its life and lore are once again recalled in Tanghalang Pilipino's  musical epic "Ibalong"  opening February 8 until March 3 with a formidable cast that include Jenine Desiderio of Miss Saigon fame.
The colorful Ibalong epic managed to survive by oral tradition and interpretations vary from one chronicler to another, depending on the quality of scholarship of researchers taking another look at Bicol's oral tradition.
Over in Albay, the legend surrounding the majestic Mayon Volcano, will come to life in the ballet version of "Daragang Magayon: Ang Istorya ni Mayon" due at the CCP on February 8 with choreographer  Gerard Mercado teaming up with poet Virgilio Almario, composer Ramon Santos and Albay writer-researcher Abdon Balde, Jr.
Legend and mythology will unfold by multi-media in "Daragang Magayon" with the story danced to the rondalla music of composer Santos.
The good thing about this renewed interest on Bicol  myth and legends is that they are used to promote tourism in Albay largely due to the cultural insight of Governor Joey Salceda who is one of the few with excellent track record on disaster-preparedness in his turf and still manage to help other disaster-prone provinces like Compostela Valley.
Apart from exploiting Bicol myth and legends and packaging them as entertainment fare in the country's leading temple of the arts, Salceda has turned nature's wrath into tourist attraction by promoting the month-long Cagsawa Festival in Daraga town in close partnership with Daraga Mayor  Gerry Jaucian.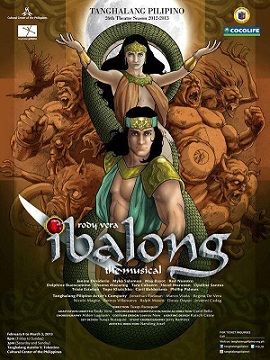 The ruins of Cagsawa Church (just 11 kilometers away from the crater of Mayon Volcano) in barangay Busay in Daraga town are all that were left of the catastrophic 1814  Mayon eruption. That volcanic upheaval killed 1,200 inhabitants most of whom took shelter in the Cagsawa Church and ended up buried when the church was overwhelmed by boulders and boiling lavas.
Cagsawa's first parish priest, Fr. Alfonso de Jadraque, took over in 1605 and he witnessed the relative prosperity of the settlement until 1634.  Barangay Busay – which was part of Cagsawa – was where the first bullfight in the Philipines was staged according to the late Albay Bishop Teotimo Pacis.
Some 179 years before the cataclysmic eruption – on July 25, 1635 to be precise — the town was ravaged by Dutch pirates and left it in total ruins.
Salceda likes to think that the Dutch pillage of 1635 to the tragic  Mayon  eruption of 1814  and to the equally disastrous Typhoon Reming in 2006  have given way to the resiliency of the Albayanos who have learned to cope with all kinds of natural and even man-made disasters.
The province is proud of the fact that it has been named a United Nations global model in disaster risk reduction.
Some 150 years after the 1814 tragic eruption, both Mayon and the Cagsawa Ruins have become favorite tourist destinations.
In 1963, former Education Secretary Alejandro Roces was able to scale Mayon with flying colors.
In the '70s, a mountain guide named Ricardo Dy had climbed Mayon more than 23 times.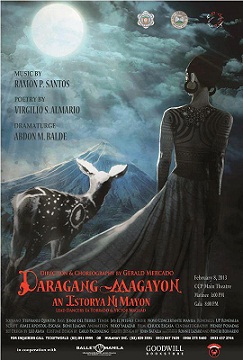 A Japanese mountain climber who climbed Mayon  in the '70s said, "Except for the absence of snow, Mayon measures up well to anything Fujiyama, Annapurna, the Alps, the Himalayas and other formidable mountains can offer and for so much less."
In the 70s, a Swiss mountaineer named Jan Trangott made news when he observed his 46th birthday right on the mouth of Mayon Volcano. "This is one birthday I will never forget," Jan said as he clinked glasses with his four companions. This mountaineer climbed on an early morning and reached the peak as the early morning sun broke through the clouds.
In Daraga town, an  Albay chronicler also noted a wedding in his history book thus: "1974 (December 14). For the first time in 160 years, a Catholic wedding was solemnized in the Cagsawa Ruins at 4 p.m. Pablo A. Tariman of Baras, Catanduanes and a bride (from Daraga, Albay) were joined in a marriage by the Daraga assistant curate Fr. Eliakim Suela, OFM."
The Cagsawa Festival — which starts February 1 exactly 199 years after the 1814 tragic eruption – will see a gathering of healers (a herbolario convention it is called), a trail run and a cross-country bike race among others.
But outside the chicken eating competition and the pamaypay (fan)-making contests of the festival, it is best to remember Cagsawa for what it is, history and memory of nature's wrath captured by Albay poet Marne Kilates thus:
                             Behold the goat-path, bramble, cogon
                            Over cobblestone, mortar crumbling.
                            Brown hands shaped this roofless wall
                           Now leaning; alien vision instructed
                           Their worship and submission, held
                           Their awe and selfhood in thrall.
                           Both are clutched by vine and root:
                          When sky dimmed and the Volcano's mouth
                          Glowed, the priest shuddered at the Elevation;
                         When stones rained and the earth shook,
                        Death brought its vague and fearful liberation,
                       The past preserved its durable ruin.