By PABLO A. TARIMAN
THE most followed teleserye on local television is no doubt ABS CBN's "Ina, Kapatid, Anak" featuring Kim Chiu, Maya Salvador on one hand and Enchong Dee and Xian Lim, on the other.
The big bonus is that the young stars have a power-house supporting cast in the person of Cherry Pie Picache, Pilar Pilapil and Janice de Belen, among others.
The part of Xian Lim and the case of his character's unrequited love (for Salvador) remain one of the interesting  highlights of the teleserye. Lim is in love but is reluctant to reveal it in the beginning. When it is discovered by accident by his close friend (Dee), an unlikely brawl ensues. But as in most cases in local teleseryes, the friends are later reconciled.
The latest edition of "Ina…" points to the possibility that Lim is falling for Chiu. In real life, Lim admits that Chiu is "special in every way."
Lim doesn't hide the fact that he started in the fashion ramp and the basketball court before he turned to acting. He is also a frustrated musician but once in a blue moon, he gets a chance to play the piano in "Binondo Girl," and record his own composition later used in the teleserye.
Late last year, Lim debuted as trombone and piano "soloist" of the ABS CBN Philharmonic under Gerard Salonga to mix audience reception. The followers of "Ina, Kapatid, and Anak" came en masse and cheered him. His trombone number was way behind the regular tempo and many felt he could use extra volume.
But he was in his element in Mozart's Piano Sonata No. 11.
An orchestra accompaniment for a piano sonata?
Playing the Alla Turca – Allegretto movement of the Mozart sonata with special orchestral accompaniment, Lim knew his tempo but the phrasing he sacrificed trying to catch up with the orchestra. On the whole, he was engaging and got unanimous cheers from the audience.
It turned he is not a total stranger to music.
He was part of the marching band in Westmore High in Daly City and played "Zuit, Suit Riot" on the trombone. His first trombone lessons he got when he was in the Benjamin Franklin middle school also in California.
The Mozart piece was the first ever classical music he ever played and he probably memorized it by rote because his mother listened to classical music every morning. "My Mom listened to the version of Van Cliburn and I fell in love with the music I learned it right away."
He got His first piano lessons from his mother right there  in the family living room. "My mom would 'bribe' me with ice cream so I would go on with the lessons," he recalled.
He made headways with the piano but his trombone playing suffered. "Practicing the piano was easy because my mother was always there," he said. "Playing the trombone was a bit hard because there is nobody to practice with."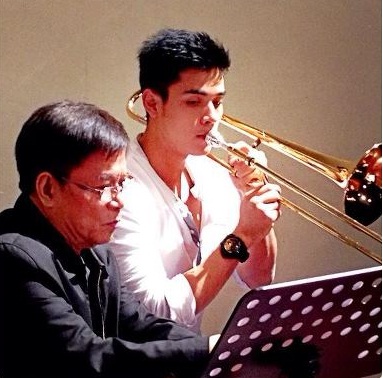 His "debut" with the ABS CBN Philharmonic happened when orchestra manager Micky Munoz saw him and asked if he would like to play with the orchestra. He said "yes" right away thinking it would be an added surprise for his fans.
Xian admitted he was nervous during the first rehearsal with the orchestra.
"Of course I wanted to show conductor  Maestro Gerard (Salonga) my best but since I am a beginner, I can only do so much. But I need not have worried because the conductor was a friendly guy. I would say that the whole orchestra inspired me to become a better musician."
Xian said he enjoys doing the teleserye inasmuch as he enjoys making music. "I enjoy being able to express different emotions every day. Every taping is different and you are constantly challenged. I would say it is an exciting life."
Since his network is the only one with a resident orchestra in Metro Manila, Lim thinks he will be closer to music this year than any other time.
The ABS CBN Philharmonic returns to the Meralco theater on February 23 with a special concert called "The Magic of John Williams."
The year 2012 was memorable to the actor:  "It was an amazing 2012 with so many things happening to me. I got more endorsement and more commercials with film projects left and right."
" I think I am getting closer to my goals," he said with justified optimism.