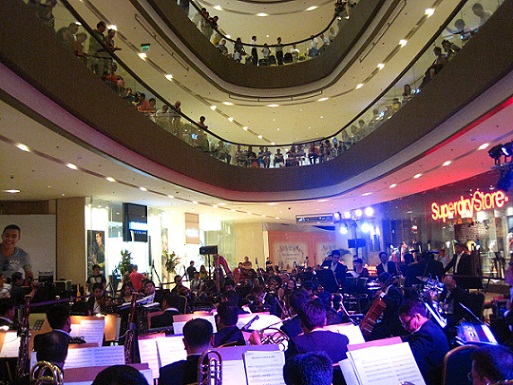 By ELIZABETH LOLARGA

Photos by KIMI FERNANDEZ

IT is good corporate practice to set aside a sizable space in a mall so the public can enjoy live symphonic music. Not only is it good, it should become SOP in a country where people have an innate musicality and are always up to date on what's hip.
The sparkling new east wing of Shangri-La Plaza Mall in Mandaluyong City resounded with the sound, the blast, the benediction of music from the ABS-CBN Philharmonic Orchestra under Gerard Salonga last week.
Although there were a few seats on either side of the orchestra for the audience, mall management remembered to add more seats on the third and fourth levels around the balcony overlooking the grand atrium. From below, the sight of levels of SRO audience gave the illusion of a contemporary grand opera house.
But in a popular setting like a mall, the orchestra played it safe with its "Some Enchanted Evening: A Song for Every Generation," a selection of movie themes, ballads and standards, even 2012's top hits. One hopes the weekend series takes on an educational quality with light classics and kundiman added to the repertoire of later performing groups, some kind of wonderful leveling up.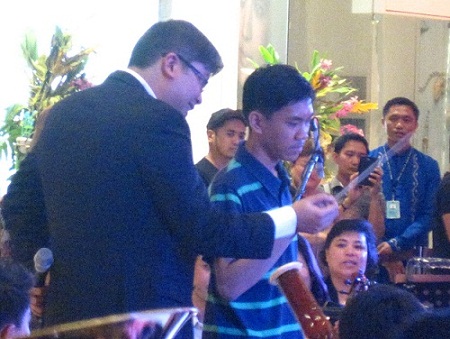 Salonga disclosed that when the new wing was going up, design consultants were tapped to advise on what kind of acoustics to put up because management wanted the space for live orchestral music on weekends. The Shang people may not be aware of it, but what they have done will bear good fruit. Malls have long replaced public parks, and open-air concerts at Rizal Park, Paco Park or Puerta Real in Intramuros have also become just a memory.
Congratulations are in order because this was one public concert that started on time and where the democratically spread out audience made up of toddlers in strollers to seniors in wheelchairs were respectful and polite.
Salonga won the adults' hearts immediately with the suite of preludes from Broadway musicals South Pacific, Westside Story, Guys and Dolls, Cats, even the lesser-know Girl Crazy (but made popular by "Embraceable You").
He was informal and informative in his spiels, confessing during a break that it was his first time at the Shang's east wing. Because he had no money with him, he only window shopped . This was his clever way of introducing "Moon River" from Breakfast at Tiffany's that famously opens with a scene of Audrey Hepburn's Holly Golightly alighting from a yellow New York cab and taking her breakfast of pastry and coffee in a cup while gazing at a window of the swanky Tiffany's.
The suite of Henry Mancini compositions suited those 50 years old and above to whom "Days of Wine and Roses," "Baby Elephant Walk," "Pink Panther," "Charade" marked personal soundtracks. Call it a trick theme song similar to the questions "What were you doing when President Kennedy was assassinated?" or "Where were you when you heard that the Twin Towers were hit?"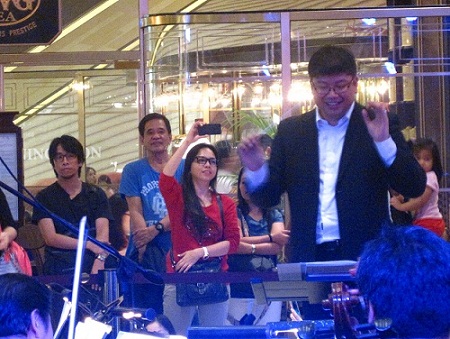 The repertoire also catered to everyone and wasn't limited to just one generation. Salonga led the orchestra through "Harry's Wondrous World" from the Harry Potter movie series (for the children), the James Bond theme (for the dads) and theme from the Christopher Reeve-Jane Seymour time travel romance Somewhere in Time (for the moms). He said boys of his generation learned to play that theme in their teen years in order to impress the girls.
A pop pleaser was the medley of Jose Mari Chan songs ("Let's Stop and Talk Awhile," "Tell Me Your Name," "Be Careful with My Heart," "Hahanapin Ko").
The only vocal soloist that evening was an eliminated contestant in the TV program "The Voice." Kara Manglapus did a cover of the Rodgers-Hart ballad "My Romance." She is no Carly Simon who could own a song. Young Manglapus, who has pre-Raphaelite features straight out of a Rossetti painting, needs more confidence in singing with the 50 musicians of this orchestra.
The last half of the program featured the hits from year 2012. Salonga confessed that he did not know much of them and had to closely read the music sheets. But at the first few bars of music, youngsters in the audience leaped (some danced and did the appropriate finger signs) on recognizing "Gwiyomi," a Korean pop.
Other "unfamiliar" tunes to the older audience were Usher's "Without You," LMFAO's "Party People," One Direction's "You Don't Know You're Beautiful," Carly Rae Jepsen's "Call Me Maybe," Maroon S' "Moves Like Jagger."
Salonga repeated a gimmick he does when there are student tours at the ABS-CBN's Dolphy Theater where his orchestra is based. He let a young person try hold the conductor's baton for "Gangnam Style." The hour-long program ended with the theme from Star Wars as encore.