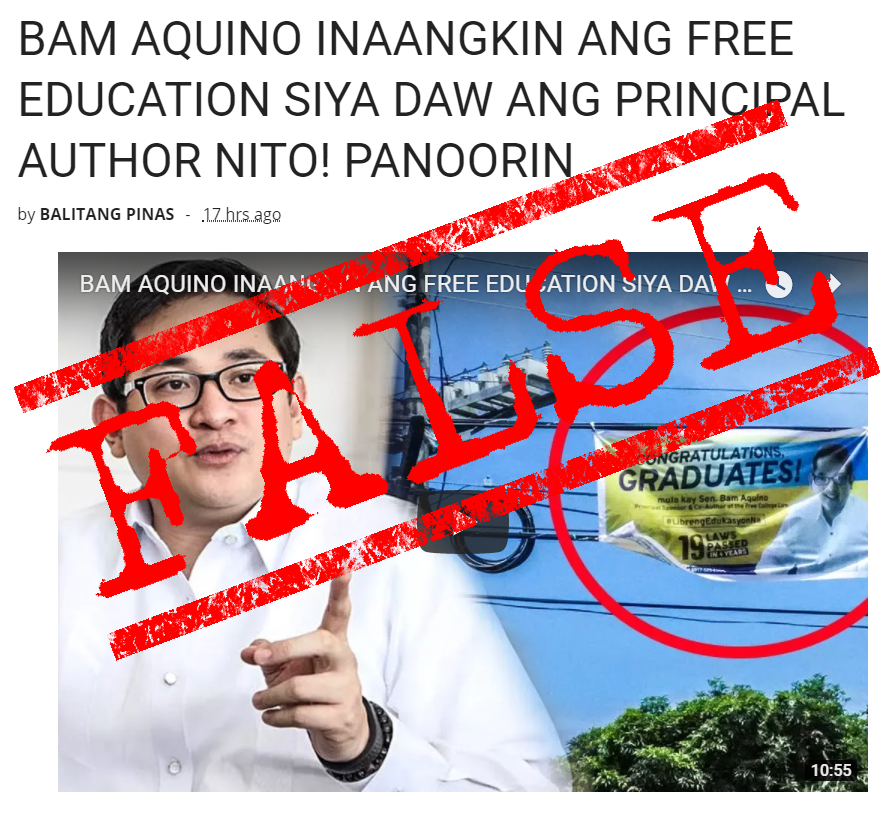 An April 16 story on du30express.site that stated Sen. Paolo Benigno "Bam" Aquino IV has been claiming to be the principal author of the free education bill is inaccurate.
The story was accompanied by a video posted on Youtube channel Du30 News, where a certain Dante Maravillas of Tarabangan Albay News TV said Aquino made the claim during his April 11 visit in Bicol.
The office of Aquino told VERA Files: "We don't claim to be the principal author, what we claim is that he is the principal sponsor. Senator Bam never states that he is the principal author."
Aquino filed Senate Bill 177 on June 30, 2016. This was submitted right after Sen. Ralph Recto filed a similar measure, which makes him the principal author.
As chair of the Committee on Education, Culture and Arts, Aquino led the passage of the bill in the Senate — making him a "principal sponsor and co-author."
The photo of Aquino's tarp run by du30express.site shows the senator correctly described as "Principal Sponsor & Co-author of the Free College Law."
Duterte signed the bill into law in August 2017.
Two days before du30express.site published the story, Aquino, who is up for reelection in 2019, said the Liberal Party is creating a slate of "genuine opposition."
The website was created a month ago.
The biggest traffic generators on social media are Sara Duterte Worldwide Supporters, Duterte Worldwide Supporters and Team Duterte for Federalism, and could have reached more than 1.6 million social media users.
(Editor's Note: VERA Files has partnered with Facebook to fight the spread of disinformation. Find out more about this partnership and our methodology.)
2018-04-17 10:17:49 UTC>