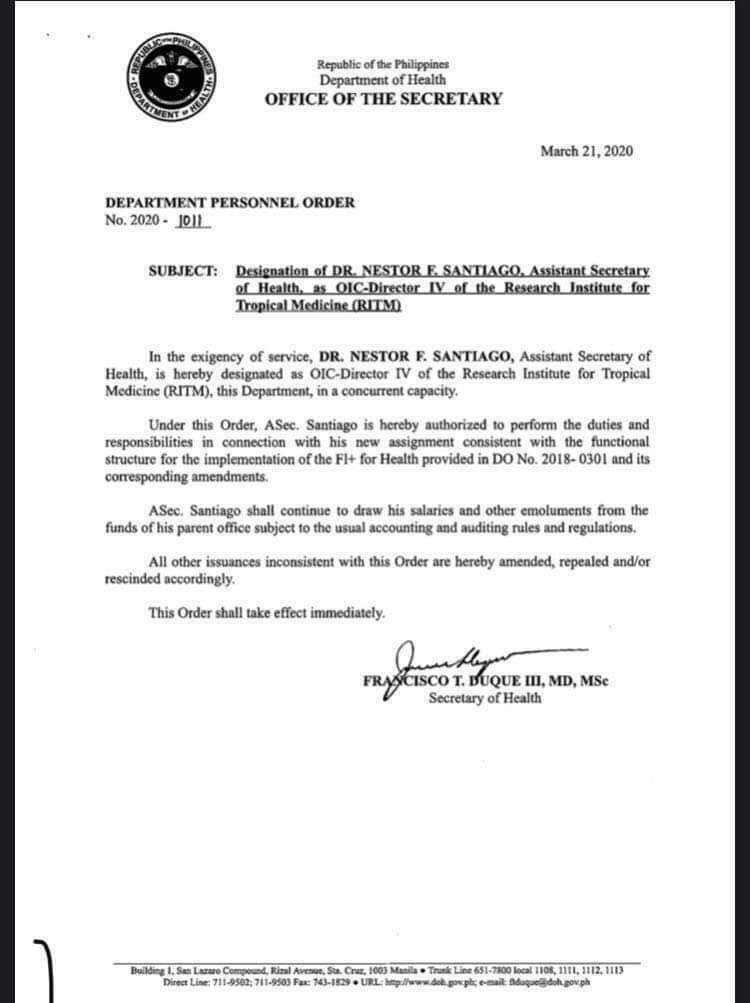 Amid the controversy over the alleged prioritization of asymptomatic top government officials for COVID-19 testing over patients with symptoms, Health Secretary Francisco Duque III issued a memorandum on Saturday assigning Assistant Secretary Nestor Santiago as officer in charge-director of the, Research Institute for Tropical Medicine (RITM).
Two days later when the assignment was heavily criticized on social media, Duque explained it did not mean that RITM Director Celia Carlos was replaced, but that Santiago was merely given additional tasks to oversee other COVID testing centers.
A copy of a signed Department of Health (DOH) Personnel Order No. 2020-1011, dated March 21,2020, circulated on different social media platforms over the weekend, with several netizens denouncing Duque's action while standing up for Carlos for supposedly refusing to prioritize the processing of COVID tests of asymptomatic politicians.
The hashtags #NoTOVIPTesting and #JusticeforDrCarlostrended on Twitter.A copy of the memorandum was passed around in chat groups and also on Facebook. Some comments considered Duque's move as "bullying" while others said the health secretary was looking for a "scapegoat" to cover for his inefficiencies.
Sources at RITM confided that many of the politicians accommodated for priority testing even demanded release of their results within 24 hours while others asked that they be tested in their homes or offices while hundreds of symptomatic patients wait for their turn to be tested, given the limited testing kits available.
RITM is a health research facility that serves as the country's national reference laboratory for emerging infectious diseases. It is located in Alabang, Muntinlupa City.
Faced with a backlash over Santiago's appointment, the DOH issued an announcement Monday at 10:am clarifying that Carlos "remains" RITM director and Santiago "shall guide and manage the expansion of testing capacity to public and private laboratories, and attend to coordination with other agencies."
"The circulating issuance stating that Dir. Carlos has been replaced by Asec. Santiago is an erroneous draft of the document which was inadvertently posted but immediately taken down, "the announcement said.
Earlier in the day, Duque, in a radio interview, said the order was a mistake that has since been corrected.
"Hindi, hindi, mali po iyon. Nagkamali lang po doon sa department order at iyon ay kinorrect na. Dahil yung assistant secretary, si Nestor Santiago, 'yun ang aming inuluklok para maging overseer, oversight ng RITM para makatulong sa pag-kumpas ng testing facilities na ina-accredit ng RITM ( No, no, that's wrong. There was a mistake in the department order that
has now been corrected. Because Assistant Secretary Nestor Santiago was
appointed to be the overseer, oversight of RITM to help accredit
testing facilities.)," Duque said in a radio interview on Monday.
He added the appointment was not meant to replace Carlos, but to assist her.
"Siyempre manipis din ang tao natin sa RITM, kailangan din natin ng tao para makatulong kay Director Celia Carlos ( We have a shortage of people in RITM, we need more people to help Director Celia Carlos.)," Duque said.
The RITM is the center of the DOH-accredited testing sites for COVID-19. The number of Food and Drug Administration (FDA)-approved testing kits are also limited.
Asymptomatic politicians who have tested for COVID-19 include Duque, President Rodrigo Duterte, Senators Bong Go, Miguel Zubiri, Vicente "Tito" Sotto III, Pia Cayetano, Panfilo Lacson, Grace Poe, Francis Tolentino, Imee Marcos, Ramon Revilla Jr., Transportation Secretary Arthur Tugade, Public Works Secretary Mark Villar, Finance Secretary Carlos Dominguez III, Executive Secretary Salvador Medialdea, Bangko Sentral ng Pilipinas Governor Benjamin Diokno, and Presidential Security Group Commander Col. Jesus Durante III.
Duterte's family and spouses of some of them, as well as some governors, mayors and aides have likewise undergone testing even when they did not show any of the identified symptoms for Covid-19.
While Zubiri tested positive, Duque had suggested a second test because his initial result could have been a false positive. Zubiri declined to be tested again, noting the limited testing kits that he said should be used for critical patients.
Under the DOH guidelines, only patients under investigation (PUIs) with mild to severe and critical symptoms should qualify for testing, and if they have underlying medical conditions such as diabetes, hypertension and the like,who are at least 60 years old as well as those with critical pregnancies.
In the updated decision tool for COVID-19 testing of DOH, released March 16, only those who are classified as patients under investigation (PUIs) and who have certain conditions must undergo testing.
PUIs with mild symptoms, have no health risks, and are below 60 years old need not be tested, but are advised to undergo 14-day quarantine in their homes or barangay isolation units.
Health Undersecretary Maria Rosario Vergeire, in a March 17 interview with DZMM, said thetop government officials who had no symptoms were tested before the DOH revised its decision tool on who should be prioritized for COVID-19 testing.