A fake quote card circulating on Facebook (FB) claims Sen. Francis "Kiko" Pangilinan called on the government to exempt children from the enhanced community quarantine imposed in Luzon because of the COVID-19 emergency.
This is not true.
From March 19 to 22, several FB users uploaded a manipulated graphic of media organization News5. It reported that on March 19, the opposition senator supposedly said: "I call on the government to exempt childrens from total lockdown. The safety measures is depriving the children to explore their capacity to perceive the world. I think these is the area I want the government to consider (sic)."
Pangilinan has made no such statement.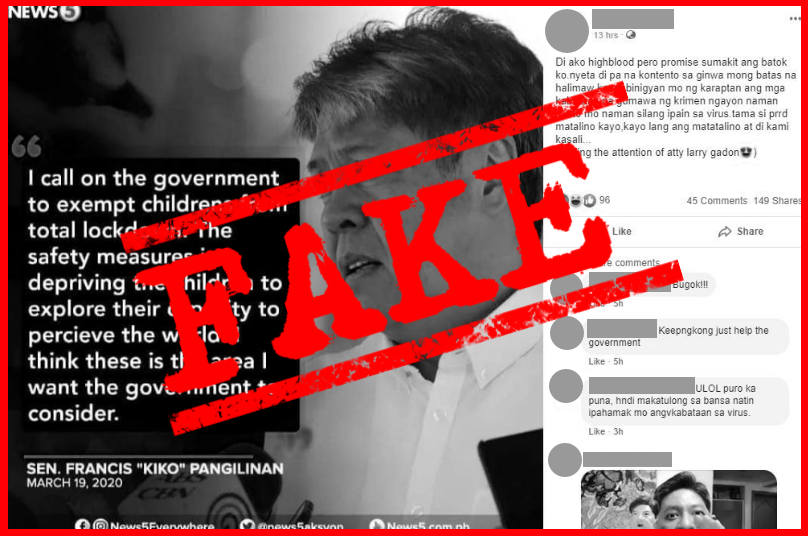 The fabricated text, with its glaring grammatical errors, was overlaid on a quote card actually published by News5 that day on its official FB page.
What News5 featured in its graphic was a call Pangilinan made to the Department of National Defense and Armed Forces of the Philippines (AFP) to mobilize the AFP Reserve Force to provide logistical support for front liners such as hospital, bank and supermarket workers during the Luzon-wide community quarantine.
It was sourced from a March 18 press release by Pangilinan published on the Senate website. There was no mention at all of "children."
The same day, News5 also debunked the untrue post and called it "fake," publishing a side-by-side comparison of their original graphic and the fabricated one on their FB page. "Stop the spread of false information," it advised the public.
Pangilinan has previously been made a target of mis- and disinformation relating to children following Pres. Rodrigo Duterte's tirades against him as the author of the Juvenile Justice Welfare Act, which the chief executive claims has created a "generation of criminals." (See VERA FILES FACT CHECK: Duterte misinforms public on juvenile justice law)
The photoshopped quote card has been shared over 2,000 times on FB collectively.
(Editor's Note: VERA Files has partnered with Facebook to fight the spread of disinformation. Find out more about this partnership and our methodology.)