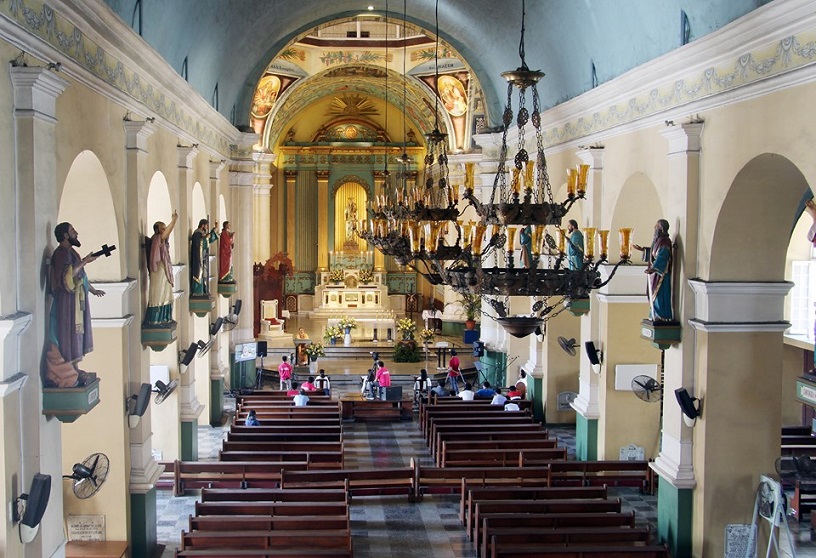 Empty Jaro Cathedral on Easter Sunday. Photo by Tara
Yap.

Iloilo City — with a population of 450,000 spread over 180 barangay units and with an annual budget of P2.7 billion– is also feeling the stress of corona virus.
But it is coping beautifully with synchronized initiatives from both the public and private sectors.
On an Easter Sunday, the main thoroughfares of the city are deserted and so are the churches notably Jaro Cathedral and Molo Church.
As of April 12, there are only five patients confirmed positive with 32 under investigation (PUI), 8,848 under monitoring (PUMs) and with 2,507 completing 14-day quarantine as of last count.
"I don't want my constituents to panic," said Iloilo City Mayor Jerry P. Treñas. "We have to be positive by staying safe and healthy and by being informed about latest developments."
Mayor Treñas said when the dynamics of Covid-19 started to affect many lives on a global scale in February, he knew that it won't be long before it reaches the country. "We waited for the national government to make a move. By then, we were not yet fully prepared but we had standby measures in place. I designated a focal person on Covid-19 early on and that helped a lot."
On Easter Sunday, the mayor announced: "Our medical technologists are preparing to go on mass testing starting April 13. They are identifying the persons to be tested."
Earlier, the city government also implemented a Frontliners First policy when it learned of numerous medical staff from various hospitals being discriminated against when landladies learned they just came from hospitals treating various corona virus patients.
Instead of going after landlords, the mayor opened the Iloilo City Community College to house frontliners ejected from their boarding houses.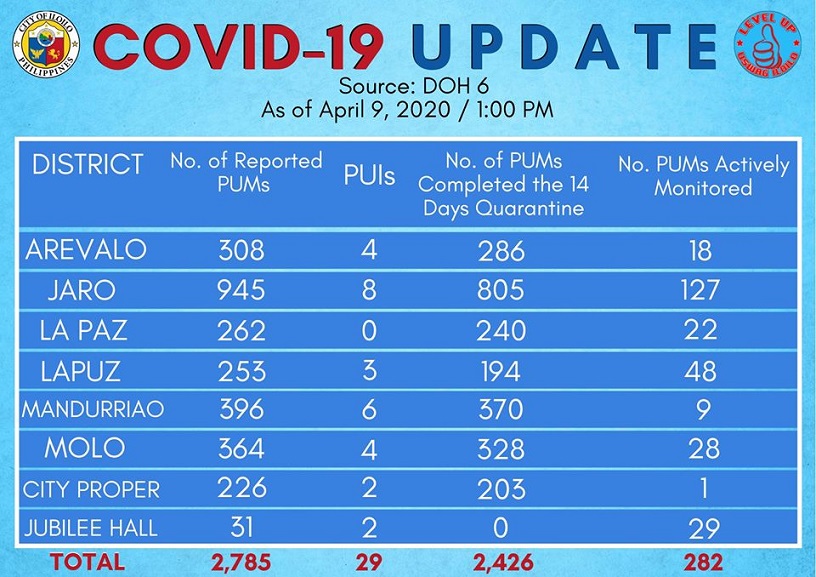 The mayor pointed out the city government had to act fast as national statistics rose on the number of infected patients. On top of that, he had to harness both public and private sectors to lend a helping hand. "The response from the private sector was so overwhelming and it helped a lot," he added.
The government put up 240 community kitchens for the marginalized sector of the city. It also deployed kitchen patrols dispensing free lunch and dinners for the frontliners. A group of businessmen and a bakeshop mobilized volunteers to distribute Ilonggo pan de sal for the poorest communities in the city.
"In critical times like this, being vigilant is very important and collaboration with all sectors is of great help. I was already mayor of the city when Typhoon Frank hit Iloilo. But this one is different because everyone is seriously affected and government resources are limited, " the mayor added.
Iloilo City made news when instead of arresting curfew violators, they hauled them off to city plaza and made them watch documentaries on Covid-19. "These are negatives times and if we can make them realize the consequences of their actions in a positive way, I think we have good chances they will change their attitude."
Before the reality of the virus taking its toll, the city was preparing for its first arts festival in April. This too has to be postponed indefinitely. "I would be happy if we can still pursue it given the problems that we have now.I believe that the arts bring out opportunities and seeing young Ilonggos honing their skills and sharing them to an appreciative public will be great."
Before the onset of corona crisis, the mayor was very much in touch with the city's cultural life and hoped for more explosion of the arts in various venues. He joined the music-loving Ilonggos in the last concert at the Nelly Garden, considered the queen of heritage houses in the city. "Happy moments like this bring out the best in us," he said in his remarks at the Nelly Garden concert.
Always on the look-out for latest developments and new problems to confront, Mayor Treñas confides: "My daily schedule? You won't believe it but it's crazy. I am thankful I have family, friends and staff who have been helping me since day one. I enhance my immune system by eating healthy, taking supplements and getting a little exercise in between punishing schedule."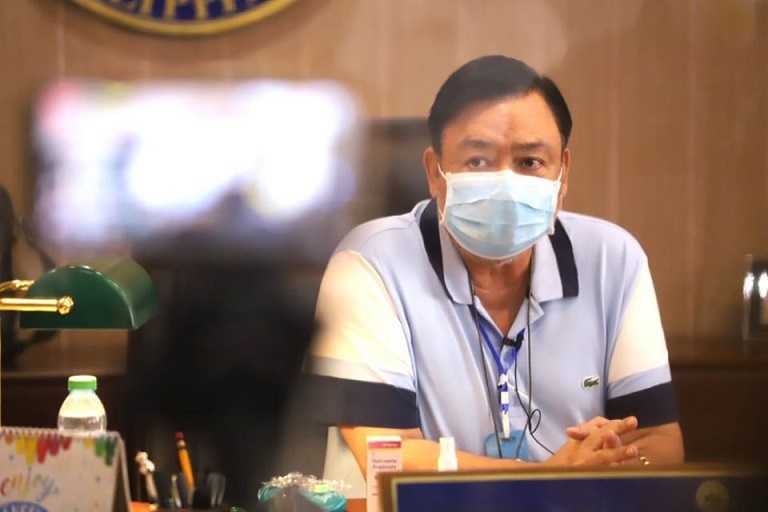 Iloilo City Mayor Jerry Trenas: amazed at the big turn out of help and cooperation from private sector.

The city mayor spent the holy week at home and always keeping tab of every critical development. "I still need to work even at home given this critical situation. We can't really celebrate much but yes, we still need to rejoice over the coming of the Lord."
How the city will look like after the crisis is something the mayor is still very positive. "We can only hope and pray for the best. With everyone's help and cooperation, we should be back on track quickly."
For now, he is thankful of the good that came out of the otherwise bad situation. "The return of the true spirit of the bayanihan is amazing. It's really awesome to see people from various sectors coming together for a cause this big and that is helping people in need."