About 4 p.m. Monday (Aug. 17), my friend, Marilyn Robles, was disturbed to hear DZRH's Deo Macalmatrying to verify reports that President Duterte was in Perpetual Hospital.
Marilyn goes to Perpetual Hospital in Las Pinas for her regular medical check up. She muttered to herself: "How did that happened? It started with him going to Singapore and now, he is in Perpetual?"
Marilyn's confusion about Duterte in Perpetual Hospital was later cleared by Macalma reading a clarification by Presidential Spokesperson Harry Roque of his earlier disclosure that the President is in Davao in "perpetual isolation" while denying rumors that swirled in social media chat groups Saturday that the President was airlifted to Singapore.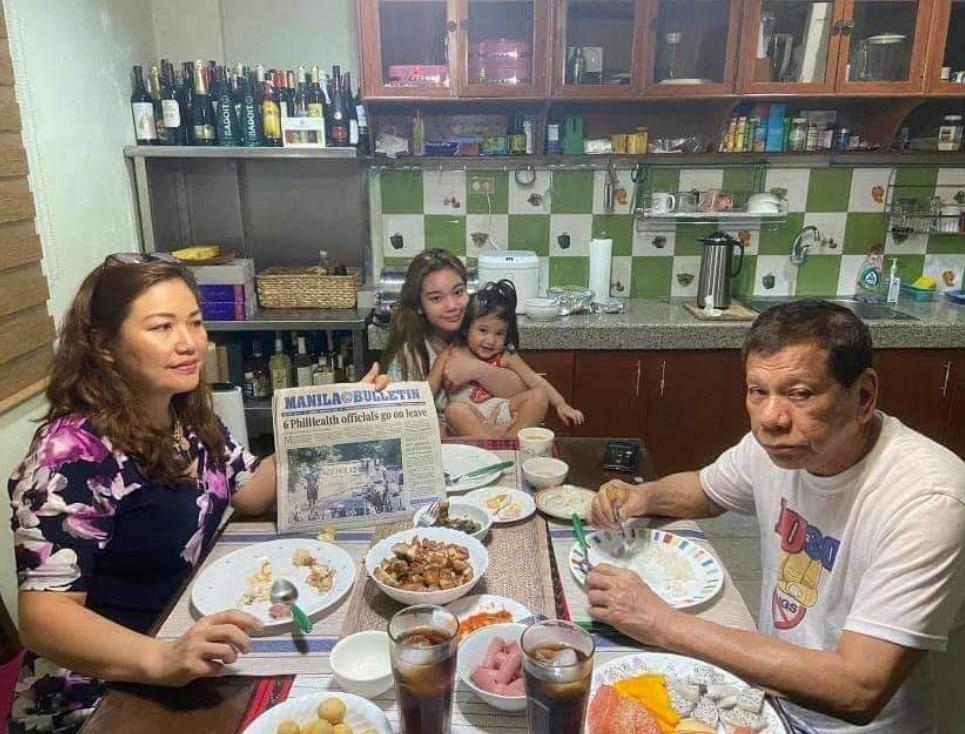 Photo released by Sen. Bong Go Aug. 17, 2020 shows Pres. Duterte having a meal with his family in their Davao residence. Companion Honeylet Avanceña holds an Aug. 17, 2020 issue of the Manila Bulletin.
Roque clarified: "'Perpetual isolation' is a figure of speech I used to highlight the prudence exercised by the Presidential Security Group (PSG) in safeguarding the physical well-being of the President in this challenging time of COVID-19.Much as he wanted, for instance, to shake the hands of those present during his fifth State of the Nation Address, the PSG discouraged PRRD from doing so as part of precautionary measure of maintaining physical distance."
He further said: "The transcript of the briefing would bear me out that I put'perpetual isolation' in proper context when I followed this remark with the sentence that 'the Presidential Security Group (PSG) has done a really good job in making sure that no one really comes close to the President.'This is in reference to the social distancing of one meter to two meters health experts required us to observe as part of the minimum public health standards."
The rumors started with a social media photo post last Saturday, Aug. 15,captioned,"A Lear Jet 60 with Serial 7CO1D7 and callsign VH-AND operated by Medical Aviation Services, a subsidiary of UK-based Specialist Aviation Services, took off from Singapore Seletar Airport and landed in Davao City today afternoon. It took off from Davao City late this afternoon, presumably bound for Singapore again. Still currently tracking the medical jet which is near Sandakan, Sabah. The jet ambulance eventually lands on Seletar Airport at 8:09 p.m."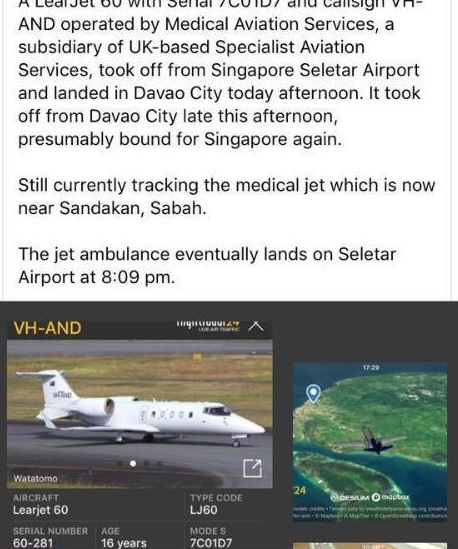 The social media post that activated the rumor mill.
To further debunk the rumors, Sen. Christopher "Bong" Go released a photo of Duterte sharing a meal with his companion Honeylet and daughter Kitty holding a baby said to have been taken in their house in Davao. Honeylet was holding the Aug. 17, 2020 issue of the Manila Bulletin.
It could be that the President was not the passenger of the jet ambulance to Singapore last Saturday. But Roque's "perpetual isolation" explanation and Go's photo release contradict each other and didn't effectively debunk the rumors.
Duterte's family photo was taken Monday, Aug. 17. The rumor was, the President was in Singapore Aug. 15. It's just a little over three-hour flight from Davao to Singapore.
The photo belied Roque's "perpetual isolation" scenario. They were not wearing face masks and there was even a baby with them.
When it was announced that the President will be doing his usual almost midnight Monday briefing, many tuned in to see how he looked and whether he will categorically deny having gone to Singapore last Saturday.
This is what the President said:
"Sa Singapore ganun rin. Ang sabi ninyo na pumunta ako. Look, let me be very frank, if I want to go to Singapore, I will go to Singapore. If it is a private undertaking or if I want to attend the burial of a friend or to pay a visit sa wake, I will go there fly-in, fly-out. But alam mo kung gusto kong umalis, aalis ako. I do not have to keep it a secret because I will not be using any government funds. Hindi ko ugali 'yan. And there has been no trip so far that I have undertaken outside of the Philippines using government funds. If at all I go out, it's official, and it is just right that — wala naman akong perang pangbayad ng the entourage that goes with me.
"Hindi ko itinatago. Bakit ko taguin? Hindi naman ako kagaya ng iba salbahis na maggamit ng pera ninyo. At bakit isikreto ko? I am under no obligation to travel in secret and not telling the Republic at all. I am a citizen of this country. The right to travel is guaranteed. Kung guaranteed sa inyo, eh di guaranteed 'yan sa akin. And I do not have to hide it. I said I am not stupid to use government funds. Malalaman nang malalaman ng tao 'yan.
"So stop this nonsense about me going to Singapore if at — I said, if at all. Kung gusto ko pumunta, pupunta ako. Wala kayong pakialam kung gusto kong pumunta. At I will not, I said under no circumstances I have the obligation. to keep it a secret."
He continued for a few more minutesabout the Singapore trip, insisting on his right to go anywhere he wants to go. Then he proceeded to talk about his government's banner program: war on drugs andhis disdain of human rights advocates. He ended with: " Ako ang takutin ninyo. F*** you."
The views in this column are those of the author and do not necessarily reflect the views of VERA Files.
Email:ellentordesillas@gmail.com