A Facebook (FB) page that has previously published disinformation is again misleading readers with a post on Aug. 16 that compares supposed housing projects of President Rodrigo Duterte and his predecessor, Benigno "Noynoy" Aquino III.
Four-month-old page SOLID Duterte passed off a private subdivision's townhouse units as a "pabahay" project by the current administration.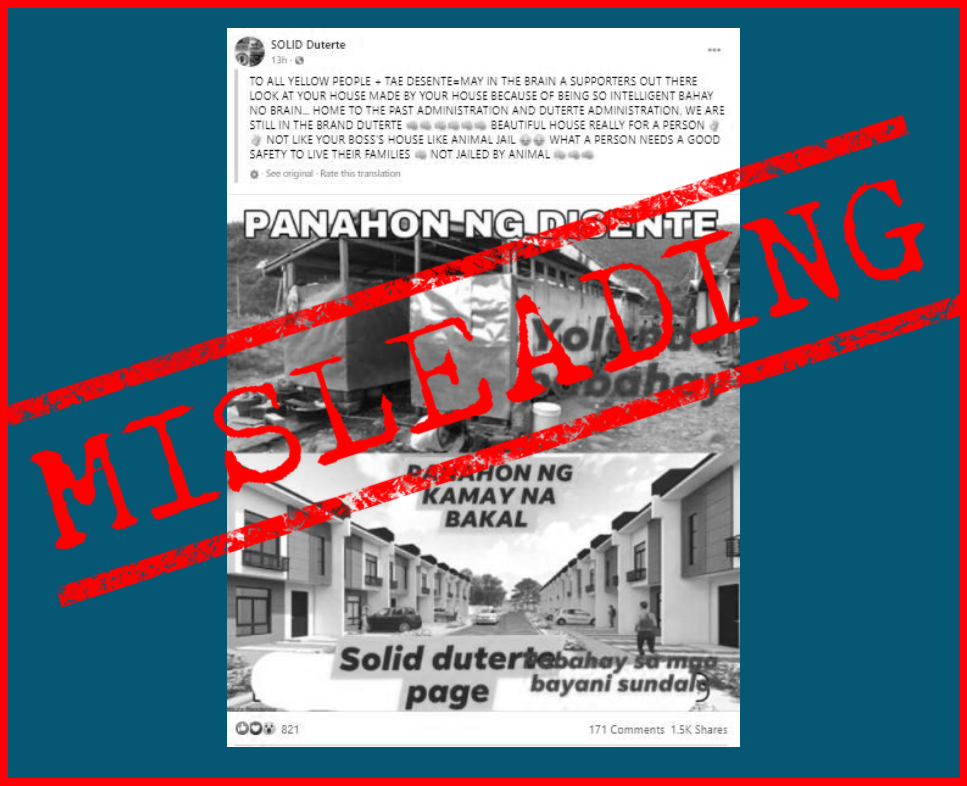 The misleading online post stacked two images on top of each other, one showing shelters made from metal sheets and wood, labeled "Panahon ng Disente (Decent Time)." Below it is an image of two-storey housing units allegedly for "hero soldiers" and was labeled "Panahon ng Kamay na Bakal (Iron Fist Time)," ostensibly referring to Duterte's term.
The term "disente time" has been used to refer to Aquino projects in several other FB posts comparing rehabilitation efforts under Aquino and Duterte's terms. (See: VERA FILES FACT CHECK: Viral 'disente vs bastos time' photos MISLEAD; all taken under Duterte administration)
A reverse image search reveals that the bottom photo claimed to be Duterte's housing project for uniformed officers is actually an architect's rendering of townhomes in Amberley Subdivision in Lapu-Lapu City, Cebu. Several real estate websites still list the properties for sale, each valued at P2.17 million.
There are no reports of Duterte distributing houses in the Cebu subdivision to soldiers.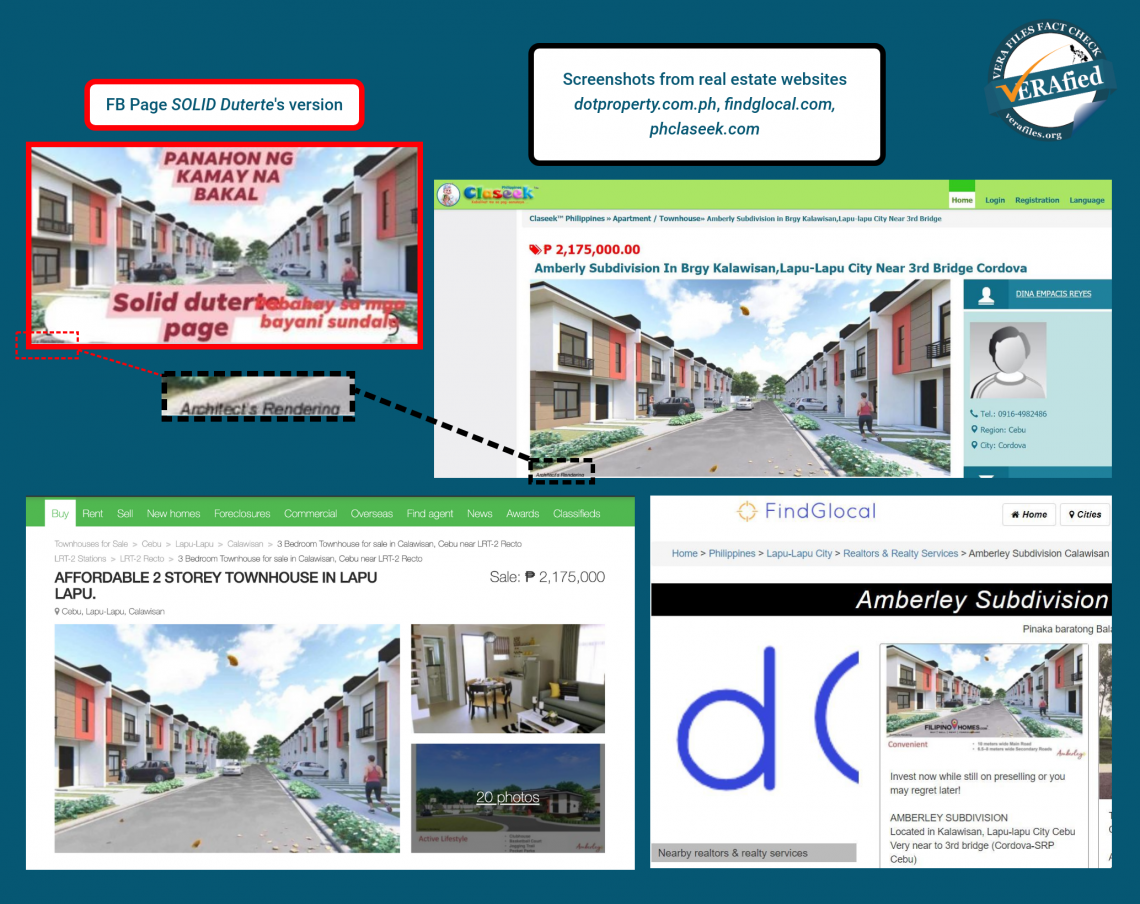 On the other hand, the top photo was indeed during the Aquino government's term: a temporary housing community in Barangay Caiba-an in Tacloban, Leyte for victims of Typhoon Yolanda (international name: Haiyan), which devastated parts of the central Philippines in 2013.
The image was grabbed from a November 2015 GMA News Online article about a documentary on the survivors' housing situation two years after the typhoon hit.
SOLID Duterte's misleading post emerged after Cabinet Secretary Karlo Nograles announced on Aug. 6 the turnover of 1,419 permanent housing units for Yolanda victims in Ormoc City, Leyte.
The inaccurate post has nearly 3,000 shares and could have reached 323,000 people, according to social media monitoring tool CrowdTangle. Its top traffic generators, apart from SOLID Duterte itself, are FB groups PROTECT THE PRESIDENT DUTERTE and SUPPORT and PROTECT the PRESIDENT DUTERTE.
Aside from SOLID Duterte, which was created on April 16, two other netizens uploaded their versions of the misleading post on Aug. 17, replacing the phrase "panahon ng kamay na bakal" with "panahon ng bastos (rude time)." The two have been shared nearly 800 times.
(Editor's Note: VERA Files has partnered with Facebook to fight the spread of disinformation. Find out more about this partnership and our methodology.)