Facebook (FB) page KPGT Media posted on Sept. 14 a before-and-after collage comparing supposed housing conditions under "disente (decent)" time and "bastos (rude)" time—terms used by some netizens to refer to the Aquino and Duterte administrations, respectively.
The post is false and gives the photos the wrong context.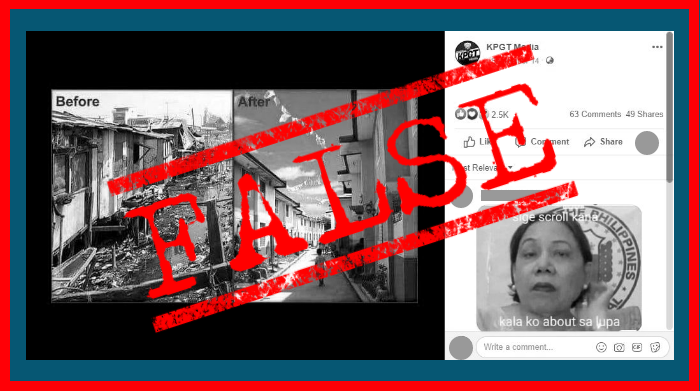 The "after" image, showing colorful, developed houses, was taken over a decade ago and more than six years before President Rodrigo Duterte took office.
A reverse image search reveals it was a shot of Gawad Kalinga Sunshineville in BF Residential Village in Las Piñas. The photo was originally posted in an Oct. 21, 2009 article about bag weavers by the website Random Detox, and its metadata shows it was captured four days prior.
Meanwhile, the original copy of the "before" photo showing shanties built over a creek could not be traced via a reverse image search.
However, VERA Files Fact Check found a very similar picture showing the exact same area, as well as reflections and shadows, but taken at a slightly different angle. It was uploaded on Flickr by a photographer named Enrique Perez-Campoamor Miraved, and the photo's EXIF data says it was captured on Mar. 2, 2004.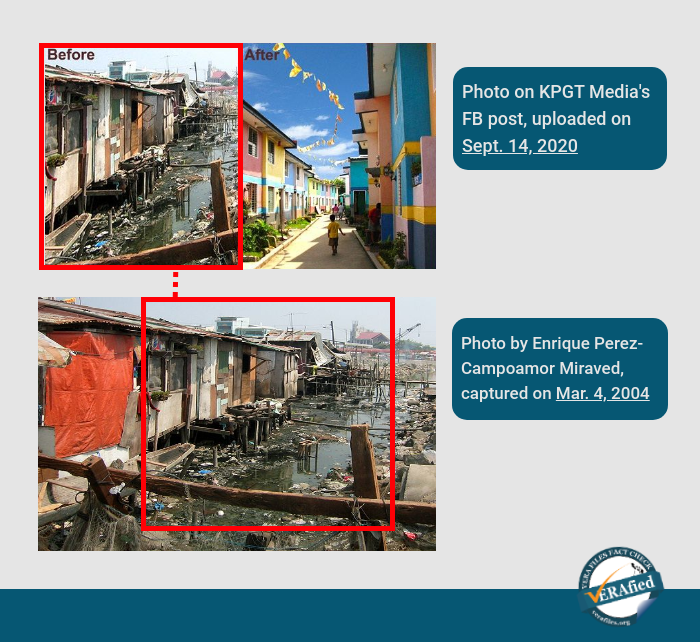 Looking closely at Miraved's photo and KPGT Media's "before" image shows that their noticeable difference is the angle of the wooden railings in the foreground.
VERA Files Fact Check has previously fact-checked similar disente-bastos time posts falsely comparing rehabilitation efforts and other housing projects under Aquino and Duterte's terms.
KPGT Media's misleading FB post emerged after reports of unfinished housing units for Typhoon Yolanda's victims and Marawi rehabilitation setbacks led the Department of Human Settlements and Urban Development to step up its housing efforts.
The inaccurate post has over 2,800 interactions as of posting.
KPGT Media was created in December 2018.
(Editor's Note: VERA Files has partnered with Facebook to fight the spread of disinformation. Find out more about this partnership and our methodology.)