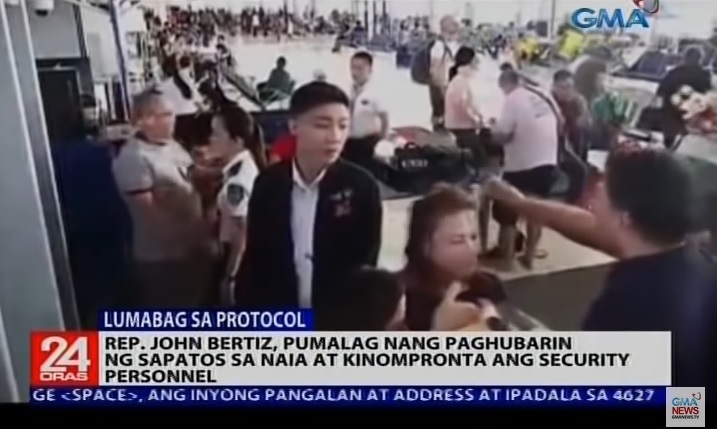 The shaming of Party List ( ACTS OFW) Rep.Aniceto Bertiz, III (which he fully deserves) quickly caught on because of the closed-circuit television video which was circulated in Social Media.
One of media's public service roles is to hold those in power accountable. In this case Social Media, was a useful tool.
I'm at a loss for words to best describe Bertiz.
I find "bastos," "trarantado," "gago," "walang hiya," "manloloko" too mild for what he did to the airport personnel last Saturday at the NAIA.
No English word also can best capture the uglyvibration that his airport act produced. "Scoundrel", "degenerate, "reprobate," "lawbreaker" are also too kind for him.
Bertiz's damage control attempts are as condemnable as his grabbing the identification card of Hamilton Abdul, Office of Transportation Security officer, who insisted that congressman remove his shoes as part of the strict security measures implemented by the airport.
Even as he apologized after he was widely bashed in social media, Bertiz tried to justify his arrogance with the tale that airport personnel were not as strict onseveral "Chinese looking nationals "who were also going through the security procedures.
Senator JV Ejercito didn't bite Bertiz's excuse: ""Palusot pa more! Kitang kita sa video Mr. Congressman kahit walang audio kung paano ka umasta! Hindi lisensya para magmalaki ang may suot kang pin ng Kongreso dapat nga mas maingat sa publiko kapag suot mo yan! (You're making excuses! Its clear in the video Mr. Congressman, though it has no audio, how you behaved! Proudly wearing a pin from Congress is not a license, you should even be more careful in public when you wear that!)," Ejercito tweeted.
Feeling the heat after his good friend Bong Go, special assistant to the President, didn't come to his defense, and House Speaker Gloria Arroyo expressing her desire for the institution to do something about the uncalled for behavior of its member whorepresents the overseas Filipino workers, Bertiz apologized but gave another unexcusable excuse.
On Monday, he said in a press conference: "I'm very sorry for my actions. It's really uncalled for as a public official. My actions at the airport were totally uncalled for. "
But he did not stop there. He continued: "Once a year na medyo dapuan po tayo ng monthly period, 'di ko na rin po maiiaalis na tao lang po, na marupok at umiinit ang ulo—naii-stress din sa trabaho (Once a year, we get this monthly period. I'm just human, fragile. I get hot-headed and stressed from work.)"
That was not acceptable toGabriela Party-list Representative Emmi de Jesus who cut him down: "Kaming mga babae ay walang problema sa regla. Ang isyu ay ang arogansya niya. Women should not be stereotyped as arrogant and entitled during their menstrual period. Huwag niyang idamay ang kababaihan kasi siya ang may problema.(We women don't have problems with our menstruation. The issue is his arrogance. Women should not be stereotyped as arrogant and entitled during their menstrual period. He should not drag women into the issue because it is he who has a problem.)
Earlier, Bertiz tried to turn the table on OTS questioning the release of the CCTV. He demanded that it be investigated who posted it on Social Media.
Bertiz should be told that the issue here is his ugly and offensive behavior. And we are thankful that the public was able to see it. Thanks to the CCTV and Social Media.