President Rodrigo Duterte's consistent high satisfaction rating stems from his strong base support from Mindanao, his help for the poor and fight against illegal drugs, and the attraction to aspects of his character such as his perceived decisiveness and diligence, according to the Social Weather Stations (SWS).
"Perception of his character appears to be the most important factor explaining satisfaction and dissatisfaction with President Duterte," SWS fellow Geoffrey Ducanes said in an online briefing on Thursday.
During the forum online entitled, "Identity, Policies, Perceived Character: What factors explain President Duterte's popularity?," the polling body released the results of three satisfaction surveys conducted in November 2020, May 2021, and June 2021 — all during the ongoing coronavirus disease (COVID-19) pandemic.
According to the data, Duterte's combined "somewhat satisfied" and "very satisfied" rating dropped nine percentage points to 75% in May 2021 after hitting his highest score of 84% in November 2020.
Another survey in June 2021 showed the figure staying at 75%, which is still very close to the president's combined satisfaction rating very early into his term in September 2016 of 76%.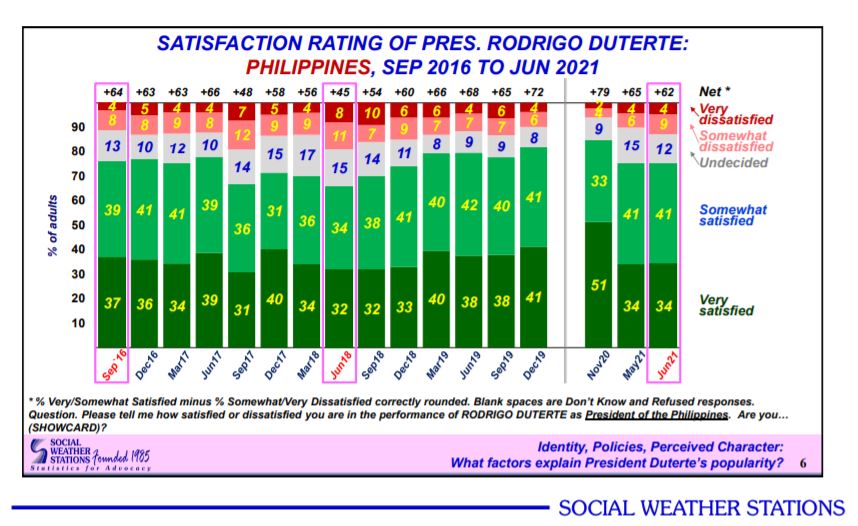 In terms of net satisfaction, Duterte's rating dropped from +79 in November 2020 to +65 in May and then further down to +62 in June. The two consecutive double-digit fall in the president's score followed only two other instances: in September 2017 after the killing of teenager Kian delos Santos in a drug operation, and in June 2018 when he called God "stupid."
Noting that Duterte posted his highest satisfaction rating during the COVID-19 pandemic, SWS fellow and political science professor Jorge Tigno said it was possible that at that time, the public believed that the government already had the health crisis under control.
"People were sensing that, okay this is now starting to be over and we're relieved that this has happened and that we're satisfied with what the government has done," he said.
But when infections began to rise again and lockdowns were reimposed earlier this year, people became less confident resulting in the drop in the president's satisfaction rating.
Still, Ducanes noted that whatever the public's perception of government mishandling of the health crisis was less than their sense that Duterte was helping the poor.