By PABLO  A. TARIMAN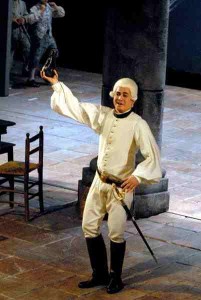 INSPIRED by the success of his first homecoming concert last August, Switzerland-based Filipino tenor Arthur Espiritu will be home before Christmas for a special engagement at the Philamlife Theater with soprano Rachelle Gerodias and  the Manila Symphony Orchestra on Dec. 14.
This will be his first Christmas season engagement in the Philippines since he made it in the international circuit, including a stint at the  renowned  La Scala in Milan.
Espiritu's wish is to spend Christmas here because to him, there is nothing like a colorful Philippine Christmas. He recalls: "I used to do Christmas caroling at  rich peoples' houses first and dress up with my new pair of shoes and clothes! I miss  going door to door asking for piso around my neighborhood. Those were the happiest days for me."
To him, an ideal Christmas is still spending it with all members of his family. "I miss the noche buenas and the array of food my mom used to cook in Tanay, Rizal.  I miss them so much; I wish I can spend Christmas with them this year," he says.
The Espiritus had lived in New Orleans for 16 years. But two years before his  La Scala debut in 2007,  the tenor's family home in Chalmette, Louisiana was destroyed by hurricane Katrina, forcing  them to move to Phoenix, Arizona.
Born in Morong, Rizal, and raised in Tanay, Rizal, with four brothers and two sisters, Espiritu's father sold fire extinguishers for a living while his mother was a secretary at the Philippine Constabulary before they migrated to the United States.
In high school in New Orleans, he won a grant to study aerospace and technology at the U.S. Air Force Academy. At the same time, his school's choir director suggested he enter a statewide voice competition. The path was paved for a music career when he won first prize.
He obtained his Bachelor and Master in Music at the University of New Orleans. He went on to study at the Oberlin Conservatory of Music with the late Richard Miller. In 2009, he won the distinguished 2009 George London Award.
In the U.S., Espiritu has been seen on the main stages of Pittsburgh Opera, Connecticut Opera and Opera Memphis, and has sung in concert with the Pittsburgh Symphony Orchestra, Louisiana Philharmonic Orchestra and Marlboro Music Festival.
Espiritu has gone a long, long way since his caroling days in Tanay. His singing itinerary nowadays  is a whirlwind.
This last week of November , he sings three performances as Elvino in Bellini's La Sonnambula at the Theater St. Gallen in Switzerland,  flies to Finland for a soloist role in Beethoven's 9th Symphony on Dec. 2 and  later heads for  Hong Kong for Rossini's Messa di Gloria Dec. 9. He sings in  Manila Dec. 14 and returns to Switzerland for the year's last performances of the Bellini opera.
The tenor part in the Rossini opus he finds the most challenging he has done so far.
"The part is more challenging because the conductor chose to do the Version B of Domine Deus where the tenor stays mostly above the passaggi — not the Mozart kind–  but the 'Orff's Carmina Burana' kind," he explains. "Version A is a trio between Soprano, Mezzo, and Bass.  Version B is a Trio for Soprano, Tenor, Bass."
He continues: "Lots of cadenzas, so I have to write my own cadenzas because when I looked at the Ricci and other cadenza books, I had to come up with reasonable versions for my voice.  The other one will be Qui Tollis the aria for the tenor with cabaletta.  It is very long and involves intricate coloratura passages.  You can probably listen to it on YouTube with Juan Diego and also (tenor) Araiza singing it."
But  the Beethoven engagement in Finland, he admits, will  require lots of vocal strength since it involves a very big choir and a massive orchestra.
"It is imperative that I prepare wisely and condition my voice well," he shares. "I feel especially proud to say that we will be doing the Messa di Gloria to raise money for charity to help disaster victims and poor areas in China.  If anyone in Manila is able to come and watch, please come to the Hong Kong City Center Hall and help us raise funds for a great cause!"
The year 2010  has been very good to this Fil-American tenor's career. He explains: "Those memorable engagements during the year  gave me a chance to grow as an artist and improve my technique vocally.  I've been getting more and more offers from different houses  in Europe."
He considers his debut concert in Manila last August to be his most memorable engagement this year because he was singing for his home country.
He says: "It has been such a blessing in disguise to find out that people still have passion for classical music in the Philippines.  It gave me an inspiration to do well out there.  I was also happy to be able to do a master class for the kids at the University of Santo Tomas.  It's nice to give back and share my experiences with them."
After his  second Manila engagement,  Espiritu sings in another opera  called  Alcina in Switzerland, then Mozart's Magic Flute in Tel Aviv and a Don Giovanni in Hungary and Austria (Ried Opera and Linz Brucknerhalle) with Maestro Martin Sieghart.
Then he is back to the United States for  two Rossini pieces, La Cenerentola  for Opera North and Barbiere di Siviglia  for Ashlawn Opera. In 2012, he is looking forward to his first Duke in Verdi's Rigoletto.