Rodrigo Duterte, whose presidency was infamous for its bloody war on drugs, ended a year ago but drug-related killings have not abated under Pres. Ferdinand Marcos, Jr. despite his pronouncement of a "more holistic" approach to the problem of illegal drugs.
The Dahas Project of the UP Third World Studies Center reported that as of May 31, almost a year after Marcos was sworn into office, 309 have been killed in connection with illegal drugs. The number exceeds the 302 reported drug-related killings in the last year of the Duterte administration.
On average, the daily toll for drug-related killings in the last year of the Duterte administration was 0.8, now, under Marcos it is at 0.9.
Dahas draws its count on media reports. Most of these media reports reference a source from the police who made the characterization that the killing is drug-related since the fatality was caught and killed in possession of illegal drugs during a buy bust, had a prior record with the police or a known associate of someone involved in the drug trade, or killed by someone reported to be involved in the drug trade. Since 2021, the publicly available tally has been updated per week to show the number of individuals violently killed by state agents, non-state agents, and unidentified assailants.
The current numbers seem to grant the wish of  Duterte as it also belies the public remarks of Marcos.
Before the end of his administration, Duterte expressed hope that the next president would continue the drug war, even "if not the ferocity" during his administration to avoid the "resurgence of [the] drug problem."
Marcos for his part, pledged to adopt a holistic human-rights-based approach to the drug war as exemplified by the Buhay Ingatan, Droga'y Ayawan (BIDA) Program launched on November 26 of last year.
Key Figures on Drug-related Killings
Duterte01 July 2021-30 June 2022
Marcos Jr.01 July 2022 – 31 May 2023
Total Number
302 (0.8 per day)
309 (0.9 per day)
Killed by State Agents
150
141
Killed by Non-state Agents
27
34
Killed by Unidentified/Unknown Individuals
125
134
State Agents Killed 
8*
13**
Foreigners Killed
16
1
Minors Killed
0
4
* 3 died while carrying out an anti-drug operation, 4  were police drug operatives whose assassinations were attributed to their anti-drug work, while 1 was allegedly targeted due to their involvement in illegal drugs.** 3 died while carrying out an anti-drug operation, 4 were police drug operatives whose assassinations were attributed to their anti-drug work, while 6 were state agents that were allegedly targeted due to their involvement in illegal drugs.
No let-up in deaths from law enforcement ops
A central point in this administration's version of the anti-narcotics program is a refocusing of government efforts towards prevention, demand reduction, and rehabilitation, and less on the heavy-handed law enforcement approach that his predecessor undertook, and which Marcos deemed can "only [get] you so far".
Despite this, the number of alleged drug suspects who died at the hands of law enforcers is only marginally less than what it was during Duterte's last year in office. In the last year of the previous administration, 150 out of 302 or about 50% of the killings were committed by state law enforcers, usually the Philippine National Police (PNP). Out of the 150, 121 resulted from official anti-drug operations reportedly turning awry (the ever-convenient nanlaban narrative in a buy-bust) while the rest were of other operations, like the serving of warrants. In Marcos' first 11 months on the other hand, state agents still hold responsibility for the largest portion of the killings—141 out 302. Broken down further, 102 out of these 141 died under official anti-drug operations, usually buy-bust operations.
An argument can be made that the BIDA program—the administration's most fully formed laying out of its approach against illegal drugs yet—was only launched in the end of November 2022, and before that, the new admin had no clear policy stance, not even a mention during Marcos' first State of the Nation Address. Hence, the government's situation regarding state-perpetrated killings under the drug war must be vetted post-launch. Even doing so, however, would show that the number of casualties from anti-drug operations were only marginally lower.
"Vigilante killings" continue
| | | |
| --- | --- | --- |
| Assailant | Duterte01 July 2021-30 June 2022 | Marcos Jr.01 July 2022 – 31 May 2023 |
| Non-state agent | 27 | 34 |
| Unidentified | 98 | 104 |
| Unknown | 27 | 30 |
Dubbed as "vigilante killings," victims that were killed by elements outside of the state's hold during Duterte's war on drugs held a stable and sizable share of the casualties all throughout his term, and has so become inextricably linked to his aggressive crackdown on illegal narcotics. These include those killed by non-state agents (identified private individuals and members of organized armed groups), unidentified assailants, and unknown assailants (incidents without any witness accounts). In Duterte's last term in office, they collectively held 152 or about 50% of the total number of casualties broken down as follows: unidentified assailants – 98; non-state agents – 27; and, unknown assailants, also 27. In Marcos' first year, this particular category of assailants held a comparably consistent share in the killings — 54% or 168 out of 309. Unidentified assailants comprise 104 of these, non-state agents 34, and unknown assailants 30.
Low-level peddlers remain top targets
| | | |
| --- | --- | --- |
| Fatalities' reported involvement in illegal drugs | Duterte01 July 2021-30 June 2022 | Marcos Jr.01 July 2022 – 31 May 2023 |
| Pusher | 124 | 123 |
| High-Profile Targets | 43 | 39 |
| Users | 16 | 13 |
| Not Applicable | 19 | 26 |
| Unspecified | 100 | 108 |
Echoing recurring claims of prioritizing high-value targets made and purportedly implemented over the course of Duterte's war on drugs, and across the different men who took the helm as the country's chief of police, Marcos proclaimed a similar thrust in proceeding with his take on the anti-illegal drugs campaign. In an interview last September 23, Marcos told how in his first command conference with the PNP, he instructed the PNP that "[He's] not interested in the kid who makes 100 pesos a week selling weed" and that they should not be the ones they are going after.
Low-level peddlers, however, still make up the bulk of those killed in the drug war. Out of the 309 fatalities, 123 or 40% were drug pushers, 73 of whom were killed by state agents. Meanwhile, those identified as high-value targets comprise 39 or 12% of the total, and all but two were killed by state agents. Thirteen or 4% were identified as users, while 26 had no reported involvement in the illegal drug trade but nonetheless died during drug-related encounters. These include 11 from the side of the state, particularly soldiers, PNP and PDEA agents, as well as police informants and assets. Among them also were 10 recorded cases of collateral damage, 2 armed accomplices to people who are involved in illegal drugs, and a single case of mistaken identity.
A large portion of the victim's alleged involvement in the illegal drug trade was not made clear in news reports. Most were either to have served time for drug-related offenses or were said to be on a list of known "drug personalities" provided by barangay officials. They form 108 or 35% of the total death toll, most of whom were killed by unidentified assailants, non-state agents, and unknown assailants.
As with previous years, the victims continue to overwhelmingly be male, constituting 278 or 90% of the total under Marcos Jr. so far, while 25 or 8% were female. The sex of  six were not mentioned in the reports about their deaths.
Occasionally, foreigners become casualties in drug-related encounters. In Duterte's last presidential year, there were 16: 13 Chinese, one Malaysian, one Nigerian, and one Pakistani. So far under Marcos, only a single foreigner, a Chinese, has been recorded.
The age group with the largest number of fatalities were those in their 30s at 63 (30%), followed by those in their 20s with 50 (16%); 40s with 39 (13%); 50s with 19 (6%); and a single fatality in their 60s. There were 10 fatalities aged 19 and below, 4 of whom were minors: one 17 year-old, two 15 year-olds, and one who was only six years old.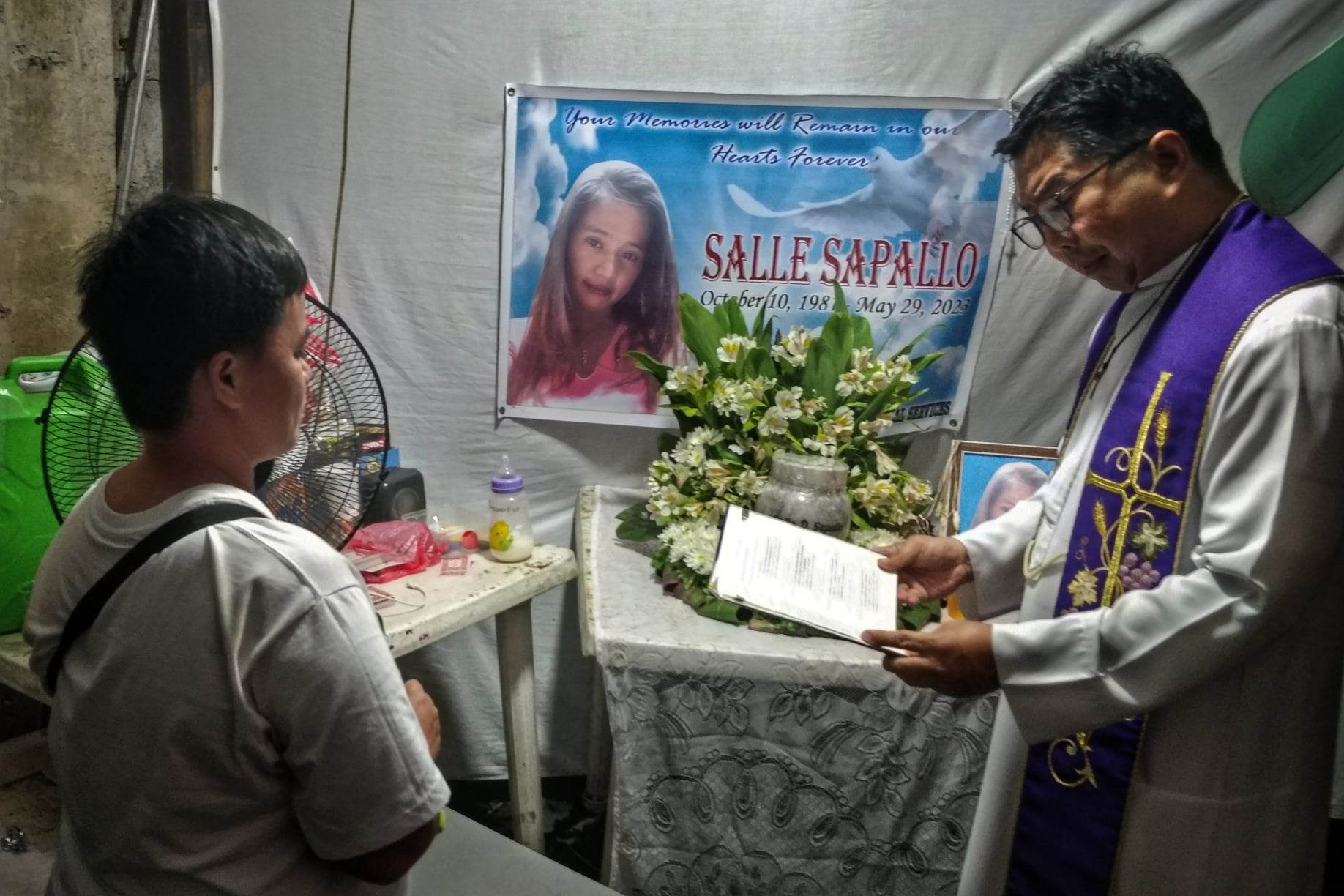 "Body dump" cases almost twice as many
Despite there being a significant drop in cases of "body dumps"—victims killed then disposed of in secluded areas or left sprawled in the street without any witness accounts — after its initial spike in the early months of the war on drugs, there were still cases spread all throughout Duterte's term. In his last year in office, 13 such cases were recorded, sometimes even bearing placards that contain text implicating the person in the illegal drug trade. In Marcos' first year, 22 or almost twice as many were tallied, some bound with duct tape, and two with a placard laid above their bodies saying they were drug addicts.
Killings intensify in Davao City
Top provincial hotspots for drug-related killings
Duterte Administration July 1, 2021 to June 30, 2022
Marcos Jr. AdministrationJuly 1, 2022 to May 31, 2023
NCR
51
Davao del Sur
47
Cebu
41
Cebu
42
Negros Occidental
39
NCR
41
Among the patterns in drug-related killings that emerged under Marcos, one of the most notable is the sudden emergence of Davao del Sur as the top hotspot. The killings in the province are concentrated in a single locale: Davao City. In Duterte's last year in office only one drug-related killing was recorded in Davao del Sur. In stark contrast, from July 1, 2022 to May 31, 2023, a dramatic increase in drug-related killings occurred in the province. The figure is currently at 47 or 15% of the total fatalities, a rate of around 1 every week. Almost a perfect streak, 46 out of 47 were killed by state agents with 37 deaths occurring in planned anti-narcotics operations and nine in unplanned operations. One victim was killed by an unidentified assailant.
The "nanlaban" narrative is still at work in Davao City, where suspects sniff out poseur buyers in a buy-bust operation, resulting in an armed encounter — or so the police would claim. Suspects are usually killed in a gunfight or critically injured and declared dead on arrival at a local government hospital, often at the Southern Philippines Medical Center.
Low-level drug peddlers are the primary victims in Davao City's killings, which is consistent with the overall trend. Thirty of the 47 people killed were reportedly drug pushers, while eight were high-profile targets.
Davao City is currently headed by Mayor Sebastian "Baste" Duterte, a son of the former president. The Dutertes have been in power in Davao since 1988, or for more than 30 years.
If the killings in Davao City were committed by the police save for one, the reverse of this trend was seen in Cebu. Under Marcos, Cebu is second to Davao del Sur, registering 42 reported fatalities between July 1, 2022 and May 31, 2023. Whereas during Duterte's final year state agents were responsible for around 32% of the 41 killed in Cebu, under Marcos  unidentified and non-state elements were the primary assailants of the 41 killed between July 1, 2022 and May 31, 2023.
Lastly, NCR, which has consistently been the top location for drug-related killings since Duterte's drug war, remains a hotspot, ranking third after Cebu. Unidentified elements were the primary assailants in NCR, as they were in Cebu.
Marcos believes that the Duterte administration has placed too much emphasis on law enforcement, which has resulted in human-rights violations by certain government elements and an increase in the wealth and influence of big drug syndicates in the Philippines.
Instead, the administration has repeatedly promoted a new anti-drug strategy through its flagship program BIDA, which focuses on prevention, demand reduction, and rehabilitation, appearing to be a departure from the previous administration's bloody "war on drugs."
In sync, during his first press briefing as DILG secretary, Benhur Abalos—who leads BIDA—promised that the drug war will continue "in accordance with the constitution." When asked how different the war on illegal drugs will be in the Marcos administration compared to the Duterte administration, he answered that it will be a "people power against drugs and other social ills."
Abalos, in a chance interview during the soft launch of the BIDA program, when asked whether killings will end, gave no categorical answer and instead responded with "Basta definitely it will be based on our oath in accordance with the Constitution. It will all be legal."
Though still ambiguous in their response to the drug-related killings, the present administration seems to have shied away from some of the practices that touted the drug war during Duterte's time.
This new administration has not been as adamant as the former in reporting its own death toll of its anti-illegal drugs campaign. #RealNumbersPH, the government's unitary report on its anti-illegal drugs campaign which includes its figures of how many died in police operations, have stopped posting its monthly updates since June 2022. In a press briefing with the newly appointed PNP chief PGen. Benjamin Acorda Jr. last May 29, updates on the anti-illegal drug campaign consisted mainly of data on the number of operations launched, the number of arrests, and the total street value of confiscated illegal drugs from January 1 – May 27, 2023. The last publicized report came from former police chief Rodolfo Azurin Jr. who described their data of 46 drug suspects killed in the first five months of Marcos Jr. as "very minimal".
With Duterte's exit, and with the Marcos administration's priorities lying elsewhere, the spotlight has moved away from the bloody consequences of the war on drugs. Family members of the victims, however, remain steadfast in pressing for justice. In their most recent report to the International Criminal Court (ICC), they have reported facing "enormous difficulties" in seeking justice through domestic legal systems.
Marcos seems to veer away from demands for accountability, declaring for instance that the Philippine government "cannot cooperate with the ICC considering the very serious questions about their jurisdiction and about what we consider to be interference and practically attacks on the sovereignty of the republic." The possibility of rejoining the ICC has also been ruled out.
Last year in April, the Commission on Human Rights (CHR) released a report on its independent investigation of 872 drug-related incidents under Duterte stating that, "the Commission finds that the government has failed in its obligation to respect and protect the human rights of every citizen, in particular, victims of drug-related killings. It has encouraged a culture of impunity that shields perpetrators from being held to account."
Instead, attention around the government's fight against illegal drugs have been directed to addressing controversial cases the PNP is currently mired in, like the alleged cover-up of a PHP 6.7 billion shabu haul and the courtesy resignations from 923 police officials resulting in charges against four ranking cops.
The effort not to address what Duterte did in waging his war on drugs ironically led to calls from his allies to bring Duterte back in.
In the Senate hearing over the alleged police cover-up of the multibillion-peso shabu haul, Sen. Bong Go, supported by Sen. Bato Dela Rosa and PNP Chief, P/Gen. Benjamin Acorda Jr., floated the idea of making former president Duterte "drug czar." Duterte turned it down in an interview.
Marcos, with his trademark call for unity, seems to have no intention of making the Duterte administration accountable for the bloody drug war. The president has yet to prove his commitment to uphold human rights in a renewed anti-drug campaign.
At the start of his term, people were asking: How different will the war against illegal drugs be under the Marcos administration compared to the Duterte administration? The 309 drug-related deaths under the first year of Marcos give us the answer: Not much.
(Nixcharl C. Noriega and Marion Abilene R. Navarro are researchers at the Third World Studies Center, College of Social Sciences and Philosophy, University of the Philippines Diliman.)