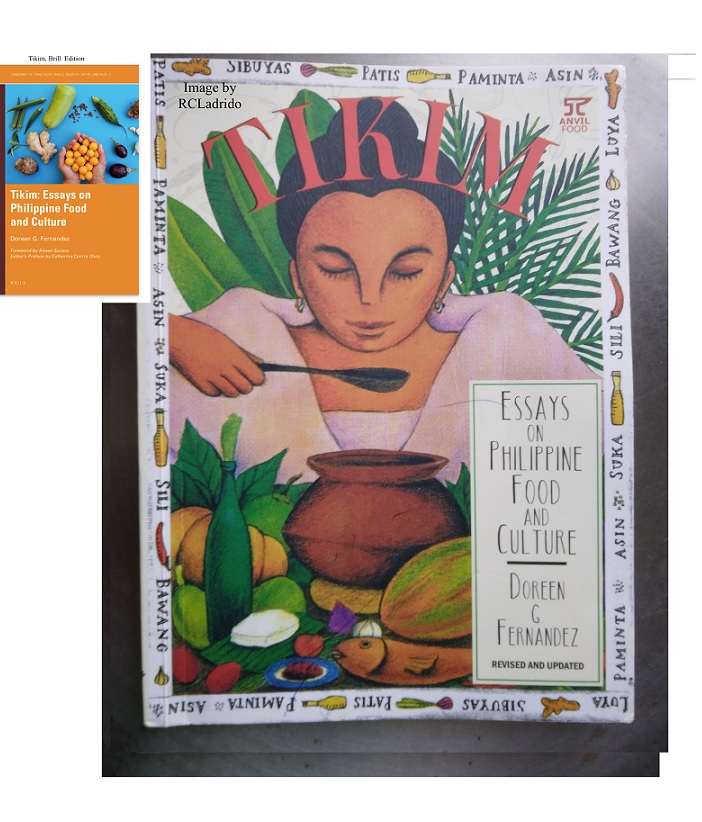 Reading Tikim again today feels fresh and relevant, even after it was first published 27 years ago.
Tikim, the book
In 2020, Anvil Publishing reissued Tikim: Essays on Philippine Food and Culture by Doreen G. Fernandez, a revised and updated edition published in 1994. The Dutch publisher Brill also reprinted Tikim in 2019, as part of its Gendering the Trans-Pacific World book series.
Highly evocative, Tikim is a celebration of the culinary tradition of the Philippines and its distinctive flavor from the land and sea, as well as a tribute to Filipinos who labor and toil to bring food to our tables.
Depicting a diverse spectrum of foodways across Luzon, Visayas, and Mindanao, Tikim is divided into four parts, namely, Food and Flavors, People and Places, Books and Other Feasts, and Food in Philippine History plus a glossary from achara to ylang-ylang.
Tikim takes the reader right into the sociocultural milieu that entails food and its ingredients in a specific place and time. It explores, for example, Filipino breakfast, the making of sukang Paombong, the life of an expert cutter of pastillas wrapper in Bulacan, the place of noodles in our lives, our choices of sawsawan, food art in Lucban's pahiyas, lumpia ubod in Silay, or the influence of Mexico and France in our food.
Food as living culture
In 1968, the Manila Chronicle invited Wili P. Fernandez, an interior designer and lover of good food, and his wife Doreen to write a food column, and "Pot-au-feu" was born. In a 1999 interview, Doreen noted that Wili quipped then, "I'll eat, and she'll write." Doreen did just that, doing all the writing.
Other columns followed, such as "Foodscape" in Food Magazine and "Pot Luck" for Mr. and Ms. Doreen's column "In Good Taste" at the Philippine Daily Inquirer ran for 16 years until her death in 2002.
Serendipity at its best, writing in "Pot-au-feu" would lead Doreen to a pioneering path in exploring the multilayered nuances of history and culture in the Philippines through food.
In recent years, New York Times has published articles on Philippine food. An article described Doreen as Filipino food's"greatest champion"(2019) and another, about Filipino food being recognized in mainstream America (2018), both written by Ligaya Mishan.
Named after Doreen, the country's first national food writing award, the Doreen Fernandez Food Writing Award, is now in its 19th year, and going strong. It has published two books, Sarap: Savor the Word (2012), a collection of 10 years of winning entries and Sangkap: Basic Philippine Ingredients (2019), another collection of five years of winning entries.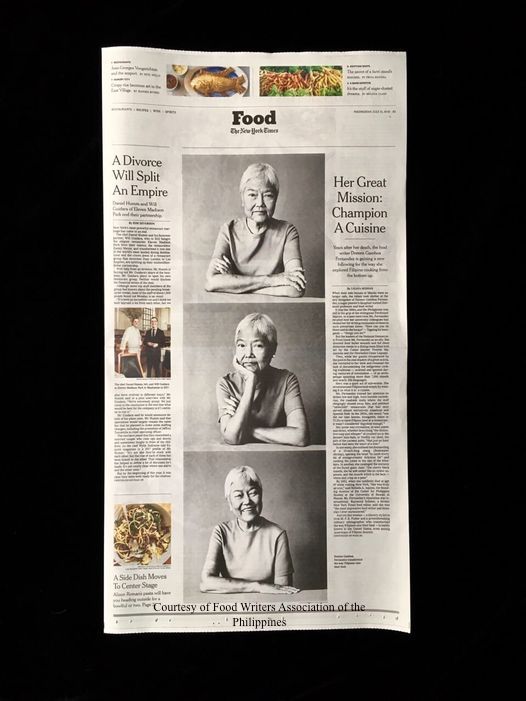 A New York Times article on Doreen Fernandez.

DGF (1934-2002)
Professor, historian, writer, critic, and mentor — five words that describe Doreen.
A graduate of English and History from St. Scholastica's College, Manila (1954), Doreen G. Fernandez pursued English Literature (MA, 1956) and Literature (PhD, 1976) at the Ateneo de Manila University. She taught literature, creative writing, composition, and journalism in Ateneo for almost 30 years and chaired the English and Communication departments; she was also a director of its Interdisciplinary Studies Program.
For many people, she would be remembered most for her teaching, both inside the classroom and in her writings. Neni Sta. Romana Cruz, a first cousin, wrote a children's book about Doreen, titled "The Teacher" for Bookmark.
Early on, theater was Doreen's main interest, with a graduate thesis on Christopher Fry, an English poet, and playwright. She focused on the indigenization of the Spanish zarzuela into the Iloilo sarsuela, for her dissertation. Later, it was published as a book, Iloilo Zarzuela: 1903-1930 (1978).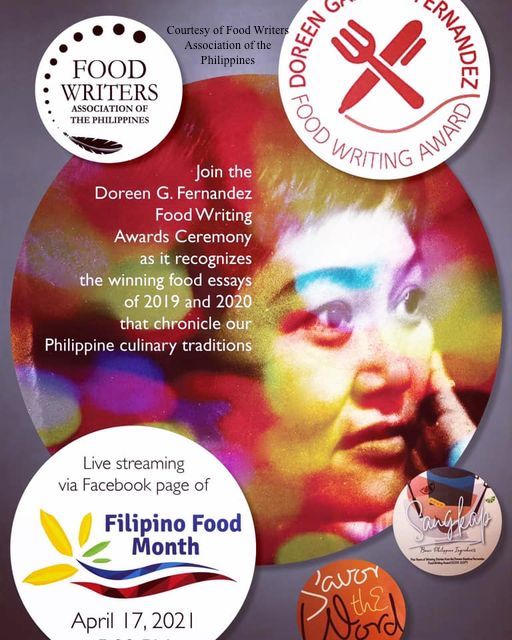 DGF Food Writing Awards

Food books
With Edlberto Alegre, she co-authored Sarap: Essays on Philippine Food (1988), Lasa: A Guide to 100 Restaurants (1989), and Kinilaw: A Philippine Cuisine of Freshness (1991).
Her participation at the annual Oxford Symposium on Food and Cookery certainly gave an international boost on what is cooking in the country. She presented papers on the country's street food (1991) and its flavorings from salty and sour to bitter and sweet (1992).
Her other books included Fruits of the Philippines (1994) and Palayok: Philippine Food Through Time, on Site, in the Pot (2000), all out of print, except Tikim.
When she died, Doreen was working on two unfinished manuscripts, one about indigenous Philippine food, and the other, about Wili's designs.
Awards
She was one of the 100 Filipinos who received the Centennial Honors for the Arts by the Cultural Center of the Philippines in 1999, as part of the country's centennial celebration. Metrobank Foundation honored her as Outstanding Teacher in 1998.
Through Tikim, Filipinos have been rediscovering their own food and strengthening their culinary identity. It has also inspired others to dig through their hometown food histories or to publish family recipes and share its memories with the larger community in the Philippines and abroad.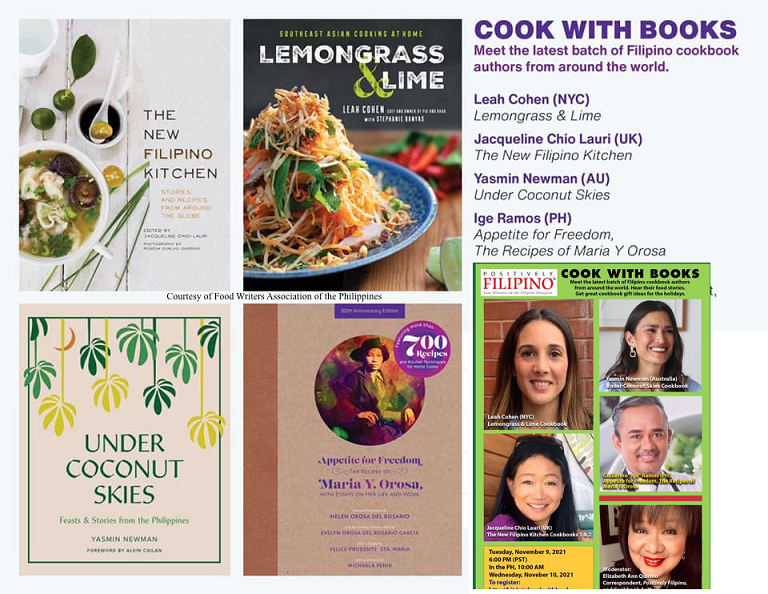 New cookbooks on Philippine food.