By PATRICIA ISABEL GLORIA
FACTORY worker Rodelio Naval was waiting in line for a check-up at the Philippine Orthopedic Center (POC) in Quezon City when he was told he could not use his PhilHealth Insurance membership to have his legs treated.
Naval, who is from San Pedro Laguna and worked for Esycon Industrial Trading, was crushed by a 1.6-ton industrial equipment on April 24. He learned he could only use his PhilHealth membership once he is admitted and confined at the POC.
Good thing, Naval said, his employer shouldered the P20,000 expense of his initial hospitalization in Muntinlupa, and his check up in POC. "Di naman nila kami pinapabayaan (Our employer does not neglect us)," he said.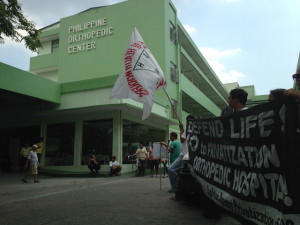 While Naval counts himself lucky, health workers at the POC are worried about the hundreds of others with neither PhilHealth memberships nor responsible employers to foot their medical bills. That's because the cost of medical treatment at the POC is expected to rise, since the hospital has been privatized and is now in the hands of the Megawide Construction Corporation (Megawide).
Once called the National Orthopedic Hospital and the go-to hospital for broken bones and other muscoskeletal injuries and diseases, the POC became the subject of an agreement between the Department of Health (DOH) and Megawide through a public-private partnership agreement (PPP).
The agreement, called the Modernization of the POC (MPOC), makes it a "super-specialty tertiary hospital," which will also have more patients. Tertiary hospitals specialize in a specific medical practice.
"This (privatization) would lead to irreversible injury to patients, because this will disenfranchise our patients, since the cost of treatment will rise drastically," said Sean Velchez, president of the National Orthopedic Hospital Worker's Union.
The DOH, as implementing agency, awarded the MPOC to Megawide and World Citi Consortium on December 6, 2013. Under the agreement, Megawide will build a new orthopedic center at the National Kidney Transplant Institute (NKTI) compound.
This means that the POC will be transferred to the NKTI compound and the current POC building vacated.
The move is in line with the Philippines' plan to join the Trans-Pacific Partnership Agreement that seeks to improve trade and economic relations between Brunei, Chile, New Zealand and Singapore.
But some say this move will make it harder for orthopedic patients to pay for their hospital bills because the proposed modernization will privatize the hospital's operation.
Velchez said that the PPP is part of the Aquino administration's plans to transform public hospitals into economic enterprises, which enables hospitals to operate autonomously from government subsidy.
According to the bidding bulletin prepared by the DOH, the lot on which the POC currently stands would eventually house a National Orthopedic Chronic Rehabilitation and Prosthetics Center.
However, this project needs an enabling law for funding and budget appropriation, which health officials admit does not exist.
"Sa katotohanan, sa isang dialogue with (Sec.) Ona na ako ang kaharap, inamin nya na wala syang plano sa place na 'to (Actually, in a dialogue I had with (Sec.) Ona, he admitted that there are no plans for this lot)," Velchez added.
In a speech at the Ateneo Professional School on March 12, President Benigno Aquino III explained the benefits of the POC privatization.
"Privatization ensures us that we will be able to serve the same number of people, but at the same time, get the better facilities, get the better equipment, and have it (as) a more viable entity," he said.
According to Kristian Feliciano, head of POC's PhilHealth division, the POC treats an average of 460 inpatients or those who stay in the hospital, and 400 outpatients a day.
Of these patients, only 30 percent of inpatients avail of PhilHealth benefits, which cover only room charges and professional fees. The patients shoulder the surgical implants – which need to be purchased outside the hospital – and laboratory fees.
"Wala kaming choice eh, kailangan naming ipa-bili, kasi otherwise, hindi magagamot yung pasyente (We don't have a choice, we have to make them buy, otherwise, they will not be treated)," Feliciano added.
Outpatients, like Naval who receive treatment but are not confined, on the other hand, can only avail of PhilHealth benefits when surgery is performed on them.
Progressive group Alliance of Health Workers, under the counsel of National Union of Peoples' Lawyers, filed on Feb. 3 a petition contesting the signed MPOC Project before the Supreme Court. The Supreme Court is yet to hear the petition.
(The author is a University of the Philippines student writing for VERA Files as part of her internship.)