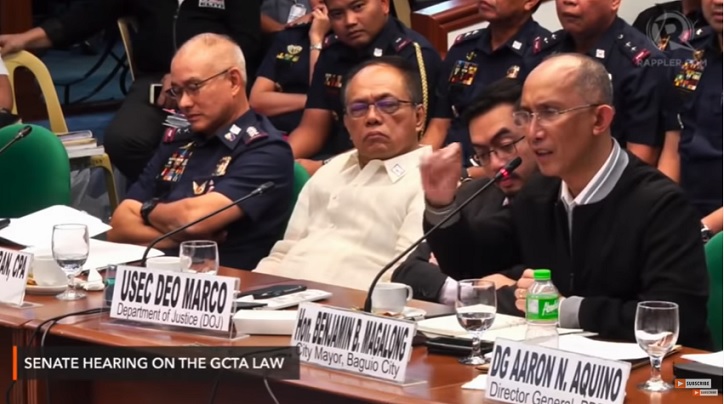 Senate hearing on Good Conduct Time Allowance which led to expose on ninja cops. Extreme right in police uniform is PNP Chief Oscar Albayalde. Extreme left is Baguio City Mayor Benjamin Magalong, formerly chief of the Criminal Investigation and Detection Group.
It is poetic justice that President Duterte's brutal drug war, on which he built his presidency, is unraveling not because of the efforts of those who oppose it but because of the greed and impunity of the people that he trusted to carry it out.
The hearing of the Senate Blue Ribbon Committee chaired by Sen. Richard Gordon started with the investigation of the anomalous implementation of the Good Conduct Time Allowance (GCTA) law which almost set free heinous crime convict Antonio Sanchez, former Calauan mayor who raped and killed a UP Los Baños student and her male friend in June 1993. The initial hearings exposed the incompetence of Bureau of Corrections officials led by former Marines officer Nicanor Faeldon, who is eternally trusted by Duterte.
One of the resource persons called by Gordon was Baguio Mayor Benjamin Magalong, former chief of the Criminal Investigation and Detection Group, to share the findings of the investigation his office conducted in 2014 when Sen. Leila de Lima, who is currently in prison on unproven illegal drugs charges , was justice secretary under the administration of Benigno Aquino III. The probe showed that It was discovered that some inmates continued to run their illegal drug operation from inside the prison.
Magalong's testimony touched on ninja cops, policemen who recycle confiscated narcotics, a subject that Duterte had been fulminating against. The public, however, has yet to see the President's decision or action beyond his threats against ninja cops.
Magalong then related the case of the controversial buy bust operation in 2013 led by Police Lieutenant Colonel Rodney Raymundo Louie Baloyo, who reported a haul of 38 kilos of shabu. It was found out later, however, that 200 kilos were seized. At that time, now PNP Chief Oscar Albayalde was the provincial director of Pampanga.
The investigation of the 2013 dubious drug buy bust resulted in the recommendation of dismissal of Baloyo and 12 other members of his team. The recommendation, however, was not served until 2016. By that time Albayalde was Regional Director of National Capital Region Police Office.
Magalong said Aaron Aquino, currently head of the Philippine Drug Enforcement Agency, told him that when he was PNP Region 3 Regional Director Aaron Aquino in 2016, Albayalde told him not to implement the dismissal order against Baloyo and his men.
Aquino confirmed Magalong's information during the Senate hearing.
Albayalde, who is due to retire next month, was appointed by Duterte PNP chief in April 2018 and has been relentless in implementing the President's war on drugs.
The PNP under Albayalde, has defied Supreme Court's order to release police records of the more than 20,000 drug related killing to the relatives of the victims of the drug war.
Meanwhile, Foreign Secretary Teodoro Locsin brought to international level the false narrative being sold by Duterte to justify the killings in his war against drugs. In his speech before the United Nations on Sept. 28, Locsin echoed Duterte's false claim that the five- month conflict which claimed the lives of more than 1,000 and destroyed the city was caused by illegal drugs.
Locsin said, "The fight to retake the city of Marawi, which left it looking like Swiss cheese, was triggered by an attempt to serve a warrant of arrest for drug trafficking on the leader of an Islamic jihad."
What Locsin said at the U.N. contradicted the reason cited by Duterte in his proclamation of martial law in Mindanao which was "rebellion." In his 2017 report Duterte submitted to Congress justifying his martial law proclamation, Duterte said, government forces were met with gunfire while serving an arrest warrant for kidnapping with ransom and serious illegal detention on Abu Sayyaf Group leader Isnilon Hapilon, and two Maute operational leaders.
The report mentioned "drugs" only once, when it said lawless groups were supported by foreign-based terrorist groups and illegal drug money.
The Hitler propaganda formula of repeating lies until people take it to be the truth may work sometimes but not all the time.
Did Abayalde ever think that his attempt to protect Baloyo's ninja team would be exposed a few weeks before his retirement?
We still have to know the truth behind Duterte's drug war that has claimed the lives of more than 20,000 (government 2017 data) but has not eliminated the menace of illegal drugs in the country. There are pieces that have yet to fit in the puzzle: The soft treatment of Police Superintendent Marvin Marcos, who led a prison raid that resulted in the killing of mayor of Albuera, Leyte Rolando Espinosa, Sr,, who was in detention for drug-related charges; Nicanor Faeldon, under whose watch as Bureau of Customs P6.4 billion worth of shabu slipped past the Customs monitor; and Albayalde
Once the pieces fit, whose face will we see?