David Kaye, United Nations Special Rapporteur on Freedom of Opinion and Expression, in his video message to participants of the conference on Fake News and Freedom of Expression organized by Advocates for Freedom of Expression Coalition-Southeast Asia in Makati recently called on government officials to avoid spreading fake news.
That was one of the eight points he highlighted in a series of principles in fighting what he called the "the scourge of disinformation."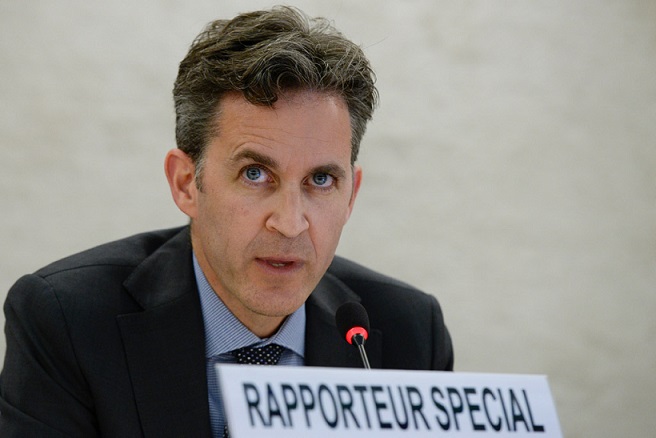 David Kaye,Special Rapporteur on the promotion and protection of the right to freedom of opinion and expression David Kaye. UN Photo by Jean-Marc Ferré
"State actors should avoid disseminating and spreadingfake news," he said and referred to the Joint Declaration on Freedom of Expression and "Fake News," issued by him, the Organization for Security and Co-operation in Europe , Representative on Freedom of the Media,the Organization of American States(OAS) Special Rapporteur on Freedom of Expression and the African Commissionon Human and Peoples' Rights Special Rapporteur on Freedom of Expression and Access to Information, which states: "State actors should not make, sponsor, encourage or further disseminate statements which they know or reasonably should know to be false (disinformation) or which demonstrate a reckless disregard for verifiable information (propaganda)."
This appeal is most relevant in the Philippines where you have a President who is loose with facts and is known to flip-flop in his decisions involving government policies.
The disinformation comes not only from the President but also from his officials, notorious of whom is the Justice Secretary and an Undersecretary in the Presidential Communication Office.
At the same Kaye also urged governments "to repeal laws that criminalizethe dissemination of false information- a highly subjective tool that mainly used to punish dissent and criticism."
Media organizations in the Philippines have long been lobbying for the de-criminalization of libel but to no avail. In fact the punishments have been increased several fold under the Cybercrime Prevention Act of 2012 and the recent amendment of the Revised Penal Code.
A law against Libel has its merits because it checks abuses of media but it should not be a criminal offense.
Other highlights of Kaye's message:
International law is relevant. Article 19 of the International Covenant on Civil and Political Rights ICCPR provides that everyone has the right to seek, receive and impart information and ideas of all kinds regardless of frontiers. It is not limiting information to correct information to true information. And it applies across borders and to any media.
Governments should not hold intermediaries, that is, companies, like social media companies, search engines, news sites and so forth on should not be hold intermediaries liable for the content posted users and third parties "unless it is specifically to intervene in that content or refuse to obey an order adapted according to due process guarantees by independent, impartial authoritative oversight bodies such as the Court to remove it and they have the technical capacity to do that."
Restriction in the sharing of information must be provided by law and be necessary and proportionate to protect a legitimate interest. In this context, blocking and filtering of content often fail the test of proportionality and should thus be based strictly on narrow, publicly accessible rules.
States should create and foster an environment conducive to free and independent media.
In a digital era, States are only part of the picture. It's now also a case of private actors, social media, search engines, telecommunication companies, internet service providers and others play a significant, if not dominating role in the information ecosystem. They develop their own rules, regulating content. The Declaration highlight principles of clarity, sensitive content, rules are objective rather than ideological and political criteria, transparency such that users have access to the rules and understand how they are enforced, minimum due process such that users have notice of action against content and opportunity of appealing such action and user autonomy and control.
The Media should support appropriate self-regulation that strive to address the highest standard of accuracy in the in news. It should also cover the phenomena of disinformation and propaganda. As we put it in the joint Declaration, "in line with their watchdog role in society."
All stakeholders should be involved in seeking solution to disinformation and propaganda. Some civil society efforts such as Fact Checking program are critical to the search for solutions. Both government and companies should be consulting with non-governmental actors as.
Kaye said the challenge posed by Fake News is "daunting" but "not insurmountable." He stressed that in solving the problem we have to ensure the public's right to information, "that is not to solve the problem of fake news by creating a new wave of problem that will have to callcensorship."