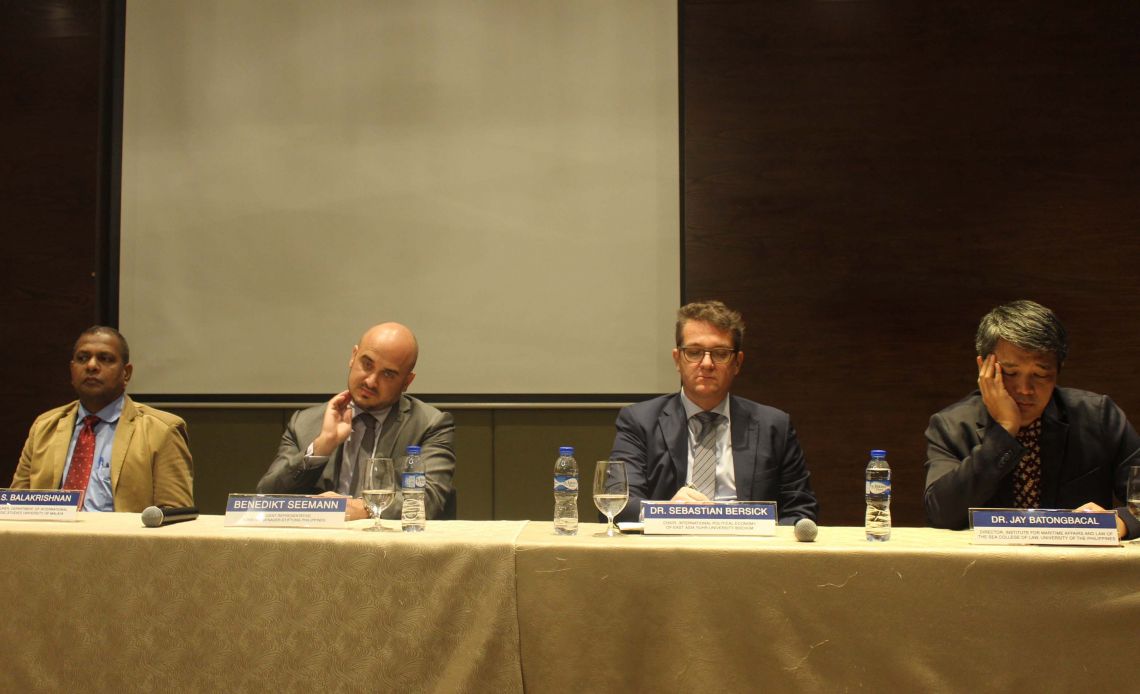 Experts weigh in on the status of EU and ASEAN relations.
While the conflict over the South China Sea continues, experts see a silver lining: This could very well signal a deepening of relations between the European Union (EU) and the Association of Southeast Asian Nations (ASEAN).
"Maritime security and the South China Sea issue function as a catalyst for deepening ASEAN-EU relations," said Sebastian Bersick, head of the International Political Economy of East Asia at Ruhr University Bochum, Germany, at a forum Nov. 24 in Makati City.
At the forum 'Changing Realities of Regional Security: Political and Economic Perspectives from Asia and Beyond,' Defense Undersecretary Ricardo David Jr. highlighted the ASEAN-EU Plan of Action 2018-2022, which aims, among others, to enhance maritime security cooperation.
The Plan of Action states that ASEAN and EU will "encourage cooperation in addressing maritime-related issues in a comprehensive manner."
The ASEAN plan, David added, aims to enhance dialogue, continued support, and exchange of views. "We look forward to continuing discussions."
During the 31st ASEAN summit, ASEAN and EU in a Nov. 14 statement underscored the importance of respect for the rule of law, sovereignty and territorial integrity and maritime security, per the United Nations Convention on the Law of the Sea.
Yet both blocs, experts say, would face glaring challenges as they place the maritime dispute at the center of their commitment to uphold the rule of law amid China's huge influence in the regions, both in the political and economic.
Bersick said China's refusal to abide by the Arbitral Tribunal decision, which ruled its claim to resources in disputed seas had "no legal basis" and its nine-dash line invalid, reminds the 28-member EU to react to the Asian giant's assertiveness.
The "Trump factor," or the United States' detachment on global and regional levels, offers a strategic opportunity for the EU to play a part in Asia's evolving security architecture, he added.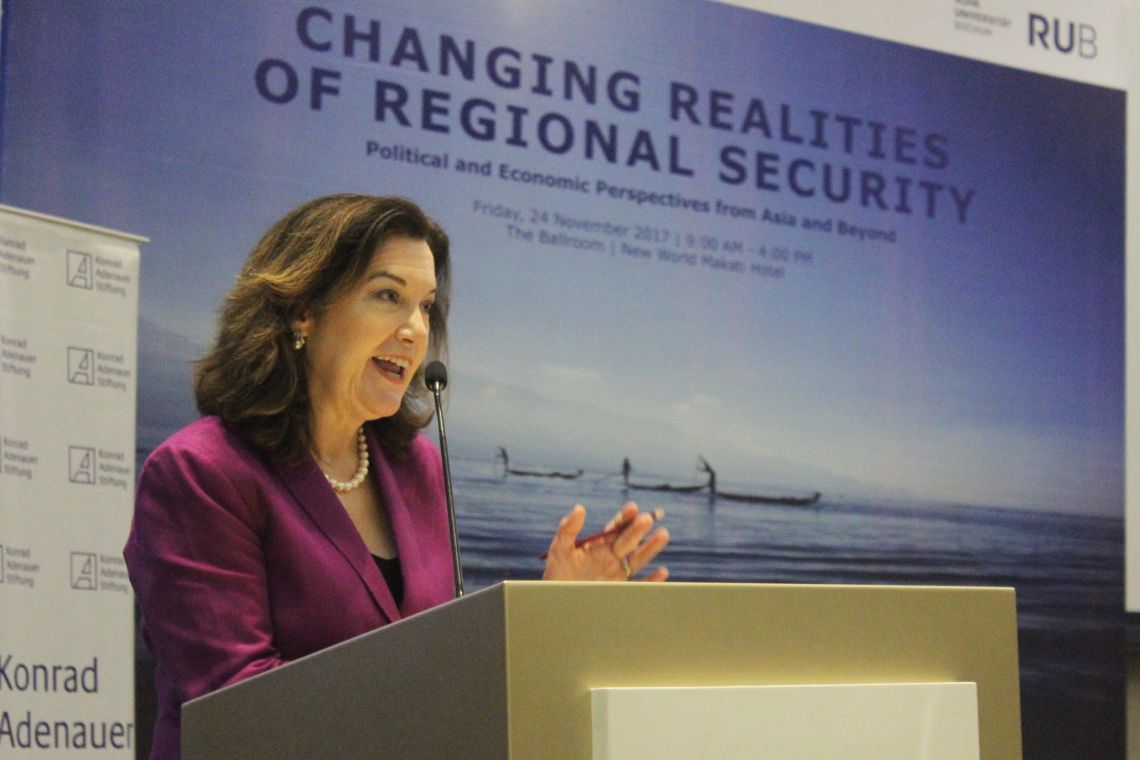 Analyst Theresa Fallon says the EU has stakes at both parties as China's largest trading partner and the largest foreign investor in ASEAN
Geopolitical analyst Theresa Fallon, echoing Bersick, said Europe was "finally becoming serious on defense due to the US's actions."
More, with Brexit, or the United Kingdom's withdrawal from the EU, "more cooperation in security policy has become possible," she added. EU can take future steps such as continuing capacity-building exercises and sharing best practices with ASEAN, while capturing lessons learned from region.
But while agreeing that the EU aims to build up rules-based security order in Asia, Fallon said the European bloc's current relations with China makes it difficult.
The EU, she pointed out, has stakes in both China and ASEAN: It is China's largest trading partner; it is also ASEAN's largest foreign investor.
Fallon explained the theory of "China's economic statecraft," or how the country uses economic resources like foreign aid or investments to influence other countries' policy decisions, including that of the EU.
China's influence is so huge that it is the major reason for internal divisions in EU and ASEAN's decision making processes, Bersick said.
"It is China who currently most proactively shapes the agenda of Asia-Europe relations," he said.
When the Arbitral Tribunal award was released last year, EU members Croatia, Hungary and Greece "repeatedly blocked" an EU statement which was then "watered down," Fallon noted.
She added that EU on several occasions had "sent a very, very bad message," when it took cautious steps so as not to upset China, but in the process "inadvertently" upset other countries like South Korea and Japan.
ASEAN, for its part, has never mentioned the Arbitral Tribunal ruling in any of its Chairman's statements, Jay Batongbacal of the University of the Philippines Institute of Maritime Affairs and Law of the sea pointed out.
Instead, ASEAN and China have recently announced at the 31st ASEAN summit that it will start conducting negotiations for the Code of Conduct on the South China Sea, proposed as a set of norms to guide conduct of parties and promote maritime cooperation in the region.
"Bringing China to the table is not the real challenge. It's how long you're going to stay on the table," Batongbacal said, adding that parties should settle existing agreements first instead of "trying to negotiate" for new ones.
While challenges abound, experts see ASEAN-EU relations to grow and uphold rule of law.
Besides, while the EU has no military force, relying on soft power to influence international relations, Bersick maintained that China still has interests in strengthening its own relations.
"We should not lose sight of the whole picture," he said at a press conference after the forum, noting the country's power rests on economic output.
ASEAN's role, too, remains pivotal despite its faults, senior deputy director William Stevenson, of the national strategy unity of the Ministry of Finance in Malaysia, said.
"Although it is seen as being sluggish in its actions, it has certainly fostered friendly relationships and diplomacy through the existing mechanisms that has contributed to regional stability," Stevenson said.
What EU and ASEAN lack now is a better understanding of each other, said Benedikt Seemann of the Konrad-Adenauer Stiftung Philippines, which organized the event.
"There's no template to be sold from one to the other to make the world go round and all of a sudden, everything is good," Seemann said, drawing from his experiences as a German national living in the Philippines.
"But it's important to maintain a dialogue that is characterized by respect and understanding."