In an attempt to prove that a scene in the film "Maid in Malacañang" is historically accurate, the theater group of its director Darryl Yap on Facebook (FB) cited an article that supposedly states a nun close to the late President Corazon Aquino played mahjong. This is not true.
On Aug. 2, FB page VinCentiments published a post saying the "Team Darryl Yap research team" found evidence to support that Aquino played mahjong with nuns. Its post read:
"WALANG MADRENG NAGMAMAHJONG (No nun playing mahjong)?

MAID IN MALACAÑANG

MADE IN KATOTOHANAN (Made in truth)"
It provided a link to and pictures of a 1988 Mother Jones article, and further wrote:
"In this 1988 Magazine (from Page 19), Mababanggit po ang pangalan ng pinakamalapit na Madre kay President Cory, her name was SISTER CHRISTINE TAN, mababanggit din po dito na siya ay nagmamahjongg (it was mentioned that the nun closest to President Cory, her name was SISTER CHRISTINE TAN, it was also mentioned here that she plays mahjong)."
The 34-year-old article does not state this. Its author has also belied the claim.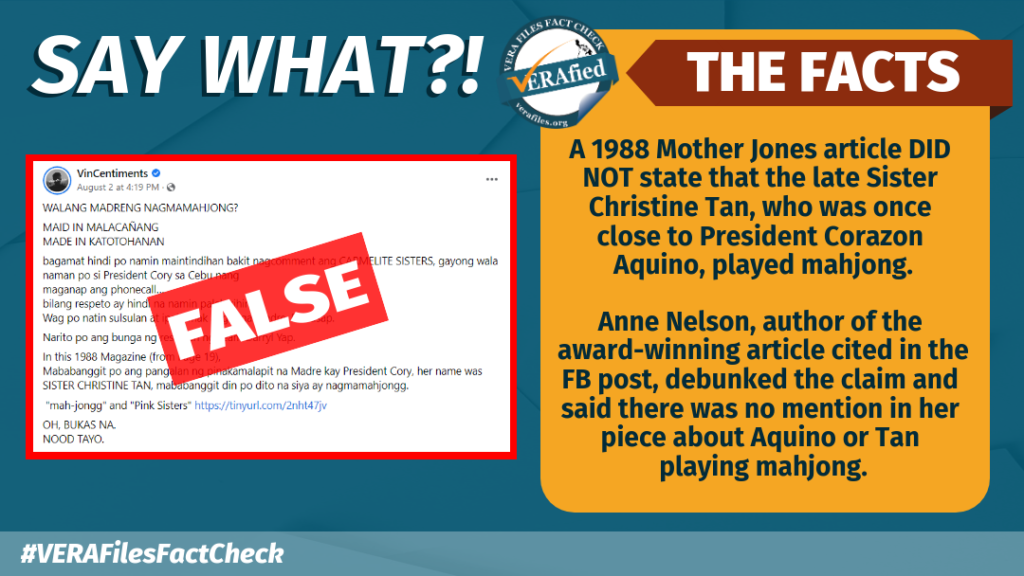 On page 20 of the magazine's January 1988 issue, it was the "perfumed ladies," not Sister Christine Tan, indeed a close friend of the late Aquino, that played mahjong. It read:
"[Tan] had worked for years in the worst slums of Manila, and made something of a vocation out of revealing [the communist insurgency's] horrors to women from her own comfortable background. Her tranquil voice would take on a slightly chiding tone as she'd try to convince the perfumed ladies, taking the afternoon off from the mah-jongg circuit, that the breeding grounds for such misery in their country ultimately could threaten their own well-being, too."
Anne Nelson, author of the mentioned award-winning article, clarified in an Aug. 4 tweet that Tan only gave "talks to affluent women who sometimes played mah-jongg" and that there was "no mention of Aquino or Tan playing mah-jongg."
Correction: my 1989 article reported 1) Cory Aquino visited Pink Sisters for prayer; 2) she was a friend of Christine Tan; 3) Christine Tan gave talks to ladies who sometimes played mah-jongg. It said nothing about Aquino or Tan playing mah-jongg. Pardon previous typo. pic.twitter.com/X7QFQcK3gK

— Anne Nelson (@anelsona) August 4, 2022
Some netizens under the FB post commented that Yap's research team misinterpreted the article and criticized them for their lack of "reading comprehension."
The false post appeared the same day the Carmelite Monastery of Cebu pushed back against the "malicious" portrayal of a scene in Yap's controversial film where nuns were depicted playing mahjong with Aquino, and called it an "attempt to distort history."
The FB post was made by the official page of VinCentiments (created on April 21, 2017) and has since garnered more than 7,300 reactions, 1,600 comments and 1,100 shares.
Have you seen any dubious claims, photos, memes, or online posts that you want us to verify? Fill out this reader request form or send it to 'VERA, the truth bot' on Viber.
(Editor's Note: VERA Files has partnered with Facebook to fight the spread of disinformation. Find out more about this partnership and our methodology.)