An unverified Twitter post alleged that a ballot in New Zealand did not include the name of presidential candidate and Vice President Leni Robredo. This is fake. 
On April 24, Twitter user @amfheads posted a photo of a ballot with the caption: "A ballot in New Zealand no name of vp leni [Robredo]"
"The photo showing an official ballot received by an overseas voter in New Zealand has been deliberately edited to make it appear that VP Robredo's name is missing from the list of Presidential candidates," COMELEC's Office for Overseas Voting said in an April 25 statement.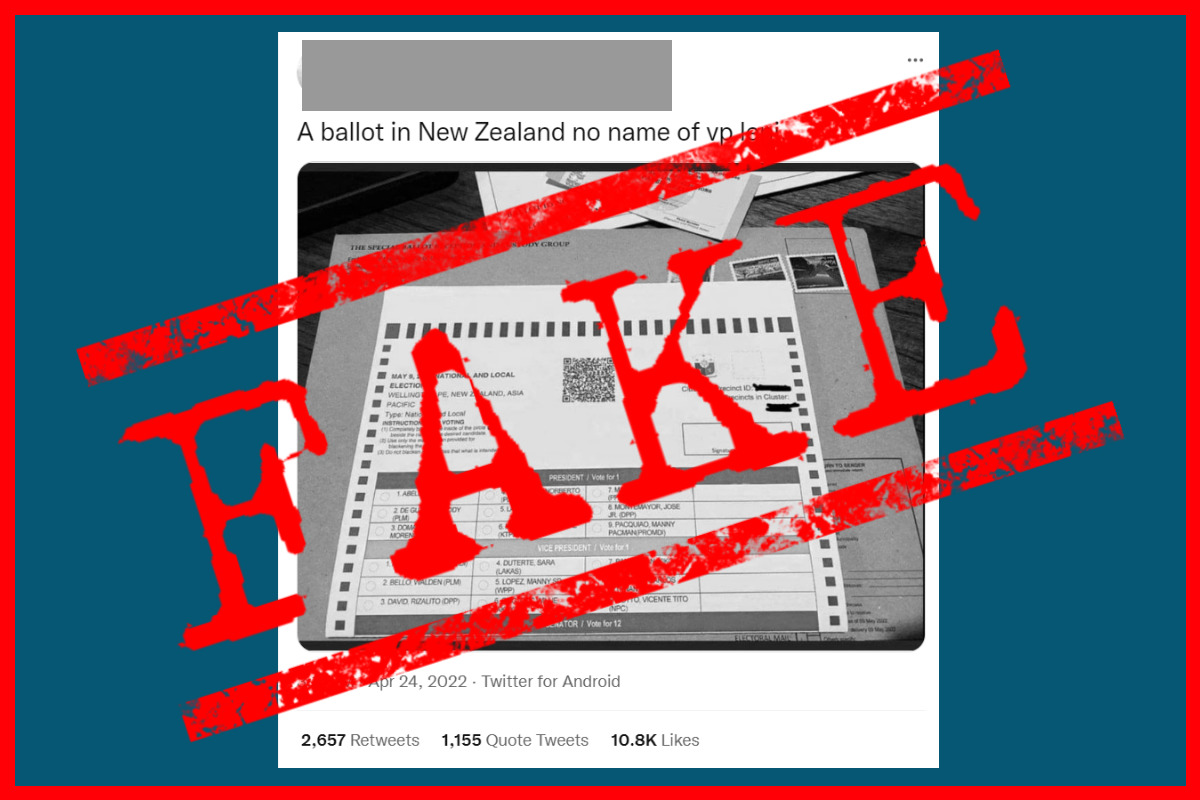 "Maniwala po kayo at ang ating mga kababayan, hindi po totoo iyan, fake news po. Nagdeklara na po ang ating embahada sa New Zealand, wala po silang natanggap kahit isa lang na reklamo mula sa mga kababayan natin," COMELEC Commissioner George Garcia said in an April 25 interview with DZMM Teleradyo. 
(Believe us, countrymen, that's not true, that's fake news. The Philippine Embassy in New Zealand has not received even one complaint from our compatriots there.)
Another Twitter user claimed to have contacted former Member of Parliament Paulo Reyes Garcia in New Zealand to verify. He attached a photo of Reyes' ballot, which does show Robredo's name listed among the presidential candidates. 
In an April 24 advisory, the Philippine Embassy in New Zealand urged Filipinos to return their ballots to the Embassy should they receive a ballot with an erasure or non-appearance of any of the candidates' names. This will help them verify the claim, the statement added. 
As of April 25, the erroneous tweet had 2,480 retweets, 1,085 quote tweets and 9,721 likes before it got deleted two days later. The photo appeared two weeks before the May 9 elections.
Have you seen any dubious claims, photos, memes, or online posts that you want us to verify? Fill out this reader request form.
(Editor's Note: VERA Files has partnered with Facebook to fight the spread of disinformation. Find out more about this partnership and our methodology.)