A YouTube video is claiming that the Ninoy Aquino International Airport (NAIA) will be replaced by the New Manila International Airport (NMIA), also known as the Bulacan International Airport. This is not true. Both will serve local and foreign travelers.
On Aug. 15, a YouTube channel uploaded the spurious video with this headline: 
"KAKAPASOK LANG TAGUMPAY! PBBM at VPSARA GINULAT ang LAHAT NEW MANILA INTERNATIONAL AIRPORT HETO NA

(Just in, victory! [President Ferdinand Marcos] and [Vice President Sara Duterte] shocked all. New Manila International Airport is here)!"
Its thumbnail read: "OMG! GOODBYE NAIA NA… TAPOS NA BAGONG MIA! NAIA PINALITAN NA (Say goodbye to NAIA… NMIA is done! NAIA has been changed)!"
The narrator also cited comments by one Marcos supporter who said the new airport "is an awesome answer to problems of NAIA", and another who claimed that it was a wise move for Marcos to build a new airport, instead of "inheriting the bad reputation and misfortune" of the current facility. But none of the clips showed Marcos commenting on the NMIA.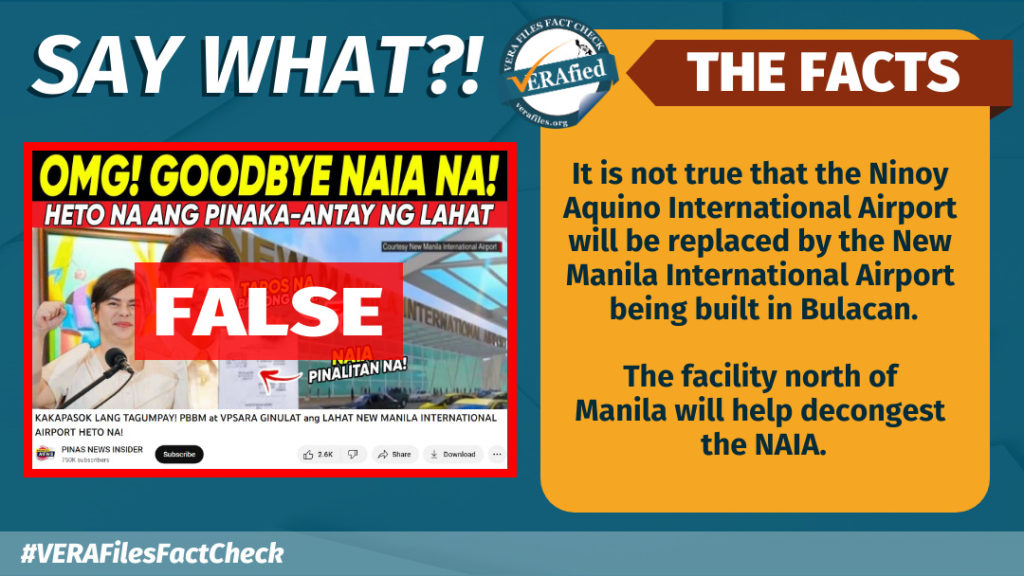 It is not true that the decades-old NAIA, the country's main international airport located in metro Manila, will give way to the NMIA. The Bulacan airport is still under construction and not ready for operation, contrary to the video's claim. It is one of the projects under the previous administration's "Build! Build! Build!" infrastructure program.
In 2019, the Department of Transportation issued the Notice of Award for the P734 billion project to San Miguel Holdings Corp. under a 50-year concession agreement. The airport is expected to be completed by 2027.
The airport being built north of Manila will help address congestion at the NAIA, which itself needs to be modernized, according to Transportation Secretary Jaime Bautista.
This video emerged a week before the 40th anniversary of the assassination of former Sen. Benigno "Ninoy" Aquino Jr, after whom the international airport was named.
YouTube channel PINAS NEWS INSIDER (created on Dec. 26, 2015) published the video, garnering over 2,800 interactions and 61,000 views. Website Global Balita PH also carried the video on its site which could have potentially reached more than 962,000 Facebook users, according to social media monitoring tool CrowdTangle.
Have you seen any dubious claims, photos, memes, or online posts that you want us to verify? Fill out this reader request form or send it to VERA, the truth bot on Viber.
(Editor's Note: VERA Files has partnered with Facebook to fight the spread of disinformation. Find out more about this partnership and our methodology.)