A Facebook (FB) page carrying the name of President Rodrigo Duterte uploaded a fake tweet from a former top executive of ABS-CBN purportedly admitting the media network's "mistake" and apologizing for it.
Hailing her as a "humble woman" in its caption, FB page Duterte Social Media Supporter posted on May 8 an image of Charo Santos-Concio, former President and Chief Executive Officer of ABS-CBN Corporation. It carried a screenshot of a tweet from what appears to be a parody Twitter account named @CharotSntos. The tweet, allegedly posted May 6, said:
"May kasalanan din kami, nagkamali kami (We also had mistakes. We were wrong), Sorry for that. See you next Season mga Kapamilya."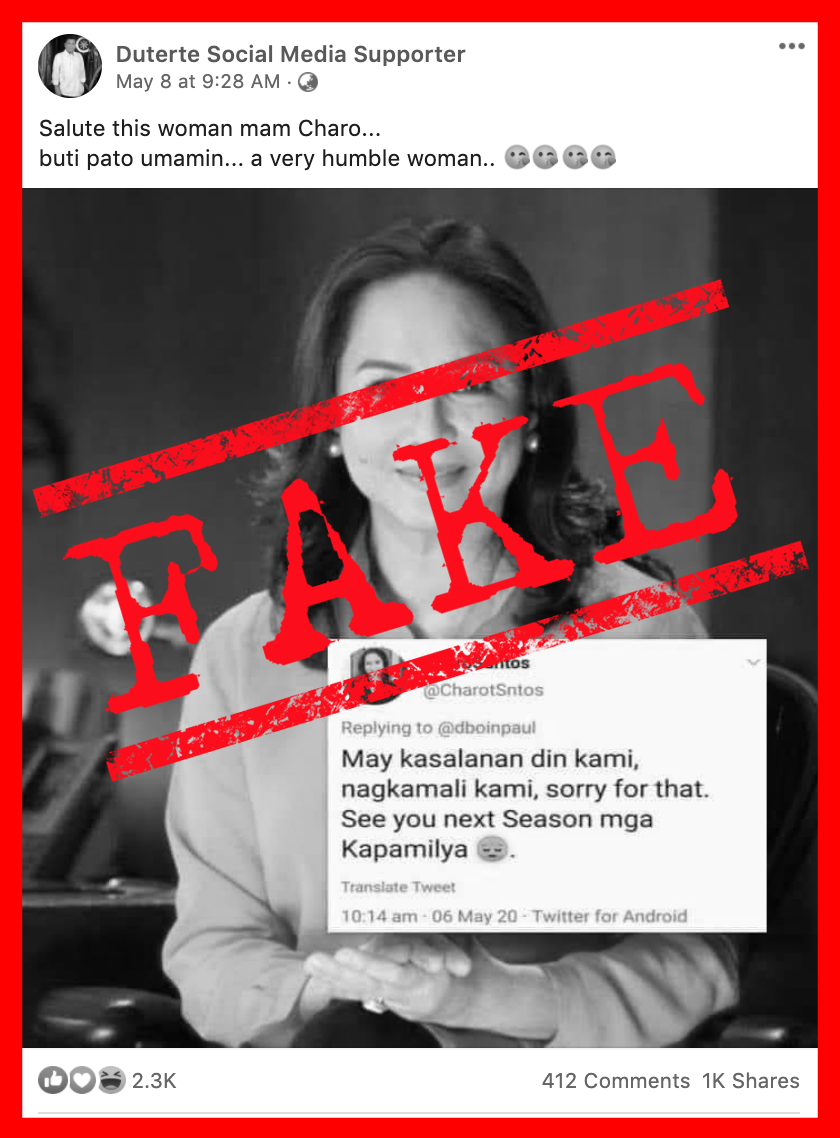 The word charot is Filipino slang for "just kidding." Despite this, Duterte Social Media Supporter's post gained over a thousand shares, more than 400 comments and above 2,300 reactions. Some comments on the tweet professed admiration for Santos-Concio's "humility." Only a few noticed the Twitter account name.
The @CharotSntos account has been suspended.
DuterteSocial Media Supporter's post was uploaded three days after the National Telecommunications Commission issued a cease and desist order against ABS-CBN after its 25-year franchise expired on May 4. The media network's application for renewal remains pending in Congress.
The FB page was created in 2015 and now has more than 250,000 followers. Several other FB accounts have reuploaded the fabricated post.
(Editor's Note: VERA Files has partnered with Facebook to fight the spread of disinformation. Find out more about this partnership and our methodology.)