An alternative medicine practitioner posted a Facebook Reel on Jan. 2, where he advised people not to take medicine when suffering from diarrhea or loose bowel movement. This needs context as some conditions need medication, according to experts.
"Nagtatae ka, iinuman mo ng gamot. Mali. Lalo mong pinahihirapan ang katawan mo… Mai-istop, hindi mailalabas [ang dumi] (You're suffering from diarrhea and you take medicine for it. Wrong. You're making your body suffer. The body will stop and not release [waste]," the Reel claimed. 
Health experts from the non-profit organization Meedan, however, pointed out that it's not always the case.
"It is typically okay to not take medication when experiencing diarrhea. However, taking medicine on average will help the condition rather than worsen it," they said in a statement to VERA Files Fact Check.

"In most chronic and severe diarrhea cases, the body cannot naturally heal without the appropriate medicine needed," according to the Pharmaceutical and Healthcare Association of the Philippines (PHAP).
Seek medical help immediately if the diarrhea is accompanied by a fever over 38.9 degrees Celsius, six or more stools in the last 24 hours, severe abdominal pain, black, tarry, or bloody stool, or if it lasts for more than two days, according to the U.S. National Institute of Diabetes and Digestive and Kidney Diseases.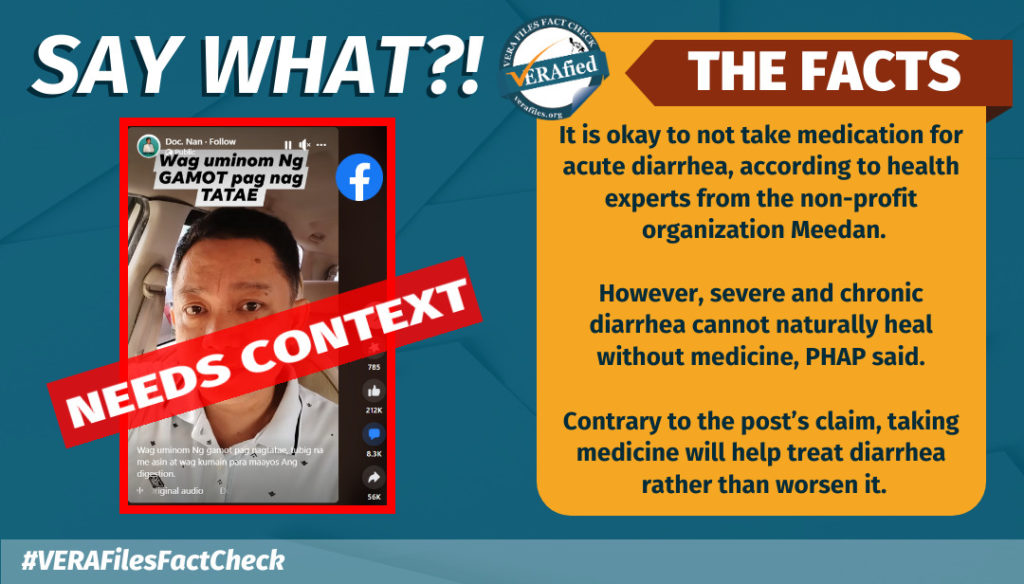 What medicine can be taken for diarrhea? 
A person sick with diarrhea can take over-the-counter medicine (OTC) – which can be bought and taken without a doctor's prescription – to help treat the symptoms of loose bowel movement.
"Loperamide (known as Imodium or Diatabs) decreases the number and frequency of intestinal contractions in the body, which can slow diarrhea down and make bouts of diarrhea less common," the experts from Meedan explained. It should be taken on an empty stomach. 
"Bismuth sulfide (known as Pepto-Bismol) decreases the flow of fluids and electrolytes into the bowel," the PHAP said. 
"Taking an OTC for acute diarrhea is an individual's decision depending on his/her symptoms/ condition. The decision must also be informed which means it is always best to consult with a healthcare professional," PHAP added. 
OTC medicine should not be provided to infants, toddlers, young children, as well as people with blood in their stool, a fever, or signs of either parasitic or bacterial infection.
To combat the risk of dehydration, one has to drink fluids that contain electrolytes such as clean water with sugar and/or salt. Oral rehydration solutions, salted crackers, broth or soup are also recommended for people with acute diarrhea, the PHAP said.
For cases of chronic diarrhea, doctors may prescribe live microorganisms like probiotics and medicines that target bacterial or parasitic infection. Medication for specific health conditions like irritable bowel syndrome (IBS) and inflammatory bowel disease can also treat diarrhea.
Alternative medicine practitioner Hernan Mendoza posted the Reel on his Facebook page Doc. Nan (created on July 2, 2020). His video garnered 212,000 reactions, 8,300 comments, and 56,000 shares. 
Netizens are still sharing the video, as of Jan. 10. Some thanked Mendoza for his advice, while others have criticized him and provided counter-arguments to his claim.
Have you seen any dubious claims, photos, memes, or online posts that you want us to verify? Fill out this reader request form or send it to 'VERA, the truth bot' on Viber.
(Editor's Note: VERA Files has partnered with Facebook to fight the spread of disinformation. Find out more about this partnership and our methodology.)