Citing a study that has not been peer reviewed, a blogger claimed that immunity gained from a coronavirus disease 2019 (COVID-19) infection is stronger than the protection provided by vaccines against the virus. This needs context.
This claim made by Dante Maravillas could mislead because he omitted the limitations of the Israel-based study and did not properly define the term "natural immunity."
His Facebook (FB) post on Sept. 1, read: "lumabas sa pag-aaral sa Israel ang Natural Immunity 13x mas epektib kaysa sa bakulam para malabanan ang delata. Paktay negosyo (A study in Israel shows that natural immunity is 13 times more effective than [vaccines] in fighting the [COVID-19 Delta variant]. Businesses are dead)!"
Fact-checking organizations PolitiFact and FactCheck.org have also debunked the study's claim.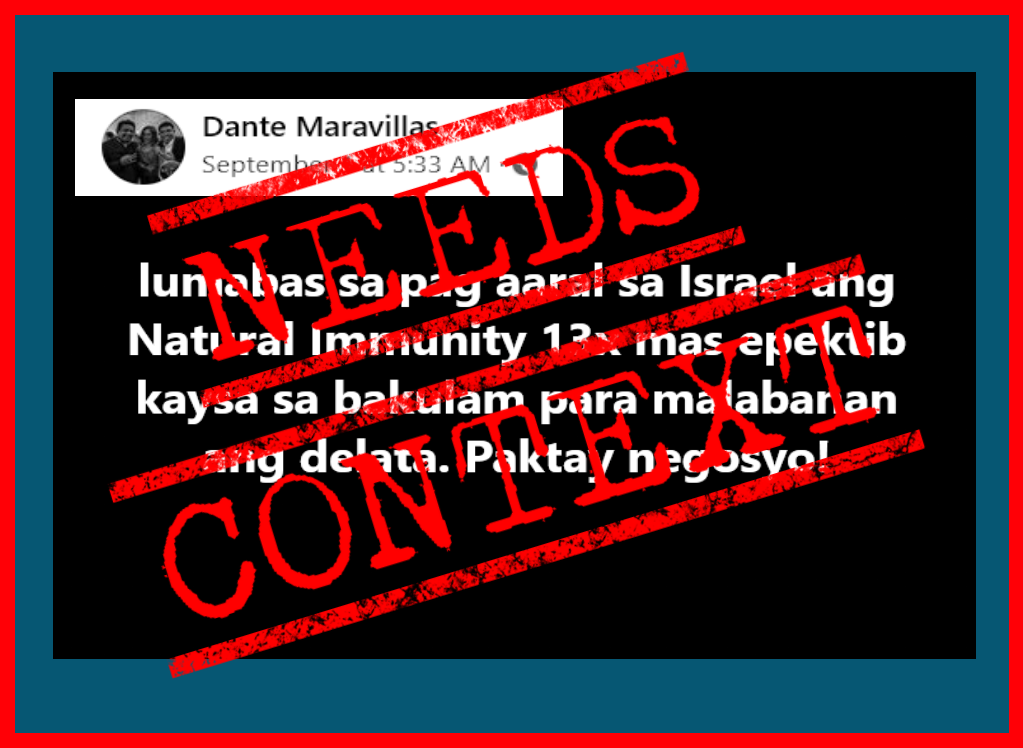 The study is a pre-print, which means it had not been vetted by experts. Posted Aug. 25 on the pre-print server medRxiv, it had this disclaimer: "Articles on medRxiv have not been finalized by authors, might contain errors, and report information that has not yet been accepted or endorsed in any way by the scientific or medical community."
Conducted by researchers from the Maccabi Healthcare Services in Tel Aviv, Israel, the study observed the level of protection against COVID-19 among 673,676 individuals injected with two doses of Pfizer's vaccine, 42,099 individuals with a previous infection, and 62,883 unvaccinated individuals who were previously infected with the coronavirus and got a single Pfizer dose.
Its limitations include the assessment of only one type of vaccine (Pfizer) against the Delta variant, the non-inclusion of health measures such as physical distancing and mask wearing as potential variables, and non-use of RT-PCR test results in gathering data.
Meanwhile, some netizens who commented on or reshared Maravillas' post thought that "natural immunity" against the virus, as written in the blogger's claim, can be achieved through proper diet and exercise. [See: VERA FILES FACT CHECK: Viral medical advice on how to deal with COVID-19 MISLEADING]
But the World Health Organization defines the term as an immunity obtained through a previous COVID-19 infection.
Infectious disease experts cited in an Aug. 26 Science article warned that it's not a good idea to purposefully get infected with COVID-19 to get protection because it would put them in a significant risk of severe disease, death, or long-term COVID effects.
The post that needs context got almost 560 reactions, 90 comments, and 300 shares, and could have reached 17,200 people, according to social media monitoring tool CrowdTangle. It emerged the same day the Philippines reached over 2 million COVID-19 cases.
(Editor's Note: VERA Files has partnered with Facebook to fight the spread of disinformation. Find out more about this partnership and our methodology.)