A post published last April 30 in the Filipino-managed Facebook (FB) group —- DYK?; claims Israel is "the world's first corona-free country."
This claim, which continued to circulate this week, is not true.
While it has faced a slowdown in infections, Israel still has 1,179 active COVID-19 cases as of May 6, according to its Health Ministry.
Based on a tally by Worldometer, which provides real-time statistics on the pandemic, there are also at least 11 countries, territories and special regions with no reported active cases as of May 6: Tajikistan, Falkland Islands, Macao, Greenland, Saint Pierre and Miquelon, Montserrat, Solomon Islands, Vanuatu, Marshall Islands, Saint Helena, and Micronesia.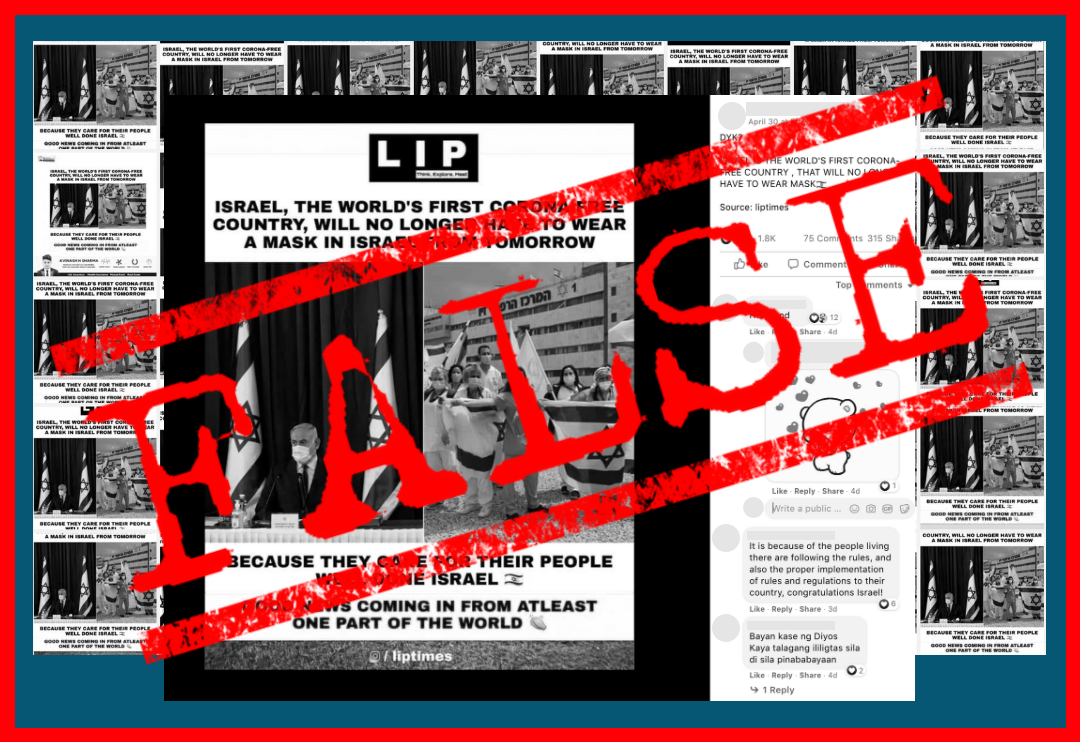 The Middle Eastern country made the headlines earlier this year for its aggressive COVID-19 vaccination program. It has now inoculated nearly 60% of its nine million population.
The post in the FB group —- DYK?; also misleadingly stated that Israelis are no longer required to wear masks. Outdoor masking restrictions have been lifted in Israel, but it is still required in indoor public spaces. The government also still encourages mask wearing in large outdoor gatherings.
The social media graphic posted in —- DYK?; originally came from the April 19 post by an India-based FB page called "Love Indian Page" or "liptimes" — the logo of which was visible on the false post. It also used two old photos: a May 2020 image of Israeli Prime Minister Benjamin Netanyahu wearing a mask, and health care workers holding flags of Israel that could be traced back to an April 2020 report by Israel-based news site NoCamels.
The spurious FB post surfaced two days after Philippine vaccine czar Carlito Galvez Jr. said the government, through Health Secretary Francisco Duque III, wrote to Israel and the United States expressing its intent to buy the two countries' excess AstraZeneca COVID-19 vaccines.
However, in an April 30 GMA News report, Israeli Ambassador to the Philippines Rafael Harpaz said Israel currently could not give its extra doses to a third country because of existing agreements with vaccine manufacturers.
The erroneous FB post in public group —- DYK? received over 1,800 reactions, 75 comments, and 315 shares from FB users. A keyword search on FB reveals at least 107 posts carrying a photo with the same false claim about Israel.
(Editor's Note: VERA Files has partnered with Facebook to fight the spread of disinformation. Find out more about this partnership and our methodology.)