Dangerous Drugs Board Chair Dionisio Santiago, echoing an earlier argument by President Rodrigo Duterte, repeated the same mistake about government procurement.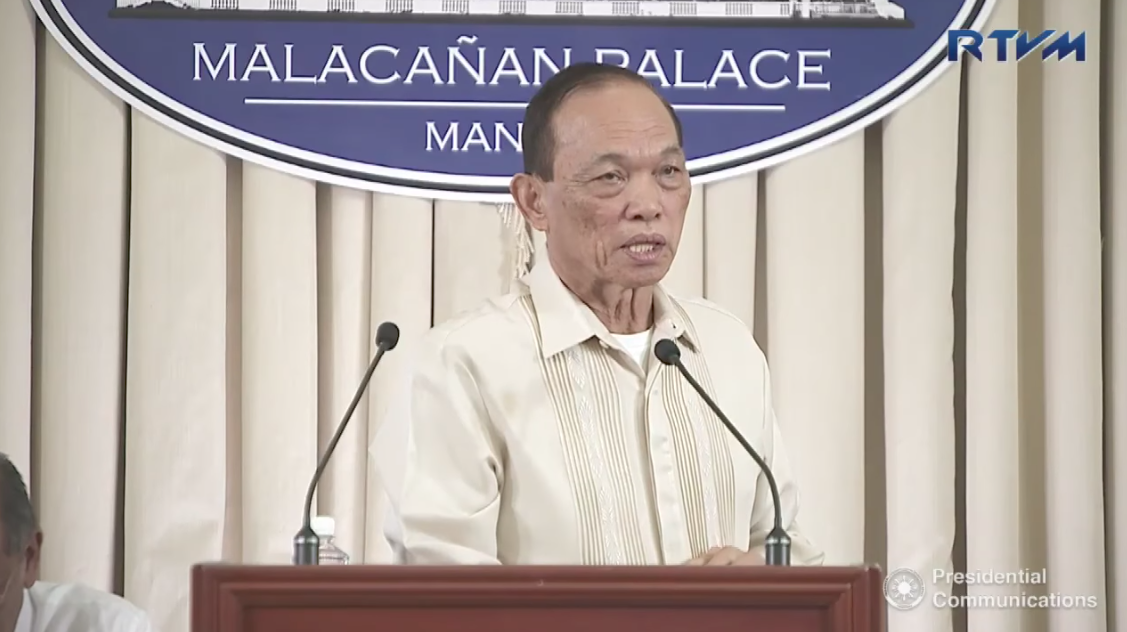 Screenshot of the Press Briefing with Dangerous Drugs Board Chair Dionisio Santiago
STATEMENT
In a press briefing in Malacanang Sept. 5, Santiago was asked about the war on drugs, and when he thinks it would be over. (See VERA FILES FACT CHECK: In his own words: Duterte's drug war, so far)
Responding to the question, the DDB Chair veered off course and brought up the issue of the Marcos ill-gotten wealth, and then the challenges with modernizing the armed forces.
Of the latter, he said:
Tapos 'yung… pirming (And… always) we go for the cheapest. You pay for quality. You pay for quality. Hindi pwedeng lahat mura. Pagka-mura ang kinuha mo, magmumura ka (You can't always buy cheap. You buy cheaply, you pay dearly).

Source: Press Briefing by Presidential Spokesperson Ernesto Abella with Chairperson Dionisio Santiago Dangerous Drugs Board, Sept. 5, 2017, watch from 48:15-48:26
FACT
Like Duterte, who earlier, including in his second State of the Nation Address, talked about procurement of goods and services for the military, Santiago is wrong. (See VERA FILES FACT CHECK: Can the president order COA to bypass gov't bidding rules?</a>; VERA FILES FACT CHECK: Duterte orders breach of bidding rules anew)
Republic Act No. 9184, the law that governs public procurement, does not mandate that the government acquire just the "cheapest" goods and services.
Rather, the law has designed a competitive public bidding process to ensure that the goods and services acquired are of the best possible quality and cost, through several layers of safeguards.
First, the procurement process is initiated with the public being notified of bidding opportunities, to ensure transparency and increase the number of prospective bidders.
Then, goods suppliers and service providers who want to participate in the bidding are evaluated for eligibility, through the sufficiency of their documentary submissions.
Next, the financial components of qualified bids are evaluated, and ranked to determine the lowest bid.
Finally, the statements and documents by the lowest bidder are verified and validated to ascertain if these comply with legal, financial and technical requirements of the bid.
Only then is the contract awarded, based on the law.
BACKSTORY
Duterte signed July 17 Executive Order No. 34, which among others simplifies the approval of government contracts entered into through procurement methods besides the competitive public bidding mandate by the law.
These methods include limited source bidding or selective bidding, direct contracting, repeat order, shopping and negotiated procurement.
Yet, the Supreme Court, in an earlier case involving alternative procurement methods by the Commission on Elections, ruled in favor of a strong "compliance with the conditions provided in the (procurement law) and all the pertinent rules and procedures."
Sources:
Government Procurement Policy Board, Guidelines on the Establishment of Procurement Systems and Organizations Vol. 1
Government Procurement Policy Board, Manual of Procedures for the Procurement of Goods and Services Vol. 2
Bishop Broderick S. Pabillo v COMELEC, G.R. No. 216098
(Guided by the code of principles of the International Fact-Checking Network at Poynter, VERA Files tracks the false claims, flip-flops, misleading statements of public officials and figures, and debunks them with factual evidence. Find out more about this initiative.)
2017-09-15 04:04:32 UTC