Three similar Facebook (FB) pages published a video promoting a supplement it claims was approved by the Food and Drug Administration (FDA) for joint-related ailments. It is a false claim.
A two-minute video advertising "Diamond Glucosamine," said to be a remedy against several diseases related to joints, was posted on Sept. 13. 
A part of the video's caption read: "Malaking magandang balita. Osteoarthritis, Joint Pain, Hernia, Arthritis sa loob ng maraming taon, mawawala pagkatapos ng 3 linggong paggamit (Huge, good news. Osteoarthritis, joint pain, hernia, arthritis that lasted for many years will disappear in just 3 weeks of use)." 
The logo of radio station DZRH and a stock image of the FDA's seal of approval appeared around the 11-second mark of the footage, as several testimonials on the supposed benefits of the product played.
The product is not among the FDA's list of food and drugs with certified product registrations. Neither has DZRH conducted interviews with people about the supplement.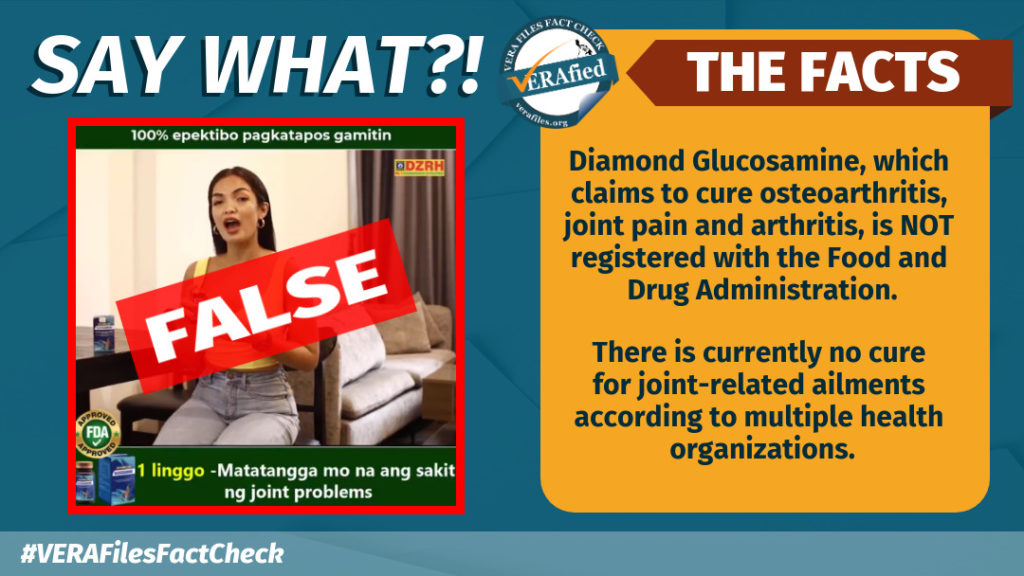 Multiple health organizations have stated there is no cure for osteoarthritis, joint pain, and arthritis at present, contrary to the claim the product can heal these ailments in three weeks. However, various short and long-term treatment modalities can alleviate pain associated with these conditions.
The U.S. National Center for Complementary and Integrative Health said major studies on the effects of glucosamine on the osteoarthritis of the knee show mixed results and have yet to provide a conclusive answer. Further, "there is little evidence" that glucosamine has beneficial effects on the joint structure, the health agency stated.
The videos appeared this September, which is declared pain awareness month. 
FB pages Diamond Glucosamine 1 (created on May 28, 2020), Diamond Glucosamine 2 (May 6, 2020), and Diamond Glucosamine 4 (Aug. 6, 2020) published the videos within minutes of each other, collectively garnering over 2,800 reactions, 1,800 comments, and 407,000 views.
In their page transparency sections, the pages used different Vietnamese names before changing to similar handles on Sept. 12.
Have you seen any dubious claims, photos, memes, or online posts that you want us to verify? Fill out this reader request form or send it to 'VERA, the truth bot' on Viber.
(Editor's Note: VERA Files has partnered with Facebook to fight the spread of disinformation. Find out more about this partnership and our methodology.)