A video that appeared on TikTok and Facebook carried false advice against taking showers at night, which allegedly causes a higher risk of stroke. Medical specialists dismissed any correlation between taking a bath no matter what time of day to high blood pressure, the main cause of stroke.
The 46-second clip, uploaded on Jan. 18 by TikTok user @alo_drugstore and reposted by a Facebook netizen, claimed:
"Ang aksyon ng maraming tao lalo na ang mga kabataan ay ang pagliligo sa gabi. Mataas na rate ito ng stroke. Ito [ay] dahil sa biglang pagbabago sa presyon ng ating dugo (Many people, especially the youth, take a shower at night. This [leads to] a higher rate of stroke. This [is] because of a sudden change in blood pressure.)" 
Taking a night shower does not lead to stroke, according to doctors. It is not included in the U.S. Centers for Disease Control and Prevention (U.S. CDC)'s list of behaviors that increase the risk of stroke such as a high-fat diet, lack of exercise, drinking too much alcohol, and tobacco use.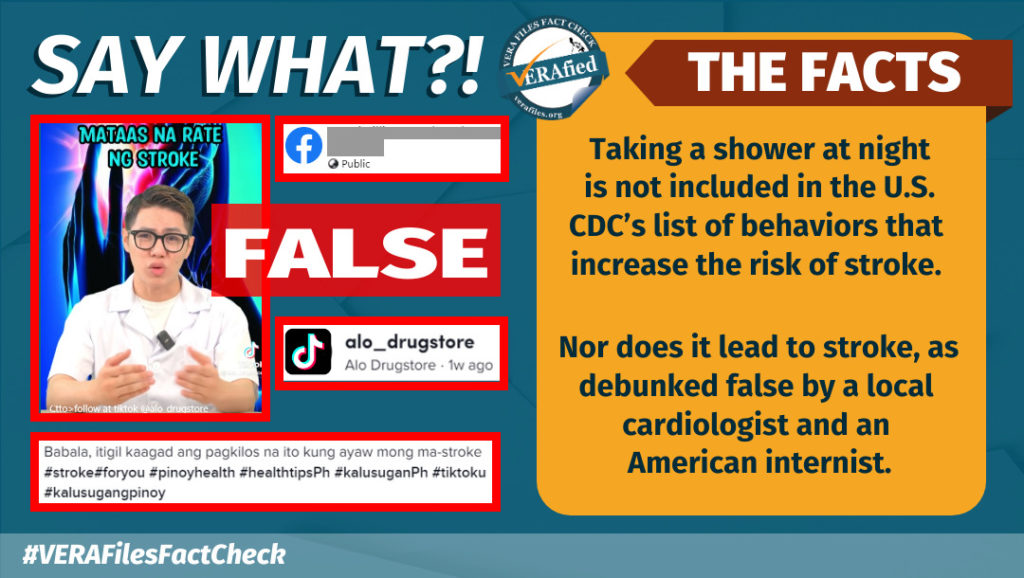 A stroke occurs when something blocks blood supply to a part of the brain, or when a blood vessel in the brain bursts, the U.S. CDC explained. 
"Showering doesn't make sense as a risk factor, so you can shower anytime you like," Keith Roach, an American internal medicine doctor at Weill Cornell Medicine, was quoted as saying. 
Taking a shower at night significantly lowers one's blood pressure, according to a 2006 study published in the Japanese Society of Hypertension's official journal. Stroke happens due to high blood pressure and not low blood pressure, the U.S. CDC stated. 
"We have more patients developing a heart attack or stroke while exerting effort in the toilet, rather than taking a bath," Rafael Castillo, a cardiologist who works at Manila Doctors Hospital, wrote in a 2017 Inquirer Lifestyle article. 
An abrupt release of straining while moving bowels abruptly increases blood pressure, which could cause some arteries in the brain to burst especially for those with uncontrolled blood pressure, Castillo explained. 
The erroneous videos got a total of 124,000 reactions, 9,736 comments, 87,800 shares, and 1.67 million interactions. The video is part of a TikTok channel's series of clips on health tips and advice.
Have you seen any dubious claims, photos, memes, or online posts that you want us to verify? Fill out this reader request form or send it to 'VERA, the truth bot' on Viber.
(Editor's Note: VERA Files has partnered with Facebook to fight the spread of disinformation. Find out more about this partnership and our methodology.)