President Rodrigo Duterte's claim that martial law in Mindanao "ended without abuses" runs contrary to reports from different human rights watchdogs and advocacy groups.
STATEMENT
During his penultimate State of the Nation Address on July 27, Duterte boasted of the lifting of martial law in Mindanao at the end of last year:
"Certain sectors expressed concern when I declared martial law in Mindanao and its extension three times. But 2019 ended without my office requesting any further extension."
He then said:
"Martial law in Mindanao ended without abuses by the civilian sector, by the police, by the military. It ended because this time I know that they know how to love the country."

Source: RTVMalacanang, President Rodrigo Duterte's 5th State of the Nation Address (SONA) 7/27/2020, July 27, 2020, watch from 1:06:26 to 1:07:06
FACT
Reports and findings of several rights and advocacy groups, both local and international, refute Duterte's claim.
As early as December 2017, seven months since martial law in the region was first declared on May 23, 2017, United Nations (UN) experts had already warned of "massive" and some "potentially irreversible" human rights violations experienced by Lumads who were driven out of their communities due to ongoing conflict.
UN special rapporteurs Victoria Tauli-Corpuz (on the rights of indigenous peoples) and Cecilia Jimenez-Damary (on internally displaced people) called on the Philippine government to "halt" and exact justice for abuses, which, they said, included the "killings and attacks allegedly carried out by members of the armed forces against the indigenous communities."
In a May 2019 report, Karapatan, a network of human rights defenders in the country, said it recorded over 800,000 individual cases of human rights violations in the region since May 2017.
Of these, 93 were cases of "extrajudicial killings" or EJKs, 136 frustrated EJKs, 1,450 illegal arrests, six enforced disappearances, and 35 incidents of torture. Over 423,000 were "forcible evacuations," while around 28,000 were cases of threats, harassment and intimidation.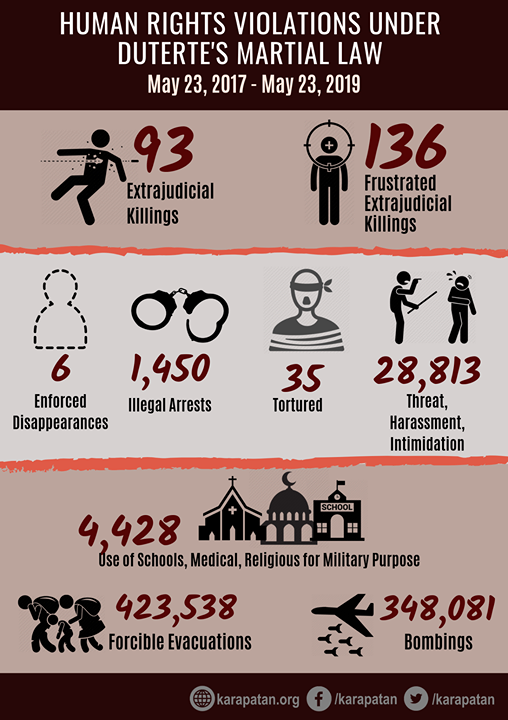 Photo from Karapatan's official Facebook page
In a statement that same month, the Northern Mindanao Region chapter of Movement Against Tyranny recounted incidents of abuse allegedly perpetrated by state forces, saying the latter weaponized the imposition of martial law to "justify attacks against the Moro people and the progressive groups."
The Commission on Human Rights, following the Supreme Court decision on Feb. 19, 2019 to uphold the third extension of martial law in Mindanao, urged the government to "ensure that alleged human rights violations are addressed." This included claims of "torture, profiling, and other infringement of rights caused by continuing internal displacement of communities arising even from its first instance of declaration."
In December 2019, Mindanao rights group Barug Katungod (Stand for Rights) welcomed the Duterte government's announcement that it will no longer extend martial law in the region, but called for an international probe on alleged abuses.
The group documented 162 cases of EJKs, 704 "fabricated charges," 284 illegal arrests and detentions, 1,007 victims of aerial bombardments, and over 500,000 people who underwent forced evacuation throughout the two years and seven months of martial law in Mindanao.
Duterte first proclaimed martial law in Mindanao effective for 60 days on May 23, 2017, following the Marawi siege by the ISIS-inspired Maute group. (See VERA FILES FACT CHECK: Duterte revises Marawi story, contradicts martial law justification)
Under Sec. 18, Art. VII of the 1987 Constitution, the president may suspend the writ of habeas corpus or place the Philippines or any part of it under martial law only in case of invasion or rebellion and when public safety requires it. (See VERA FILES FACT SHEET: Explaining martial law)
While the power to declare martial law is given solely to the chief executive, Congress may still vote to revoke the proclamation, which "shall not be set aside" by the president. (See VERA FILES FACT CHECK: Panelo, Duterte's outlandish martial law justifications)
Even after declaring the liberation of Marawi City on Oct. 17, 2017, Duterte, with the concurrence of Congress, extended martial law in the region three times until it lapsed in December 2019.
Editor's note: This fact check was produced by a student from the University of the Philippines Diliman who is doing her internship with VERA Files.
Sources
RTVMalacanang, President Rodrigo Duterte's 5th State of the Nation Address (SONA) 7/27/2020, July 27, 2020
Office of the United Nations High Commissioner for Human Rights, Philippines warned over "massive" impact of military operations on Mindanao indigenous peoples, Dec. 27, 2017
Karapatan Alliance Philippines, Karapatan: 2 years of Duterte's martial law marked by human rights violations, the continuing dire state of Marawi evacuees, plunder of Mindanao's resources, questionable dealings of security forces, and gross impunity, May 23, 2019
Karapatan Alliance Philippines, About, Accessed July 30, 2020
Movement Against Tyranny – Northern Mindanao Region, Still No Peace, Just Piling Cases of Human Rights Violations, May 24, 2019
Commission on Human Rights, Statement of CHR spokesperson, Atty. Jacqueline Ann de Guia, on the Supreme Court's decision on the constitutionality of the third extension of martial law in Mindanao, Feb. 20, 2019
Supreme Court E-Library, G.R. No. 243522, Feb. 19, 2019
INQUIRER.net, Martial law in Mindanao: What changed, what didn't—and at what cost, Jan. 2, 2020
UCA News, Mindanao rights group welcomes lifting of martial law, Dec. 12, 2019
Mindanao Goldstar Daily, Group wants investigation into abuses during martial law, Dec. 14, 2019
Official Gazette, Proclamation No. 216, s. 2017, May 23, 2017
Presidential Communications Operations Office, President Duterte declares liberation of Marawi City, Oct. 17, 2017
House of Representatives Press and Public Affairs Bureau, Congress overwhelmingly approves Mindanao Martial Law extension, July 23, 2017
House of Representatives Press and Public Affairs Bureau, Solons expound on benefits of martial law extension in Mindanao until end-2018, Dec. 13, 2017
House of Representatives Press and Public Affairs Bureau, House, Senate approve Mindanao martial law extension with overwhelming 235-28 vote, Dec. 12, 2018
Official Gazette, THE 1987 CONSTITUTION OF THE REPUBLIC OF THE PHILIPPINES – ARTICLE VII, Accessed July 30, 2020
(Guided by the code of principles of the International Fact-Checking Network at Poynter, VERA Files tracks the false claims, flip-flops, misleading statements of public officials and figures, and debunks them with factual evidence. Find out more about this initiative and our methodology.)