DOES President Rodrigo Duterte now want to be part of an alliance he once found "hypocritical?"
Months after launching an expletive-laden attack on the European Union (EU), Duterte seems to have shifted his tone. 
STATEMENT:
On Nov. 19, during his first bilateral meeting in Peru with Russian Federation President Vladimir Putin, whose leadership he openly admires, Duterte said:
"And we've been longing to be part also of – despite the distance. We've been longing to be part of Europe, especially in commerce and trade around the world."
(Source: Duterte talks with Putin about distrust with US, hypocrisy of the West. Nov. 19, 2016. Watch from 0:26 to 0:41)
FACT:
The EU, composed of 28-member states in Europe, remains the largest economy in the world and is "the biggest player on the global trading scene."
Russia has established trading links with the EU, but it is not a member of the alliance.
Another fact: Russia extends geographically from Asia to Europe, but it is considered part of Asia, even if Moscow, the country's capital, is located in European Russia.
FLIP-FLOP:
Not so long ago, Duterte gained global notoriety for denouncing the EU after it called him out on possible human rights abuses committed in the government's war on drugs.
He slammed the body for having the gall to criticize him for thousands of drug suspects killed in the Philippines when history books would reveal atrocities committed by France and Britain in their colonies.
"I read the condemnation of the EU against me. I will tell them, 'f*** you.' You're doing it in atonement for your sins," he said before local chief executives on Sept. 20.
(Source: 2016 Sulong Pilipinas Local Governance Series. Sept. 20, 2016. Watch from 45:24 to 45:51)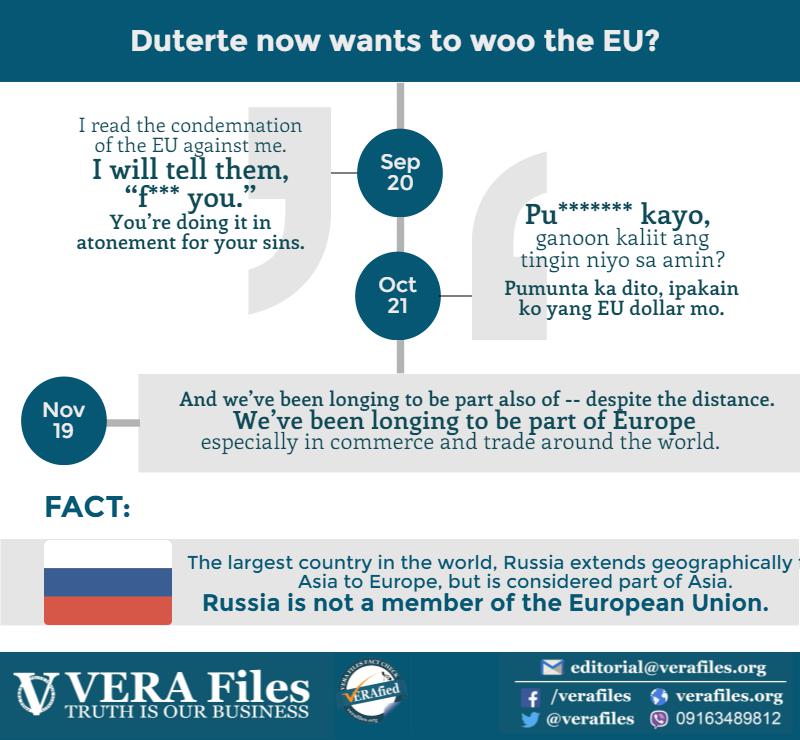 It didn't happen once.
He unleashed the Filipino cussword when the EU had threatened to cut aid and assistance to the Philippines if the Duterte administration fails to account for extrajudicial killings.
"Pu******* kayo, ganoon kaliit ang tingin niyo sa amin? Pumunta ka dito, ipakain ko yang EU dollar mo (Son of a whore, how little you think of us? Come here and I will let you eat your EU dollar)," Duterte said in a press conference during his arrival from state visits in Brunei and China.
"Assistance, USAID, you can go to hell. EU? No wonder you are in shambles now. You cannot even agree to be together or not, whether to form still a European community or disintegrate. Why? Because all your lawyers who planned it are stupid and idiots," Duterte, himself a lawyer, added.
(Source: Arrival from Brunei and China. Oct. 21, 2016. Watch from 28:26 to 29:21 and 31:34 to 32:02)
Other sources:
European Russia Map And Information Page
Official website of the European Union
Official website of the European Commission