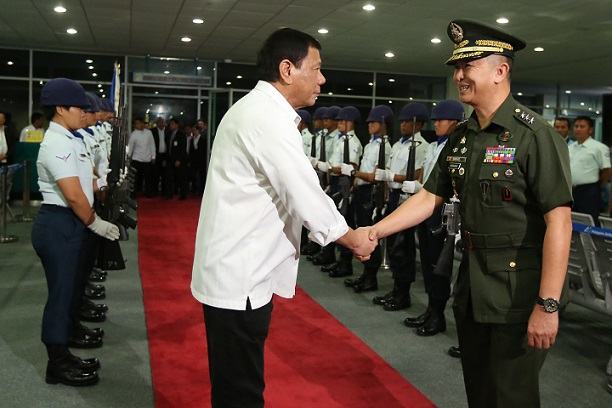 By ELLEN T. TORDESILLAS
SO it was not jet lag that was the reason why President Duterte was absent in the gala dinner  heads of state attending the 2017 Leaders Meeting  of the Asia Pacific Economic Cooperation in Lima, Peru last Saturday as he earlier told reporters. It's stomach upset.
In his interview at the Wireless Catholic Cemetery in Davao City Wednesday, he was asked for his reaction to the criticism of former President Fidel Ramos  about his absence  in two APEC events in Peru: one was the dinner Saturday and the other was the traditional group photo on Sunday.
Ramos said  the gala night could have been an opportunity for Duterte to exchange ideas with world leaders and sickness is an unacceptable alibi to skip such an important gathering. Besides, a doctor is always part of the presidential delegation if the President was not feeling well.
Duterte said, "It is not right to say that there are doctors there."
He went on to say "food."
The reporter asked,  "Ah, sumakit ang tiyan ninyo, sir?"
He replied: "Saan ninyo ako gustong magpuririt? Doon sa stage o doon sa— the hotel was just about ten minutes away. Well, my stomach was not good. And I could have exploded anytime. "
He recalled an incident when he was in high school in Ateneo de Davao University: " Every Friday kasi ang Ateneo, di ba you have mass diyan, then you have to … somebody has to lead the prayer, the rosary tindig lahat. The guy leading the rosary, "Hail Mary full of grace …" puwera gaba lang, tapos biglang nag-brrrrt. Pagtingin namin, doon mismo sa … siya iyong nagli-lead doon nag-kicker. Magtatawanan kami niyan kapag nag-uusap kami. Kasi hanggang ngayon na amoy ko pa. "
As to his absence in the group photo session Sunday, which Ramos said was more important, Duterte repeated his flippant answer in Peru, "I'm promoting the movie career of (Foreign Secretary Perfecto)  Yasay" who represented the Philippines in the All Leaders photo session.
In  Peru, he attributed his absence in the dinner to "Jet lag."
"Talagang hindi naman ano but lightheaded because exactly at that time that's my sleeping time back home in the Philippines.  I sleep at 3, 4, 5. Iyon 'yung panahon dito. Talagang ang mata ko hindi ko mapigilan minsan. And even I was listening to others, nagsasara 'yung… Sabi ko it's not good to be somebody 'yung mga greats ng convention tapos ako nakapikit ang mata. Sabi ko mag-uwi na lang muna ako. Hindi rin ako nakatulog. Pero talagang inantok ako jet lag, simply."
Let's see if this the final version of his absence in the two APEC Peru events.
***
At his arrival presscon in Davao Wednesday, a GMA news report said Duterte cursed Jonathan Miller, the Asian correspondent of Britain's Channel 4 News, who asked him about the rising number of people killed in his anti-illegal drugs campaign.
Miller's question: "Since you became in President, in the five months since you became President, more people have actually being killed than died during the nine years of the Marcos dictatorship which was also…"
Duterte retorted: "I could ask the same question: Why is America losing 40,000 lives, drug-related cases? What makes the Philippines different from America, may I ask you? In terms of drugs, what is my color with the color of America? "
When  Miller pointed out that the killings in the United States are not sanctioned by the President, he launched into his usual tirade about U.S. involvement in Nicaragua, Panama and Iraq.
After his rant, news reports said Duterte  said under his breath: "P– ina mo."
Perhaps not having heard or understood the curse, Miller  said, "Thank you very much, Mr. President. "
****
CNN's chief international correspondent Christiane Amanpour has been awarded the Committee to Project Journalists' Burton Benjamin Memorial Award for "extraordinary and sustained achievement in the cause of press freedom." In her acceptance speech Tuesday night, she urged media to hold firm to the basic values of journalism: "As a profession, let's fight for what is right. Let's fight for our values. Bad things do happen when good people do nothing."
Here are some more of the gems from her speech which Filipino journalists can identify with:
Stop banalizing the Truth
"I believe in being truthful, not neutral. And I believe we must stop banalizing the truth.
And we have to be prepared to fight especially hard for the truth in a world where the Oxford English Dictionary just announced its word of 2016: "post-truth."
Fake news sites in social Media
"We have to accept that we've had our lunch handed to us by the very same social media that we've so slavishly been devoted to.
"The winning candidate did a savvy end run around us and used it to go straight to the people. Combined with the most incredible development ever — the tsunami of fake news sites — aka lies — that somehow people could not, would not, recognize, fact check, or disregard.
"One of the main writers of these false articles — these lies — says people are getting dumber, just passing fake reports around, without fact checking. We need to ask whether technology has finally outpaced our human ability to keep up. Facebook needs to step up. Advertisers need to boycott the lying sites."
Media being accused as terrorists
As all the international journalists we honor in this room tonight and every year know only too well: First the media is accused of inciting, then sympathizing, then associating — until they suddenly find themselves accused of being full-fledged terrorists and subversives. Then they end up in handcuffs, in cages, in kangaroo courts, in prison — and then who knows?
We, the media, can either contribute to a more functional system or to deepening the political dysfunction. Which world do we want to leave our children?
Journalists being accused as enemies of the State
Like it has in Egypt and Turkey and Russia, where journalists have been pushed into political partisan corners as we see here tonight — delegitimized, accused of being enemies of the state.
Journalism itself has become weaponized. We have to stop it. We all have a huge amount of work to do, investigating wrongdoing, holding power accountable, enabling decent government, defending basic rights, actually covering the world — Russia, Syria, North Korean nukes.
Can't we have differences without killing each other off?